The May 21 issue of Hong Kong's Apple Daily printed an internal notice released by Guangdong's provincial propaganda office, dated May 19, and referring to a Central Propaganda Department ban against all coverage of this year's 59th International Cannes Film Festival, where Chinese director Lou Ye's "Summer Palace" was screened without proper authorization from China's media minders at SARFT and the Propaganda Department. [Coverage of the film at Taipei Times].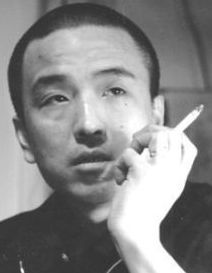 [PHOTO: "Summer Palace" director Lou Ye]. What follows is a timeline of the recent political row over "Summer Palace" based on mainland media coverage:
May 8-9 – reports say "Summer Palace" failed to pass approval by the State Administration of Radio, Film and Television (SARFT) because director Lou Ye (娄烨) had not implemented revisions they had demanded.
May 9 — SARFT and director Lou Ye publicly deny the above, saying "Summer Palace" has not yet been submitted to SARFT. Interviewed by Chengdu Economic Daily, the film's producer, Fang Li (方励), says he has assurances from SARFT that the approval process will be simplified to ensure quick approval.
May 13 — SARFT says it has not yet approved the film's application, and that approval will be unlikely before the film festival begins. One SARFT official says the movie's nomination for the Palme d'Or, the festival's highest award, is already in violation of SARFT rules.
May 15 – "Summer Palace" is finally sent to SARFT to begin the approval process.
May 16 – Citing poor film and sound quality, SARFT refuses to begin the approval process.
May 15-17 – Mainland media report conflicting accounts by people involved in the film as to SARFT's regulations and position:
Fang Li, producer: "It's not necessary for a record of the film's recommendation [for the Palm d'Or] to be made [with SARFT] because the recommendation was made by the film's foreign distributor, Wild Bunch, and not a mainland producer." (The Mirror, 法制晚报, May 15)
Nai An (奈安), producer: "We will produce a new version of the film that is brighter and has a clearer soundtrack for SARFT … If we do not receive permission [from SARFT], 'Summer Palace' will be withdrawn from the festival." (Nanjing Daily, 南京日报, May 17)
Lou Ye, director: "I don't understand what can possibly be wrong with the film. If [the screening committee at SARFT] wants to give the reason that the film and sound quality are poor, that's like fooling children. It's shameful! (Strait News, 海峡都市报 [Fujian] May 17).
On May 18, Lou Ye took his director's cut of "Summer Palace" to Cannes and the film was screened according to the original schedule [AP coverage here]. However, the film was presented as Lou's personal work and not as a work representing China at the festival.
On May 19, the Propaganda Department sent out an internal notice banning all news reports dealing with the Cannes Film Festival, "Summer Palace" or any of its creators. On the day of the notice, however, news report on the film's "illegal" participation in the festival were still running in many mass media.
On May 20, reports about "Summer Palace" could still be found in some media. See, for example: Chongqing Morning Post, and Yangzi Evening News. The Chongqing Morning Post story begins:
Reporter Feng Weining (冯伟宁) – Approval from the China Film Bureau [of SARFT] never came, but Lou Ye took part in the competition nevertheless. On the night of May 18 at the Cannes Film Festival, a screening for Lou Ye's film "Summer Palace" was held and three consecutive showings were packed.
Since May 21, reports about "Summer Palace" in the Chinese media have apparently disappeared, based on a search through publications database WiseNews, but there are some reports on the Cannes Film Festival, including from The Strait and Beijing Times.
The following is a graph showing the results of a WiseNews search on both "Cannes plus Summer Palace" and "Cannes" for May 14-23. Numbers at left are total number of articles: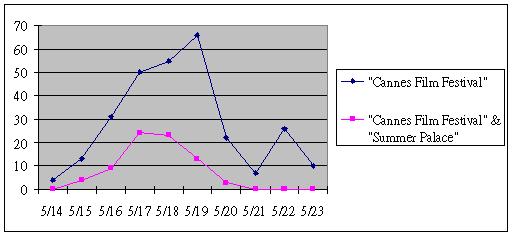 [Search covers 140 mainland Chinese publications]
There is now strong speculation that the non SARFT-authorized screening of "Summer Palace" at Cannes will mean the film will not be shown at theaters in China. It is also conceivable that the director, Lou Ye, could face penalties from SARFT, the most severe of which would be withdrawal of his right to make films legally in China.
[See May 17 Danwei.org for more coverage and links]
[Posted by Brian Chan, May 23, 2006, 12:30pm]