August 24 — The debate over the media's role in supervising the handling of emergency events continues to brew just under the surface more than a month after Chinese media raised their hackles over China's draft emergency management law, which proposed fining news media that "made bold" to report on emergency incidents in violation of administrative bans. The latest row centers around official Chinese news reports of the recent Typhoon Saomai, which struck China's southeastern coastal region earlier this month. [IMAGE: A screenshot of Sina.com coverage of Fujian Party Secretary Lu Zhangong's criticism of domestic media/See pdf_sina-coverage-of-saomai.pdf for larger image]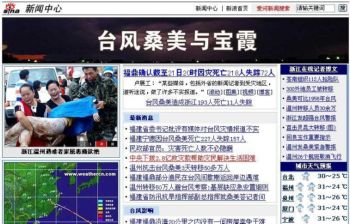 The debate over Saomai coverage highlights the complicated factors at play in media coverage of emergency events — conflicts between local governments and the central government, the rise of journalistic professionalism (within party media structures), traditional top-down party media supervision, etcetera.
According to reports from media outside Fujian province, an estimated 1,000 people died in Fujian's Shacheng Harbor when the typhoon struck. By August 16 media and local residents took issue with official reports on the number of dead made by local officials who said just several hundred had died [ESWN wrap-up here].
On August 17, an official from the Ministry of Civil Affairs said publicly that "there is no need to cover up the number of deaths caused by natural disasters, and it's impossible to cover it up". "There are now various institutional restraints, there is media supervision, there is supervision by the public and the family members of the dead, and whatever the situation it can quickly be made clear to everyone", said the official, quoted in Southern Metropolis Daily. This, then, was the central government's position on the issue, although CMP sources have indicated that there were national bans on media coverage of cover-up attempts by local officials in areas hit by storms and floods in July this year.
But on August 18, Fujian's top leader, Party Secretary Lu Zhangong (卢展工) expressed anger over the handling of Saomai news reports by regional media. "Some media, including reporters from outside the province, wrote many false reports based on hearsay, and the news was stirred up on the web. I worry about whether the cadres of Ningde will make it through faced with social pressures like this, whether they can continue without interference and do what we need to do in serving the people". Lu's comments appeared in the official Fujian Daily on August 19 and by the following day had drawn comments from media outside the province. A news report about Lu's criticism was featured at the top of the news section of Sina.com, one of China's most popular web portals, on August 20 [Image above].
The next day Southern Metropolis Daily wrote: "What are these false reports? According to relevant media, when Saomai came through, there were about 12,000 fishing boats seeking shelter in the harbor at Shacheng to escape the typhoon, and when the typhoon arrived the winds in Shacheng Harbor reached level 15, resulting in the destruction of close to a thousand boats and causing damage to about 1,100. An estimated 1,000 people died. But according to the latest reports from the local government as of 12 noon on August 17, in the Ningde area … the number of dead as a result of Saomai was 128, with 157 missing — these two [figures] are radically different."
A letter in Southern Metropolis Daily on August 22 remarked pointedly that if you "looked only at one kind of report from major local media in Zhejiang and Fujian, you would certainly think that those now suffering most [from Saomai] are the cadres". Without mentioning the official by name, it unambiguously recalled Fujian Party Secretary Lu Zhangong's remark that he worried "about whether the cadres of Ningde will make it through faced with social pressures like this …" [Translation of letter by ESWN].
The row between Lu Zhangong, who as Fujian's top official controls the party-run Fujian Daily that first reported his criticism of media, and regional commercial papers like Southern Metropolis Daily, illustrates the growing rift between party media in China and the comparatively freewheeling media they have launched to grab shares in the media marketplace. The tension between local and national, glimpsed in the comment from the Ministry of Civil Affairs official on August 17, could also be seen in national media coverage. As the letter to Southern Metropolis Daily remarked on August 22, coverage of Saomai by China Central Television's Business Half-Hour (经济半小时) was dramatically different from local media coverage: "Looking at the two news items you see that Business Half-hour is offering specific and clear-cut reports, and local media are saying nothing but stereotyped expressions, empty words".
The draft emergency management law, which was made public in late June, brought a firestorm of criticism from domestic media who said the law would effectively subject national and regional media to the whims of local leaders and put an official imprimatur on government cover-ups. Beijing lawyer Pu Zhiqiang was quoted by Hong Kong's Ming Pao Daily as saying the law not only violated China's constitution but trampled on the public's right to know. A Chinese cabinet official stepped forward on July 3 to "clarify" the government's position, saying the law would not give local government license to cover-up the true scale of emergencies. The announcement seemed to suggest that media would not be fined under the law if exposing attempts by local governments to cover-up the true scale of emergency events. Entrenched local leaders, however, regard intrusions by outside media as challenges to their authority.
[Posted by David Bandurski, August 24, 2006, 11:31am]