Last week Chinese censors reiterated a prior ban on all coverage of an incident at a county school in China's western Gansu Province where the principal was allegedly found to have drawn blood from scores of pupils over several years to "cure" them of diseases, according to CMP sources. The story, first reported by Hong Kong's Wenweipo and later by other media in Hong Kong, Taiwan and Singapore, is a good case study about why Chinese media censors sometimes ban stories that have little apparent impact on leadership circles.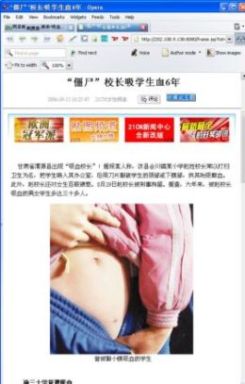 Wenweipo, a newspaper run by the central party in Beijing but outside the purview of the central propaganda department (being in Hong Kong), reported on September 13 that the principal of an elementary school in the county of Weiyuan, Gansu Province, used a razor blade to cut the neck or abdomen of his pupils, and then sucked blood from the wounds. More than 30 students are reported to have suffered since the principal's appointment to the position in 2000. The principal allegedly explained to his pupils that drawing blood was a cure for disease. He reportedly threatened pupils with expulsion if they revealed to others what he had done. Investigators are also alleging sexual abuse of some of the students.
The story did not appear in mainland print media, but was picked up by news editors at two mainland Websites, China Finance Information Network and 21cn, on September 15. Both sites mentioned Wenweipo as the source of the story.
Several days after the above-mentioned web coverage, propaganda leaders took notice of the story. By September 10, according to CMP sources, a ban was in place.
The news was also posted under aliases on a number of small websites and personal blogs, most of which also sourced the Wenweipo report. One netizen noted back on September 15 that the item had not appeared in domestic media: "Who would have thought such a thing could happen, and it's reported by people in Hong Kong. Media here on the mainland probably wouldn't dare cover it".
So why are censors worried about the story now, weeks after the first news came out? And what is the danger to begin with in reporting a story about a local incident of abuse by a school principal? After all, Chinese media have been reporting small-time cases of official abuse of power and corruption under the mandate of "supervision by public opinion" (or "watchdog journalism") since the late 1980s.
We can only speculate as to the particular motives of bans in China, which are delivered informally over the telephone or at "breeze sessions", or chuifenghui, but we do know Chinese leaders are highly sensitive to human rights-related criticism from outside China. It is possible censors are concerned that the Gansu story might fuel more international coverage turning attention to the rights of children there. This is an area regularly watched by international press and human rights organizations such as Human Rights Watch.
In the past, censors have banned similar news stories for the perceived damage they could cause to China's human rights record. Back in 2005, CMP sources cited bans on a story about an orphanage in Hunan Province that was found to have been trafficking babies for profit. Mass media were ordered not to report on the case, which "involved sensitive problems such as human rights", the CMP source said.
Another possible motive for banning the Gansu story is its link to the sensitive area of education in China. There have been a number of cases lately involving issues of student rights or welfare. A student riot at Zhengzhou University in Henan Province on June 15 was not reported on the mainland [coverage at ESWN].
A final observation about the recent Gansu report is the increasing boldness of Hong Kong's Wenweipo, which has pushed the envelope on a number of recent stories despite the fact it represents the views of the central party in Beijing. When Chinese media reported the crash of a military "transport" plane in June this year, the Wenweipo revealed that the plane was actually an Airborne Warning and Control System (Awacs) aircraft, representing a bigger strategic setback for the Chinese.
[Posted by Brian Chan and David Bandurski, October 19, 2006, 10:25am]