Hu Shuli, editor-in-chief of China's influential Caijing magazine, was listed on the Wall Street Journal's list of "Ten women to watch in Asia" on November 20. Hu Shuli is "worth watching", said the Wall Street Journal, "because of her deftness in pursuing hard-hitting journalism while working her publication's Communist Party connections". Caijing can be seen as a pioneer of more independent journalism in China, managing to walk a line between the party's media control regime on the one hand and the pressures of media commercialization on the other [Caijing on Wikipedia].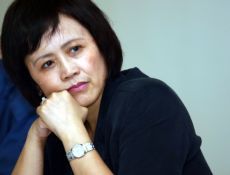 The China Media Project has maintained close contact with Caijing journalists in recent years, including Hu Shuli, managing editor Yang Daming, editor Wang Shuo and investigative reporters Yang Haipeng and Kang Weiping.
Caijing has in the last two years been unrelenting in its criticism of the government's handling of the real estate market in China. In her editor's letter for the November 13 issue of Caijing, Hu Shuli criticized the central government for not doing enough to curb manipulation of the market for their own benefit. "In a number of public policies, from the residential housing reforms of July 1998 … to National Section 6 in early 2005, we can see the government is clear in principle about its role [in regulating the runaway property market]", Hu Shuli wrote.
"But in the actual implementation, this overarching policy direction has not, and has no way of, being actualized in the public measures chosen by local governments. Rather, the influence of powerful pockets of entrenched interest has steered the policy this way and that; added to this, the slow opening up of the land market, as well as the current system of allocation of land-sale proceeds between the local and central governement, strengthen the impulse on the part of local governments to seek personal profit in the development of the real estate market."
Related Articles:
[The Most Dangerous Woman in China, Danwei.org]
[Leading business editor pushes China to the limit, Asiamedia]
[Nieman Report, Harvard University, on SARS coverage]
[Enthusiastic blog on Caijing coverage of recent draft emergency management law]
[Posted by David Bandurski, November 22, 2006, 12:22pm]