Over the last week in China two entertainment scandals have topped headlines and chatrooms. Today, in one of the first editorials approaching the scandals from a larger social perspective and pointing out blindness to more fundamental issues raised by the cases, such as sexual abuse and harassment, Southern Metropolis Daily criticized China's speech controls implicitly and media and Web users directly for turning speech into a "mechanism for sealing oneself off and obviating the need for any sort of action whatsoever".
The first case involves actress Zhang Yu's (张钰) online posting of a short video showing a young woman purportedly hired by Zhang having sex with a film director for what Zhang says was exchange for a more prominent role in a production, and her revelation to media of more than 20 tapes of herself having sex with well-known actors and directors. The second case surrounds actress Rao Ying's (饶颖) online postings of diaries detailing her alleged sexual abuse by CCTV director Zhao Zhongxiang (赵忠祥). Both stories have brought widespread media coverage and a firestorm of postings from Web users. [ESWN on Zhang Yu Affair]. [ESWN on Rao Ying Affair]. [Zhang Yu page at Sina.com].[IMAGE BELOW: Special page devoted to Zhang Yu Affair at Sina.com].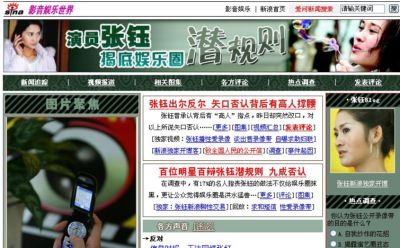 The Southern Metropolis Daily editorial, once again, links these cases with larger questions of free speech and social responsibility. The points are relevant to other ongoing debates, such as the proposal for a nationwide real-name registration system for blogs in China. While the word most often on the tongues of proponents of the registration system has been "responsibility", editorials like this one beg the question: How is responsible speech possible in a system where speech is not protected or respected?
The Southern Metropolis Daily editorial follows:
Southern Metropolis Daily
November 24, 2006, A2
"As Public Opinion Trends Toward Entertainment, Online Denunciations are Futile"
[Summary of Zhang Yu and Rao Ying cases] … In [an informal] study of 100 stars in the entertainment world, only one responded that there were "unwritten rules" [in the profession]. But this doesn't prevent the Internet world from believing overwhelmingly that what Zhang Yu says is true, or at least the tapes she's presented are true. About three years ago Zhang Yu went purposely to a newspaper to expose ugly rumors about [film director] Huang Jianzhong's (黄健中) sexual behavior. But at that time there were some who believed it and others who didn't, and eventually the story vanished from the media. Perhaps this was because no one actually heard the tapes that were rumored to exist. Actually, in that case mainstream media were not sufficiently on their game. They did not follow up on the story until there was a breakthrough, perhaps because they had scruples about going up against the entertainment world (their long-term and regular sources for news). This time is different. We can see that Zhang Yu has succeeded in grabbing the headlines and gaining an audience that, seeing the evidence she had provided, believes her story.
The turning point of the story this time is the strength of her evidence – a video broadcast directly on the Internet. There is one camp that believes that by doing this she [Zhang Yu] has violated the rights of the person in the video, and that this is illegal. Setting aside for a moment the issue of the law, this incident shows us once again the immense power of the Internet. Some believe online public opinion might become a new form of moral supervision, remedying the division and fuzziness about morals that has come with the greater anonymity of urban life. This is one point of view about the Internet's power, but as to the actual function such power might serve, this forecast might be a bit too optimistic.
Why? Because we can see from the Zhang Yu and Rao Ying affairs that online opinion is trending clearly toward [bottom-line] entertainment. The people anticipate live sex videos and serial diary entries. They hanker for the snowballing of events and the uncovering of personal affairs in a climax of rave excitement. Just as the motives of both Zhang Yu and Rao Ying imply hatred and the desire for revenge, so does the storm of language conjured up by Web users harbor a kind of fatuous anger and boldly self-assured linguistic violence. What Web users spout out for any story – be it the Zhang Yu and Rao Ying affairs, news of official corruption or stories about miscarriages of justice — are the same sort of obscenities marked with the same sort of fury. Perhaps it's that they know at the very moment they post their words that saying them is pointless, and if they're "pointless" why not just put a little more bite into them? [NOTE: "Pointless" here implies China's censorship regime]. Who anywhere is treating this news seriously? Who anywhere is putting real pressure on those concerned? Can the kind of strict moral judgment Zhang Yu is expecting truly be rendered on the Internet? Relying on language alone, can people truly achieve judgment and lead a [successful] crusade?
Follow-ups on the Zhang Yu affair are already appearing in the traditional media. But the traditional media too are going through a wave of news as entertainment [NOTE: a blurring of the boundaries, in other words]. Of course, this isn't what's most important. What's most important is that no matter whether on the Internet or in the actual world, language is becoming a kind of mechanism for sealing oneself off and obviating the need for any sort of action whatsoever. No one will, on the basis of a serious and principled report in Southern Weekend, go and organize a protest, urge the creation of a new law, or boycott such and such a director's film. And that means no one in the entertainment world will step out to seriously protest or offer up an explanation of any kind. All we see are monologues of heartfelt anger from two female characters. All we see are a number of media and netizens coming out to have a good time of it. Like those involved we can probably safely suppose that just as happened a few years back this will all blow over. When language fails to prompt action, when it results in no actual consequence, it becomes a house of cards ["built on stilts"], a game and recreation, something to be taken trivially – and the status quo can roll on with its brutal chain of interests.
And why, in fact, has China's Internet world been marked from its very beginnings with such a fierce emotionalism? Because there are so many things we have to get off our chests. And also because, as people have long understood habitually, our most earnest words, even should they not bring us trouble, cannot really and truly change anything.
Other Sources:
"Xinhua: Actress shows sex tapes to media", Danwei.org
"China's Yellow Journalism", David Bandurski, Far Eastern Economic Review, June 2006
[Posted by David Bandurski, November 24, 2006, 3:30pm]