Gone are the days when China could pass World Aids Day with nary a mention of its own struggle against the disease. Seven years after a young Chinese reporter named Zhang Jicheng wrote the first expose on the Aids epidemic in Henan province, the result of illegal blood selling practices in the countryside, China is facing up to its Aids problem in new ways. But there still sharp differences in how the story of World Aids Day is treated in the Chinese media. And once again, the contrasts are most obvious when one sets party and commercial newspapers side by side. [BELOW: World Aids Day image on Page 4 of Southern Metropolis Daily]. [pdf_nanfang-daily-coverage.pdf: On the front page of Nanfang Daily, an Aids photo is hemmed in by official news].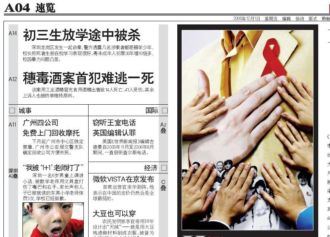 Coverage of World Aids Day was missing today from the front page of People's Daily, the official mouthpiece of the central party leadership. Both of the top stories are central party meetings, the first on a forum of top leaders and outside economic experts (attended by Hu Jintao), and the other on population control policy. [BELOW: Today's front page at People's Daily].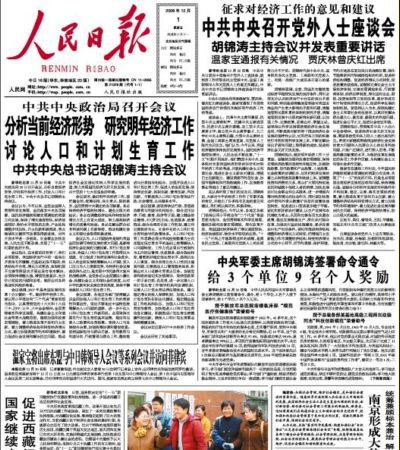 Coverage did appear on page five, however. The first half of the article follows:
People's Daily
December 1, 2006, A5
December 1 is "World Aids Day", with the theme of "Stop Aids. Keep the Promise", and various places are holding many kinds of publicity events, including some news stories that have received attention and discussion. For example, relevant authorities in Harbin have held a special education program on Aids prevention and promoting the use of condoms for more than 50 women working in entertainment spots [sex workers], and have left a phone number [these women] can contact at any time.
Some people do not understand the work of getting involved with this group of entertainment workers at high-risk for Aids, and believe such methods … amount to [an unacceptable level of] tolerance or even acceptance of the existence of prostitution that might promote bad social practices. Prostitution is not permitted by the laws of our country. Actually, our normal activities in cracking down on prostitution and drug sales and drug use have never ceased. But due to complex social causes, these detestable occurrences can not be eradicated in the short term. A release from the Ministry of Health shows that during the first 10 months of 2006, drug use and sexual conduct were the primary means of [HIV] infection. The number of people infected through sexual conduct is on the rise. Prostitution has already become the primary means of transmission of Aids.
We must admit these facts, and must not, like ostriches, bury our heads in the sand to avoid danger. As we continue to press on to deal with these nagging social problems, we must work along both lines, using the necessary means of prevention to lessen the chance of Aids spreading to those people of dissolute social habits, and doing our utmost to mitigate the dangers to our society. Cutting off the means of Aids transmission can also reduce the enormous costs of treatment, and so this realistic and practical approach should be seen as social progress …

At The Beijing Times, the commercial spinoff of People's Daily, World Aids Day gets a great big headline on the front page: "Number of People Infected with Aids Up 34% in Capital". [BELOW: Today's front page at The Beijing Times].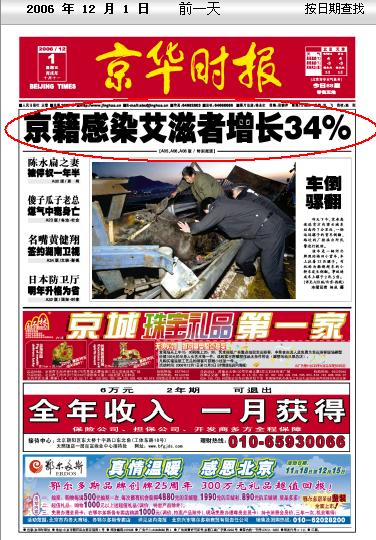 The Beijing Times gives readers more than three times as much World Aids Day coverage as People's Daily by word count (8,000). Stories include:
1. A report on the current situation of Aids in Beijing that uses a city health bureau report saying Aids cases were up 34 percent during the first 10 months of 2006.
2. A report about Aids activists and students with Aids in China protesting cases of misuse of World Aids Day's trademark red ribbon for commercial purposes.
3. A story about a "No condom, no sex" drive in the city of Lanzhou and efforts nationwide to promote condom use among sex workers.
4. A special interview with a World Health Organization official taking part in Aids prevention and condom distribution programs in the city of Lanzhou.
5. Coverage of a recent The Public Library of Science Medicine report which said Aids may become the world's number three cause of death.
Moving south to Guangdong's Nanfang Daily, the mouthpiece of top provincial leaders, coverage of World Aids Day does in fact appear on the front page. There are no reports on the front page, but the photo at center is of a baby born in Guangzhou to a mother with Aids (See PDF above).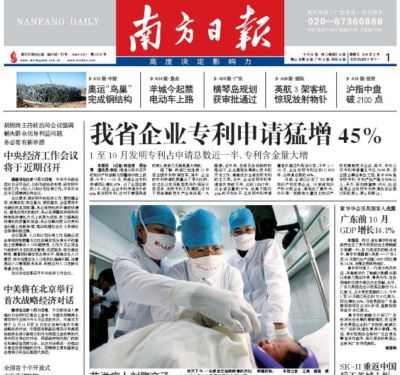 The photograph refers readers to a larger story on page 3 about the Aids mother and her decision to have a child despite the risks. On the front page, the lead stories deal with economic development. The top story is about a 45 percent increase in patents registered in Guangdong province for the first 10 months of the year. The story to the immediate left of the Aids photograph is a news brief about an "economic work" conference held by top Chinese leaders. The story below that is about US-China trade talks in Beijing. Immediately to the right of the Aids photo is a story about 14.1 percent GDP growth in Guangdong for the first 10 months of 2006. The story below: "9 Provinces Sign Cooperation Agreement to Accelerate Tourism Promotion".
Page 2 of Nanfang Daily includes an editorial on World Aids Day, "Looking at Aids Prevention with New Concepts", partially translated here:

Nanfang Daily
December 1, 2006, A2
Today is the 19th "World Aids Day". This year the theme is: "Stop Aids. Keep the Promise". While the theme has not changed, a number of new things have appeared – for example, we have moved away from our ignorance of Aids prevention, and people have began to look more openly at Aids and this special group. Of course, the struggle between ignorance and general knowledge goes on as ever in our country, and the outcome of this [struggle] will impact the social management concepts used [in China to combat Aids].
Measured by traditional concepts, the examples below are perhaps rebellions against orthodoxy: On October 11, 50 female sex workers in the city of Harbin received education on Aids prevention and the use of condoms openly and publicly for the first time, making clear their identities and profession; Guangzhou has officially opened a "Work Team for Aids At-risk Groups", which not only has held more than 30 free Aids education events, giving out more than 30,000 free condoms, but has also offered training to those managing people working in the sex industry (性从业人员的管理者).
[History of illegal blood selling in China and "Aids villages"]
Aids poses a risk to all humankind, and governments bear responsibility for prevention, opening up attitudes, gathering resources and changing management mindsets. First it requires the media disseminating information to the people about Aids and accepting people with Aids. Next it requires creating a comprehensive and efficient national network for monitoring and preventing the illegal selling of blood products. Thirdly, it requires strengthening the system of public monitoring, taking action strictly against blood stations, putting an end to illegal blood selling. Fourth, we must face head on those groups most at risk, using effective means of lowering their risk of contracting Aids. On this "World Aids Day" we need not just to ensure the health of our own bodies, but also need to cure those diseases of thought, using an attitude of light (阳光的态度) to face the risks of the spread of epidemic disease, treating those with Aids and their families with kindness, and in this way building a new social management system appropriate to the situation we face to create warmth for those with Aids and open a new chapter in social health.
Another story on page 3, below the story about the Aids mother, refers to a study of 423 gay men in Guangzhou that found 7 infected with HIV, an infection rate of 1.65 percent. The report said Guangdong province would launch a program of education and free condom distribution among high-risk groups in 2007, including drug users, sex workers, migrant laborers and college students. The report said Guangdong had reported an 8 percent rise in Aids cases during the first 10 months of this year.
At Southern Metropolis Daily, a commercial spinoff of Nanfang Daily much further along the commercial spectrum than The Beijing Times, World Aids Day gets major play, including a prominent image on the front page. Of the first nine pages of the newspaper, five pages focus on Aids and four are advertisements. The newspaper includes a full 25 articles dealing with Aids in nearly all sections of the paper, with a total of nearly 25,000 words of coverage (more than three times that of The Beijing Times).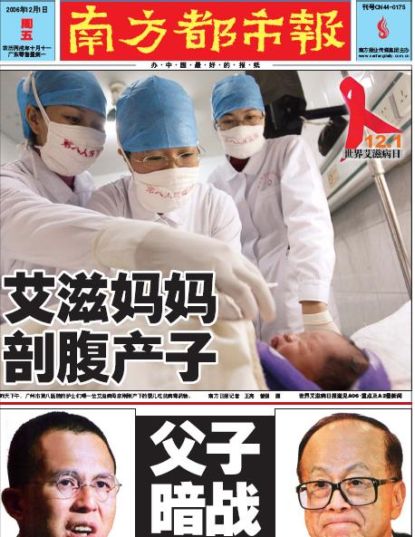 Southern Metropolis Daily coverage includes editorials, scientific reports on Aids, reports focusing on Aids prevalence among migrants, a feature about a Website for gay men in Guangdong, entertainment coverage about an MTV special on Aids. The newspaper's editorial on World Aids Day is partially translated below:
Southern Metropolis Daily
December 1, 2006, A2
Today marks the 19th World Aids Day. The theme of 2006 is "responsibility", and the slogan is: "Stop Aids. Keep the Promise". From utter ignorance to consciousness marked with looking but not seeing, from discrimination and prejudice to contact and assistance, from cold uncaring to enthusiasm about prevention – as Aids and information about Aids has spread, humanity has at last learned to face Aids head on, taking a proactive approach.
The theme and slogan [of World Aids Day] is full of the spirit of civility, but actually in many ways is merely an ideal. The road to facing Aids head on, to universal knowledge of its prevention, to making prevention and treatment work routine, is still very long. In China the government and the people have only just begun to accept the fact that Aids exists and is spreading. The taking of responsibility, the keeping of promises, everything has just begun.
Our country's Ministry of Health recently sent out a release saying that up to October 31 this year China has 183,733 cases of Aids. Just five years ago the government was still keeping silent about the Aids situation; three years ago, the Ministry of Health was still not publicizing accurate figures for the number of Aids cases in China; two years ago, media reports on Aids were still frequently being stymied by local governments. Not only have national officials gone themselves to visit Aids villages and care for those infected with Aids, but the "Ordinance of Aids Prevention" was passed earlier this years and took effect in March. As a public health issue Aids has already entered the government agenda with much more fairness …
… Even though China has only recently taken the road to facing Aids head on, even though it is still a long way from the beautiful wish of taking responsibility and keeping the promise, when all is said and done everything [needed to get there] has already begun. Just like that child just born yesterday to a mother with Aids, even though his life is already faced with extraordinary difficulties, we can hope that by the time he has grown up Aids and all of its problems will no longer cast a shadow over his life. In their fight against Aids, China and the world can back out of the lows and begin to move toward the light.

[Posted by David Bandurski, December 1, 2006, 6:20pm]