Chinese Web portal Sina.com gave major play this morning to a story laying emphasis on the mention of "watchdog journalism" in the official bulletin coming out of a recent session of top discipline inspection officials in China. But that coverage had vanished by shortly after 9am. [BELOW: Screen capture from Sina.com news main page, 9am, January 11].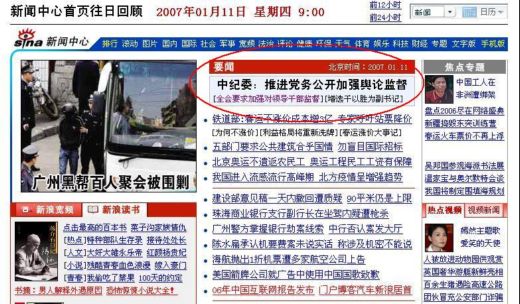 The official bulletin from the Seventh Plenary Session of the Central Discipline Inspection Commission (CDC), held in Beijing from January 8-10, called for the "strengthening" of party and government transparency and made mention of watchdog journalism, or "supervision by public opinion", as a key form of power monitoring. The term was listed, however, at the end of a string of transparency-related terms, including intra-party democracy (党内民主) and transparency of party affairs (党务公开).
In an article appearing before 9am this morning, Sina.com posted a large headline reading, "CDC: Must Promote Transparency of Party Affairs and Strengthen Watchdog Journalism". Shortly after 9am the headline disappeared, although the news remained available deeper within the site. A media insider told CMP the move likely came as media censors felt the story misconstrued the emphasis of the CDC bulletin — in other words, while the bulletin emphasized the need for greater transparency, its purpose was not to empower media.
The news follows recent discussion in China's domestic media of legislation in Henan's provincial capital of Zhengzhou mandating watchdog journalism to combat official abuse of duty.
Links:
Official bulletin from the Central Discipline Inspection Committee ("media supervision" SEE section 6)
[Posted by David Bandurski, January 11, 2007, 10:53am]