As Guangzhou's top law-enforcement official, Zhang Guifang (张桂芳), blasted the media as the primary source of a worsening sense of public safety in the city, thousands of Chinese Web users made their own feelings on the issue known. By late afternoon, Web censors were clearly working to contain the story, as thousands of postings suddenly vanished from a major Web portal.
A report this morning from Southern Metropolis Daily, a commercial newspaper published by Guangdong's official Nanfang Daily, quoted Zhang Guifang, secretary of Guangzhou's Politics and Law Committee, as saying: "If we can't bring about a clear improvement in the sense of safety among the people in Guangzhou this year, that doesn't make sense and there's no reason for it". Then came the finger pointing: "Although the media and information industry in Guangzhou has played a major role in economic development, it has rapidly worsened some public safety issues", said Zhang. [BELOW: Zhang Guifang headline appears in the news section of Sina.com, 9am, January 17].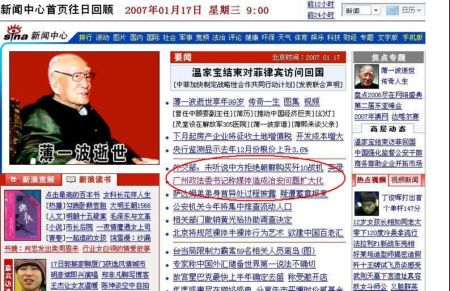 Coverage of Zhang's speech from Southern Metropolis Daily appeared among the top news headlines today at Sina.com, one of China's top Web portals. It did not appear on other major Web portals, including QQ, Sohu and 163. When CMP checked postings for the news article at 4pm, there were a total of 2,121. Just one hour later, the total number of postings had fallen to under 1,000, a sign Sina.com was under pressure to keep opinion surrounding the story contained.
The story is likely to create some tension in the party ranks in Guangdong, where Zhang Guifang is reportedly a thorn in the side of the province's top official, Party Secretary Zhang Dejiang. Zhang has been the source of much unpopular news in recent years, including his unconditional support for police in the shooting death of a criminal suspect who resisted arrest last year, and his involvement in actions against editors at Southern Metropolis Daily following that newspaper's breaking of a story in 2003 about the beating death of a young professional, Sun Zhigang. [Yazhou Zhoukan 2004 coverage of Zhang Guifang's role in punishing SMD editors]. [English summary of Yazhou Zhoukan 2004 story]. Guangdong Party Secretary Zhang Dejiang is likely to be unhappy with Zhang Guifang for generating this latest round of bad publicity. Zhang Guifang is sure to be unhappy with the story and its embarrassing response on Sina.com.
Although a few readers on the Web portal agreed that media had helped create the perception of poor public safety, most found Zhang's announcement ridiculous: "If you want to know about the safety situation in Guangzhou, just head over to the train station and see for yourself. To have people impudently push responsibility for poor public safety onto the media, that's just a magnificent pioneering work!" wrote one. Another said with biting sarcasm: "With leaders of this caliber, is it any wonder Guangdong is a city the country sees generally as a mess? Without the media, who knows how many things might be covered up. This kind of secretary should be promoted right up the bureaucracy! The media just doesn't understand the feelings of the leaders!"
"As I see it," another Web user wrote simply, "the root cause is social inequality, the gap between rich and poor."
[Click here for more Web postings at Sina.com (if they are still available!)].
[Posted by David Bandurski, January 17, 2006, 5:56pm]