If there's one message to be taken away from the January 23 edition of Beijing Daily, the mouthpiece of top city leaders in China's capital, it's that Party newspapers can be feisty too. More than a week after top publishing officials in China announced a nationwide ban on eight books, drawing domestic and international criticism, Beijing Daily slipped an excerpt from one of those books, The Other Stories of History, by former People's Daily journalist Yuan Ying (袁鹰), into a prominent place on its inner pages. [IMAGE: Page 15 of Beijing Daily, January 23, with exerpt (at top) of Yuan Ying's recently-banned book/byline marked in RED].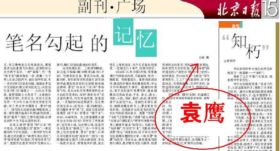 The particular essay chosen by Beijing Daily, in which Yuan Ying discusses his various pen names of the past, is not itself sensitive. But the "Yuan Ying" byline is clear, and clearly a shot across the bow of officials at the General Administration of Press and Publications (GAPP), particularly deputy director Wu Shulin (邬书林).
CMP has written repeatedly about the way commercial newspapers (generally spin-offs of provincial and city-level party newspapers) push the envelope on various issues, both in news coverage and editorials. This latest case at Beijing Daily, a newspaper strictly controlled by top city leaders in Beijing, is a reminder of the complexity of China's media environment.
Yuan Ying's latest collection of essays, The Other Stories of History: My Days at the Supplement Division of People's Daily (风云侧记 — 我在人民日报副刊的岁月), looks back with a level head on three decades of turmoil facing intellectuals in China, from the Anti-Rightist Movement of 1957 to the Cultural Revolution. While the book deals with many tragic episodes top Chinese leaders faced head-on in the early 1980s, Wu Shulin recently accused the book of "revealing state secrets".
More Sources:
"Book Ban Violates My Rights, Says Author", SCMP, January 20, 2007
"Denial of the Past Will Impede China's Future", SCMP, January 19, 2007
[Posted by David Bandurski, January 25, 4:37pm]