The democracy protests of 1989, culminating in the massacre of student demonstrators in Beijing on June 4, brought the birth of new supreme buzzword in the Chinese media lexicon — "guidance of public opinion". There are now indications that the term, synonymous with press control, is gradually retiring to the annals of party censorship. What does this mean? [BELOW: Graph showing use of terms "guidance of public opinion" and "supervision by public opinion", or watchdog journalism, in a database of 120 Chinese newspapers].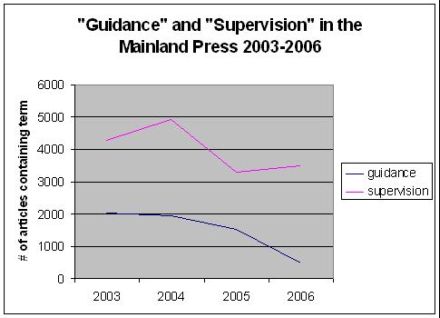 "Guidance of public opinion" arose as the pillar of news control in China in the aftermath of June 4, as the ousted general secretary, Zhao Ziyang, was criticized for letting things get out of hand. Zhao had reportedly told top propaganda officials during the protests to "open things up a bit". "There's no big danger in making the news more open", Zhao had said. "By facing the wishes of the people … we can only make things better" [SOURCE: "A Timetable of Events", (Da shi ji), Biweely Discussion (Ban Yue Tan), 6 May 1989]. Zhao's failure to control the press, said an official party magazine following the crackdown, had created widespread public support for the student protests and "guided matters in the wrong direction". The buzzword was officially introduced by President Jiang Zemin in November 1989.
In its official report released last October, China's Party Congress signaled that "guidance of public opinion" was still central to party press control. Section Five of that report dealt with Hu Jintao's newly cast ideology for the cultural sector, the notion of a "harmonious culture" dovetailing with his overarching vision of a "harmonious society". The third of four aspects of "harmonious culture" was explained as follows:
Adhering to correct guidance [of public opinion], and building an active and healthy public opinion atmosphere. Correct guidance of thought and public opinion is an important factor in promoting social harmony. News and publishing, radio, film and television, and the social sciences, must adhere to correct guidance of public opinion, singing the [party's] main theme, creating a favorable thought and public opinion climate for development and reform.
But a sharp drop in use of the term "guidance of public opinion" in official party newspapers in 2006 suggests propaganda officials are softening the language of control even as they ratchet up pressure on news media. In other words, while the principle of "guidance" continues to reign supreme, officials are backing away from public use of the term, which smacks openly of government censorship that is increasingly unpopular.
Use of "guidance" fell 68 percent in 2006 (measured by total # of articles using the term at least once), much sharper than the 22 percent decline a year earlier.
Use of the term peaked in 2003 (2,029 total uses), as the leadership sought to restrain the media in the aftermath of a series of embarassing news events, including the SARS epidemic and the beating death of Sun Zhigang. The term has fallen steadily since 2004.
(NOTE: The graph above plots both "guidance" and "supervision by public opinion", or Chinese watchdog journalism. Use of "supervision" has historically outpaced "guidance" because the term is used by both the party and the commercial press (大报/小报). "Supervision" can refer to party use of the media to combat corruption, and in this sense is an official term. More progressive commercial media, however, tend to use it as a proxy term for press freedom, media serving as an independent check on power. Note the spike in use of "supervision" corresponding to the SARS epidemic in 2003.)
[Posted by David Bandurski, February 2, 2007, 7:30pm]