Guangzhou's top leader said in a forum with regional media yesterday that party and government leaders in the city encouraged and accepted correct watchdog journalism, or "supervision by public opinion" (舆论监督), and that it was an important test of whether cadres were dedicated to serving the people. [BELOW: Participant on a Chinese message board expresses skepticism about city leaders' commitment to media supervision.]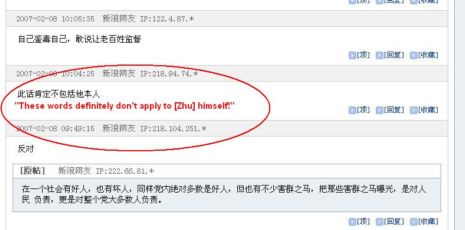 Quoted in a report from the official Xinhua News Agency, Zhu Xiaodan (朱小丹), party secretary of Guangzhou and a standing committee member of the Guangdong Provincial Party Committee, said watchdog journalism would help make leaders more aware of the hopes of the people and the problems facing them. "If there are problems in your own work but you keep shutting the mouths of others, the reason can only be that you are selfishly thinking of your own interests," Zhu said. "Therefore, whether or not we can take the initiative in accepting watchdog journalism is a test of whether we have the people in our hearts and accept constructive voices".
Zhu emphasized that quality watchdog journalism included critical news reports and opinions. But the leader's notion of correct watchdog journalism — a reference to the concept of "correct guidance of public opinion" — also assumed supervision under party press controls.
Web users at Web portal Sina.com responded variously to the news.
"Leaders accepting supervision by public opinion is an important aspect of developing toward democratic governance. I hope Guangzhou can set a good example in this area," said one netizen.
"Good. This deserves praise!" said another. "Especially in this place [Guangzhou], for leaders to have the courage to open up politics to scrutiny really gives us hope!"
Others were more skeptical: "These words definitely don't apply to [Zhu Xiaodan] himself!"
[Posted by David Bandurski, February 8, 2007, 10:55am]