In what seemed a ringing indictment of official manipulation and control of news media, China's top safety inspection official said officials must not place arbitrary limitations on the press and are duty-bound to take media supervision seriously. News media do not have the luxury of time, do not work in an official capacity and do not enjoy the powers available to party discipline inspections teams, the official said — as such it is unreasonable to expect journalists to meet a standard of 100% accuracy. [BELOW: QQ.com gives major play to comments by China's top safety official].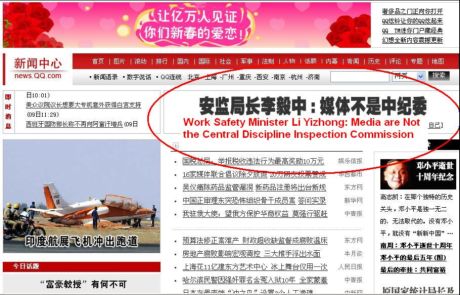 Quoted in yesterday's China Youth Daily newspaper, Li Yizhong (李毅中), minister of China's General Administration of Work Safety (GAWS), angrily criticized the actions of local work safety officials in the city of Xinzhou (忻州), who allegedly accepted payments from state-run mines and used the money to purchase an office building and vehicles for the local office of work safety. While the Xinzhou case formed the crux of Li Yizhong's comments, the official also expressed his thanks to China Youth Daily for its breaking of the Xinzhou story last December and China Central Television and other media for their follow-up coverage. [Original China Youth Daily story, December 27, 2006, with photos of Xinzhou office building allegedly purchased by local safety officials with dirty money].
"We [at GAWS] are in the administrative ranks, and we carry out investigation of production safety [in China]. But at the same time we also have to accept supervision [of our conduct]," Li Yizhong was quoted as saying in China Youth Daily.
Li criticized moves to control media supervision on the grounds that news reports lacked perfect accuracy: "The media are not the Central Discipline Inspection Commission", said Li. "They do not have the power to 'detain' suspects, they do not have the power of coercion. Journalists can only rely on their own acumen, on their own strength and that of their departments, to go out an find news sources. When they come across mining accidents and other stories to uncover, they face the danger of being crippled or even killed … The media are not auditing officials, they cannot rely on an army of auditors and accountants and spend a few months or half a year to confirm every shred of evidence … Media are not inspection teams, armed with government power to mobilize major investigative power, openly and boldy 'questioning" every relevant person, investigating whomever they wish and whatever government office they wish."
"If you demand that news reports are 100% accurate in every word and every sentence, this is impossible", Li said.
QQ.com, a popular Chinese Web portal overseen by officials in the southern city of Shenzhen, reorganized Li Yizhong's comments in a story featured today on the frontpage of its news section. The headline of the story read: "Work Safety Minister Li Yizhong: Media are Not the Central Discipline Inspection Commission".
MORE SOURCES:
["Li Yizhong's War on Recurring Coal Mine Accidents", China.org.cn, August 2006]
["Li Yizhong named head of General Administration of Work Safety", Xinhua, March 2005]
[Posted by David Bandurski, February 9, 2007, 3:15pm]