In a move that should be felt strongly by the likes of Hunan TV's "Super Girl", the originator of mainland television shows styled after the popular U.S. competition show American Idol, and Shanghai Media Group's "Good Man", China's top broadcast regulator announced a new regulation requiring all domestic TV networks with national satellite coverage to limit the duration of "competition shows" (选秀节目) to just two and a half months. [BELOW: Screenshot of Sina.com coverage of new SARFT regulations].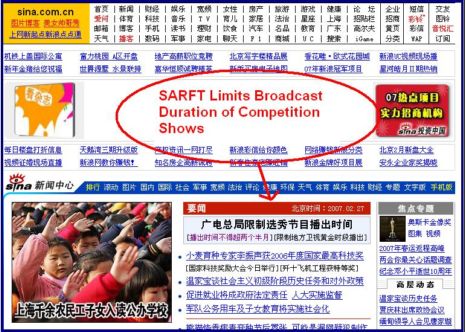 Shanghai's Oriental Morning Post reported news of the new policy today, although no official release was apparently available from the government body responsible for the regulations, the State Administration of Radio, Film and Television (SARFT). Major Chinese Web portals also covered the story, with Sina.com placing it at the top of its news page today. A representative from Shanghai Media Group confirmed to Oriental Morning Post that the group had received notice of the regulations.
No reason was cited for the new regulations, but it is possible officials have taken the action to combat what some percieve to be a rise in popular media "sensationalism". Popular media content has drawn some criticism from party leaders in recent years, as media groups have commercialized and pursued higher ratings. [BELOW: Screenshot of SARFT regulation coverage at top of news page at Sohu.com].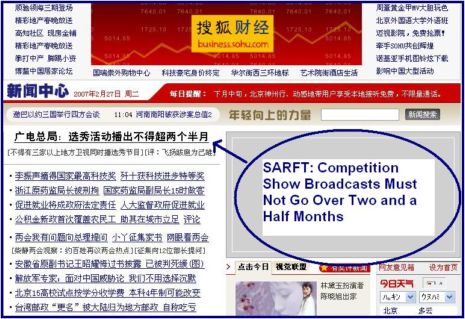 Schedules for Chinese competition shows have in the past run for a duration of about four and a half months, with "Super Girl" running from April 21 to September 29, "Good Man" running from April 8 to August 26, and CCTV's "China Dream" running from April 16 to September 15, according to the Oriental Morning Post.
Web users at Sohu.com were invited to join their own competition of PRO's and CON's after reading the news story about the SARFT regulations. The PRO and CON positions were summarized on the site as follows:
PRO: This is good. Competition shows harm the healthy psychological development of youth. Now young people don't think of working hard to achieve success, but want to become famous and rich overnight. This phenomenon is really scary.
CON: This is not good. Competition shows are entertainment programming and can give joy to viewers and make them happy. These TV networks have been successful in growing their influence by using their own creativity to build their own program brands.
[Posted by David Bandurski, February 27, 2007, 11:26am]