Following on the heels of yesterday's curbs on popular TV "competition shows", China's top broadcast regulator took aim at the growing trend of domestic TV stations poaching Hong Kong television talent,.according to domestic media. [BELOW: Screenshot of coverage of SARFT regs on Hong Kong TV hosts at Eastday.com.cn].[UPDATE: SARFT denies there is a ban/March 2, 2007].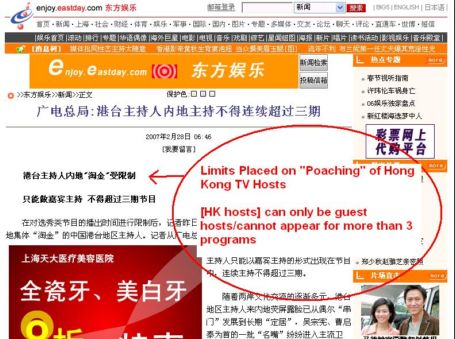 According to a report on Eastday.com.cn, China's State Administration of Radio, Film and Television (SARFT) has issued new regulations specifying that TV hosts from Hong Kong may only appear as "special guests" on mainland programs, and may make no more than three consecutive appearances.
In recent years, Hong Kong television personalities have moved from being temporary guests on mainland shows to staying on, and figures like "Jacky" Wu Songxian (吴宗宪) and Cao Qitai (曹启泰) have become recognizable faces in mainland satellite television.
Chinese media quoted an insider at Hunan TV as saying SARFT has had regulations of this kind for some time, and that previously the regulator has said Hong Kong TV personalities may appear as "guests" only once a month, each guest making an appearance on only one program. Hunan TV said they had attempted to hire Mickey Huang (黄子佼) but had not gained approval from SARFT.
Shanghai Media Group's CBN Channel has reportedly achieved success with its "Going to Work" program because of the popularity of Hong Kong personality Cao Qitai. If the SARFT curbs are carried out, this could force SMG to part with Cao, Chinese media reported.
In an update on yesterday's story about SARFT limits on "competition shows", Shanghai's Youth Daily reported today that advertising revenue losses for satellite networks — including Hunan TV, SMG and CCTV — directly resulting from the SARFT policy could reach as high as 300 million yuan (US$40 million) [Coverage via Sohu.com].
More Sources:
Guangzhou Daily on SARFT HK Host Regulations, February 28, 2007
[Posted by David Bandurski, February 28, 2007, 11:07am]