In the latest news on the Pengshui SMS case, in which a government employee was illegally jailed last year for criticizing a county leader in a mobile phone message, Chongqing mayor and NPC representative Wang Hongju (王鸿举) yesterday denied a spate of media reports last month quoting him as saying he had transferred the disgraced county leader in the case to a city post because "he had ability" [Coverage by Jinghua Times via Sina.com]. [BELOW: Screenshot of Jinghua Times article featured on the newspage at Sina.com].
.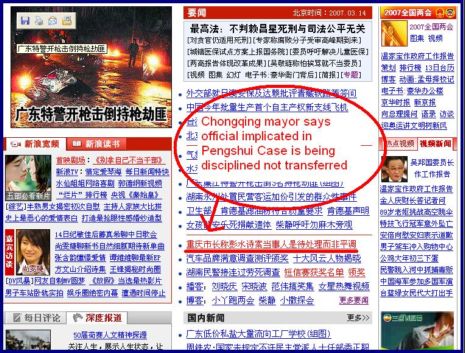 .
The mayor stressed yesterday that former Pengshui County secretary Lan Qinghua (蓝庆华) — who was removed from his post last December following a national investigation into the illegal jailing of Qin Zhongfei (秦中飞), a local government worker whose SMS poem angered Lan and other leaders — was being "dealt with" (处理) and had not been transferred (平调). However, a government announcement made through local Chongqing newspapers on February 17 listed Lan Qinghua as the newly-appointed vice director of Chongqing's statistical bureau.
News of the mayor's February comments regarding the reappointment of county official Lan Qinghua was reported in The Beijing News, one of China's most respected newspapers, on February 28. The story also ran on major Web portals [Coverage by CMP]. The story quoted Wang Hongju as he responded to criticism of Lan's reassignment in the national media, reportedly saying that considering Lan Qinghua's work abilities they could not let him go without work (考虑到蓝庆华的工作能力,不能让他没有工作). Wang Hongju also said (reportedly) that because Lan Qinghua's move did not involve either a promotion or demotion — he remains at the deputy departmental, or futingji (副厅级) level — public notification of the decision had not been necessary.
"Those words were put into my mouth by others," the Chongqing mayor said yesterday, according to the Jinghua Times, a commercial spin-off of China's official People's Daily. "This [position attributed to me by The Beijing News] is clearly an absurd position, imposed on others to offer an occasion for criticism".
"Someone who made such a low-grade violation (犯这种低级错误) and who has caused so much trouble for Chongqing — could I possibly say he has strong ability? In point of fact, I'm very unsatisfied with the work done by Pengshui [leaders]!"
MORE SOURCES:
"As Grip of Censors Endures in China, A Satirical Poem Leads to Jail Time", Washington Post, January 8, 2007
"Follow-up to the Qin Zhongfei Case", China Law Prof Blog, October 27, 2006
"Chongqing police admit error in arresting author of satirical poem", CMP, October 26, 2006
"SMS case dropped", Danwei.org, October 26, 2006
"Update on the Pengshui SMS Case", ESWN, October 26, 2006
"Satiric SMS or Libel?", Danwei.org, October 19, 2006
[Posted by David Bandurski, March 14, 2007, 10:47am]