According to a CMP source, China's leading venue for the screening of independent documentary films has been "postponed" under an order from authorities in Kunming, the capital of China's Yunnan province. The Yunnan Multi Culture Visual Fest, or YunFest, which has been held for three years running, was scheduled to go ahead from April 6-12 in Kunming, but an e-mail from the festival's executive committee today said they had been notified of the postponement. [BELOW: Screenshot of e-mail from YunFest 2007 executive committee notifying festival participants of the event's postponement/Sender's e-mail and mobile blocked].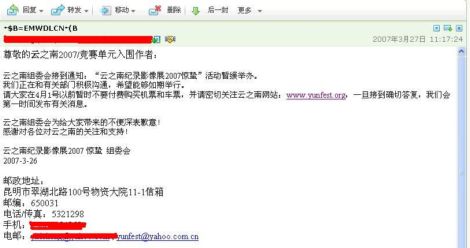 In the e-mail announcement, YunFest planners said they were reaching "relevant authorities" (有关部门) concerning the move. CMP has not yet been able to confirm the reasons for the postponement, but the edgy film festival, which generally features a range of independently-produced documentaries touching on sensitive social issues, might be facing more intense political pressure as China's 17th Party Congress approaches.
The postponement announcement urged participants to hold off on travel plans and wait for further word. The text is translated below:
Dear respected selected contest participant for the 2007 YunFest:
The YunFest committee has received notice that: "The Yunnan Multi Culture Visual Fest 2007" event has been postponed.
We are urgently getting in touch with relevant authorities, and we hope that we may be able to go forward as planned.
Would everyone please for the time being not purchase airline or bus tickets and keep a close eye on the YunFest Website: www.yunfest.org . Once we have received a definite answer we will release information at the earliest possible moment.
YunFest's executive committee apologizes for any inconvenience this has caused.
Thank you everyone for your attention and support!
YunFest Executive Committee
March 26, 2007
MORE SOURCES:
About YunFest
[Posted by David Bandurski, March 27, 2007, 6:23pm]