March 30 — Before and since The New York Times columnist Nicholas Kristof declared in May 2005 that Chinese leaders were "digging the Communist Party's grave, by giving the Chinese people broadband", the debate has continued over the possible political impact of the Web in China. Today, Guangdong's Southern Metropolis Daily offered a profile of "Zola", a young blogger from Hunan province who seems determined to score a point for new media — and make himself famous in the process. [BELOW: Screenshot fron Zola's Weblog, with the English tagline, "You never know what you can do till you try".] [PDF: Southern Metropolis Daily Internet page with story on Zola, in photograph with "nail house" owner Wu Ping].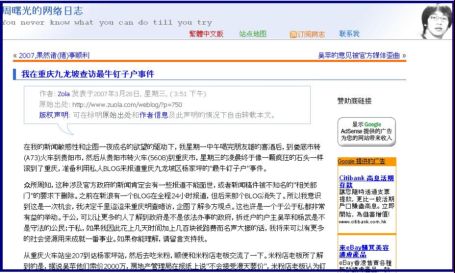 "Zola" has been on the scene in the city of Chongqing reporting on the "toughest nail house" since March 28 for his own personal Weblog. His dispatches have included his observations, photographs and interviews with locals. Click here to link to photos of Zola on the scene in Chongqing. The Southern Metropolis Daily article follows:
——————–
"Chinese bloggers also report the story of the 'toughest nail house'"
March 30, 2007
Southern Metropolis Daily
That photograph distributed on the Web [of the "nail house"] has already become a news event in and of itself. Many journalists have headed for Chongqing. But this time, aside from traditional media, we now have a new kind of reporting form — the blog.
On March 28, the same day that The New York Times offered its second consecutive day of coverage of the "nail house" story, blogger Zhou Shuguang (周曙光) also arrived in Chongqing.
The vegetable-selling blogger
This Hunan youth who has long toyed around on the Web, and while he was invited in November 2005 to take part in an annual Chinese Internet conference for blog essays that showed a unique character, he is not well established on the Web. Clearly, he wants to make a bigger name for himself. He wrote on his personal blog: "Driven by my sensitivity to news and my designs to become famous overnight, on Monday afternoon, after attending my friend Xiong's wedding feast, I traveled to Loudi City and from there caught the A73 train to Guiyang. I transferred trains at Guiyang, taking the 5608 to Chongqing. In the early morning hours of Wednesday [March 28] I finally rolled into Chongqing like a crazy stone, ready to use my personal blog to report on the "nail house incident" in Yangjiaping in Chongqing's Jiulongpo District.
"I think this is a good thing for both public and private reasons," Zhou Shuguang wrote, saying he could, privately speaking, increase traffic to his blog, and publicly do his part to satisfy the curiosity of people paying attention to the story.
When he arrived in Chongqing, he had with him the few hundred yuan he had made selling vegetables. That day sometime past three in the afternoon, he posted his first dispatch about "my inquiries into the 'nail house incident' from Chongqing's Jiulongpo". He reported on his journey, the people he had met and people's responses to the nail house incident. "Because of my identity [i.e., not being a licensed reporter] I could only watch from the sidelines, listening to the views of people all around me." Zhou Shuguang saw the female owner of the nail house, Wu Ping (吴苹).
On the afternoon of the 29th, after he had made the posting "Wu Ping's opinions twisted by official media" from an Internet bar, Zhou Shuguang returned to the inn where he was staying. His lodging fees were sponsored by a rights defender (维权户) who came from the city of Zhuhai. Before he set out, he had asked on his Weblog for sponsors and received 500 yuan, which he felt was enough to support his expenses in Chongqing.
This Mr. Chen in Zhuhai had faced forced demolition and removal and he went specifically to Chongqing to offer his support for the resident of the "toughest nail house".
From them [Mr. Chen and others] Zhou Shuguang learned something he found shocking. "Many things we find inconceivable aren't so because we can't believe them but because we don't know about them," Zhou Shuguang wrote. He wanted to make available through his blog reports things that the traditional media might know but found it inconvenient to report.
His reports have been welcomed by Web users. "My inquiries into the 'nail house incident' from Chongqing's Jiulongpo" has already drawn more than 5,000 Web hits, and his second dispatch received close to 2,000 hits within just a few hours. He has already received more than 20 notices from other Weblogs using his material, and continuous messages of support.
One Web user says: "Comrade Adorable Angry Youth Zola (Zhou Shuguang's web alias) must really be commended for going by himself to Chongqing as an independent blogger to report on the nail house incident! This will be an important chapter in Chinese grassroots media."
Another Web user says: "I looked at Zola's blog today. He's in Chongqing looking into the nail house story. I think this thing is of epochal significance. That year when Lao Hu Miao (老虎庙) used a mobile phone to take a picture of murder in Beijing's Wangfujing, that was the first time a Chinese blogger had influence and beat the traditional media to a story, showing that blogs were a kind of media. Unfortunately, later this kind of thing didn't happen very often, and this has a lot to do with the environment in China."
Actually, aside from Zhou Shuguang, there have been others who have reported on the "toughest nail house" story as bloggers. A blogger called "The Musings of Tiger" (老虎论道) started reporting on the nail house incident on March 24, and the blogger went twice to the scene, writing about what they saw and felt, and including a substantial number of images.
[The Web portal] Sina.com has a blog that has kept up with this news event, but it has now been shut down without explanation. There are many blogs dealing with the story from a wealth of angles, but perhaps only Zhou Shuguang has traveled from far away especially in order to file blog reports.
[Posted by David Bandurski, March 30, 2007, 4:37pm]