As news of a visit to Henan Province by Politburo member and top propaganda official Liu Yunshan was pegged to the top of one of Beijing's leading Internet portals today, the message, buried deep in a pile of Party shibboleths about the "scientific view of development" and "advanced Socialist culture", was the need to develop and commercialize culture as an industry in China, thereby increasing the country's "cultural soft power". The message was not new, but rather a reiteration of President Hu Jintao's guiding policy toward the media in China and a reminder of where he stands: squarely on the side of commercialization under Party control [BELOW: Coverage of Liu Yunshan visit to Henan Province tops the newspage today at Sina.com].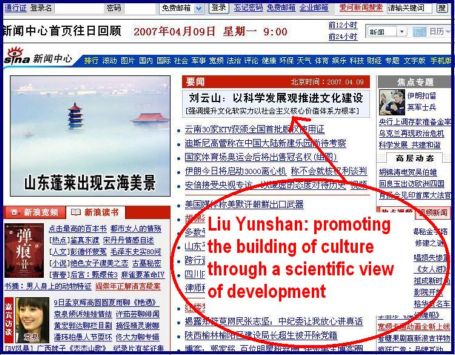 The import of Liu's three-day survey trip to Henan Province, beginning April 6, was essentially a reaffirmation of the Party's zuoqiang zuoda, or "making media big and strong", policy (把新闻传媒做强做大), which debuted in January 2002. The policy promoted the creation of powerful and profitable domestic media conglomerates in China — naturally, under Party control — that were readied for global competition.
The term "making big and strong" had been a legacy of other reforming industries in the 1990s. The media version, first conceived by the Central Propaganda Department, SARFT and GAPP, in August 2001, urged the strengthening of China's media industry through the building of various media groups, such as newspaper groups, publishing groups, circulation groups and radio and television groups. It also called for bringing dispersed publications into united publishing groups, improving business management, increasing the move toward technology and new media, and adjustment of ownership structures, including possibly introduction of stock ownership, etcetera.
So why raise this issue again through the Liu Yunshan visit? In the news story appearing today, and possibly placed prominently on Sina.com under an official order from censorship authorities, Liu Yunshan was quoted as saying that in the "contemporary world the relationship between economic development and culture is closer than ever, and a nation's cultural status and the role of culture are more and more obvious, now forming an integral part of overall national strength." This statement fits perfectly with the notion of zuoqiang zuoda articulated over five years ago, of the link between media commercialization — under a regime of control — and China's long-term strategic goals.
The very idea of the BIG/STRONG strategy for Chinese media was allied with the notion of message control, the idea that without media groups of proper commercial strength and vitality, China would find it impossible to influence global public opinion. As the official media periodical Chinese Journalist, published by Xinhua News Agency, noted in December 2002: "Faced with competition from international media groups, and faced with a fierce struggle for public opinion on a global scale, China needs to have media groups capable of exerting influence and being competitive in the global opinion struggle."
The choice of Henan for Liu's recapitulation of Hu Jintao's official position on the media is interesting for at least two reasons. Henan has, first of all, been a steady source of unfavorable news in recent years, including continued revelations of its AIDS crisis, the detention of world-renowned Aids activist Gao Yaojie (高耀洁), and repeated safety accidents. Secondly, Henan Party Secretary Xu Guangchun (徐光春), who has served in the province's top job since 2004, is also a former deputy head of the Central Propaganda Department, a man who understands the Party's balancing act between commercialization and control.
The direct message for Henan Province in Liu Yunshan's visit was that while the province has rich "cultural resources", it needs to do more to push ahead commercial reforms in its own media industry.
[Posted by David Bandurski, April 10, 2007, 4:02pm]