In the latest showdown over watchdog journalism and media ethics in China, a spokesperson for China's health ministry yesterday criticized media for "violating professional ethics" and "misleading the public" in a story on medical fraud that ran last month in a number of newspapers and on major Web portals and caused a nationwide sensation. In order to investigate the March story, three reporters for the official Website of China News Service submitted green tea as urine samples at a series of Hangzhou hospitals and were delivered (and of course charged for) seemingly improbable diagnoses. [BELOW: Screenshot of coverage of the tea-for-pee story appearing today at Sina.com].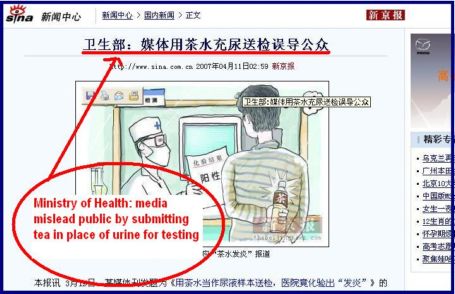 The article in question, "Journalists Pass Tea off as Urine and Submit it for Testing", appeared on March 20 and announced itself as an expose of poor health practices in the face of growing knowledge of citizens' rights. "As public understanding of health and awareness of the law is on the rise, the expectations placed on hospitals and caregivers by those suffering from illness are also rising steadily," the article began. "But the limitations of modern medicine and the irresponsible practices of some health workers have made a tough and hot social topic out of tensions between healthcare and the ailing public." The article continued:
Lately, many people have come forward with complaints about hospitals. A woman in Hangzhou named Chen paid 2,000 yuan [US$260] for a simple visit to the doctor, but was not even given a bill of particulars listing her prescriptions and diagnosis. One dental clinic charged 4,000 yuan for a ceramic tooth that in fact was a fake alloy. Medical personnel who are clearly general practitioners are billed as professors or experts from major Beijing hospitals.
Then came the tantalizing commercial promise: "Over the last two days, reporters from this site worked together with reporters from the 'News 007' program of Zhejiang TV's Qianjiang Metro Channel to report undercover in these hospitals. The conclusions drawn from just this brief investigation are enough to make people shiver all over with fear."
The report detailed how one reporter had prepared green tea in a glass jar and submitted it for laboratory analysis at Hangzhou's Shaoshan Qianjiang Hospital. After asking about his general circumstances, a doctor named Cai asked the reporter to submit a urine sample. The reporter poured a bit of the green tea he had prepared into the urine sample cup and submitted at the laboratory. The results came back within five minutes, showing the reporter had an elevated white cell count and possibly suffered from a urinary tract infection. He was prescribed some medicine and asked to come back if things didn't improve.
The Ministry of Health spokesperson, Mao Qun'an (毛群安), said yesterday that health experts had deemed the China News Service report unprofessional. It had "misled the public, and was not conducive to maintaining a normal healthcare system or building a harmonious relationship between patients and caregivers."
Mao Qun'an said the health ministry had formed an investigative team to deal with this "incident" and that the team was conducting expert analysis at several major hospitals in Beijing. The team had, like the reporters, submitted tea in place of urine samples and found they returned similar results. But the experts were all in agreement that the laboratory equipment was designed to deal with legitimate samples, and would yield results automatically without necessarily determining there was a problem with the samples themselves.
What would media try next, Mao asked rhetorically. Beer? Soy sauce?
The spokesman emphasized that the ministry's criticism did not mean they discouraged media supervision of the healthcare system. But the precondition of supervision, he said, should be a "respect for science", and media should first "understand the nature of medical services".
Undercover exposes have been a popular form of commercialized journalism in China since the mid 1990s, which saw the advent of such offerings as the 60 Minutes-styled "News Probe", an investigative news program on China Central Television, and the rise of newspaper exposes focusing mostly on low-level corruption or consumer issues.
State funding for China News Service, China's number-two official newswire, was progressively pulled beginning in the late 1990s, prompting the service to move — like many media peripheral to the Party's main propaganda organs (CCTV, People's Daily and Xinhua News Agency) — toward commercial self-sufficiency.
MORE SOURCES:
Coverage at QQ.com
[Posted by David Bandurski, April 11, 2007, 12:23pm]