CMP's gaze is often turned to commercial newspapers and Websites in China, which represent the best and the worst of what Chinese media have to offer. But while the contrast between party and commercial media (the "P" and the "C", as we like to call them) can be useful [See CMP example here], there are always surprises in China's chaotic media universe.
The surprise today is a decent investigative report from China's official Xinhua News Agency detailing the building by local officials of a wall along a stretch of road in Gansu's Yongjing (永靖) County to disguise rural poverty in the area. [BELOW: Screenshot of Gansu story covered at Sina.com].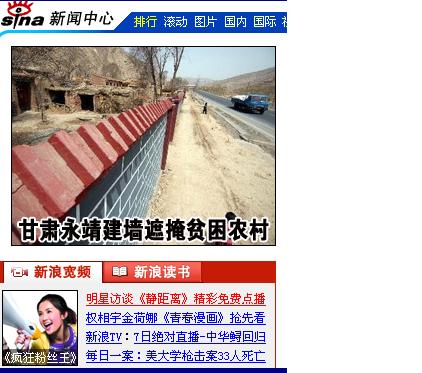 The story begins:
Gansu Province's Yongjing County is a national focus of poverty alleviation, with roughly 10 percent of the population living in poverty, 70 percent in several townships and villages. Recently, nine shiny and clean walls were erected along portions of the public roads in this county, and those new to the area might find this strange.
What are these walls for? According to the local government these are "civilized walls" for the greening and beautifying of the countryside, but local peasants, not mincing words, refer to them as "walls of shame".
The Xinhua story goes on to describe the many inconveniences caused to local peasants, including the blocking of doors and windows, as a result of the wall's construction. The wall adds to the miseries of residents, says the story, who already have no running water and insufficient supplies of grain and other essentials.
The story quotes local leaders as saying — and here's the broader policy import — that the building of the wall is part of its effort in the "building of a new countryside" (新农村建设).
[Posted by David Bandurski, April 18, 2007, 1:35pm]