Authorities in Guangzhou announced a raid yesterday on a printing house where "stacks upon stacks", reportedly more than six tons, of an unlicensed "pornographic" magazine were waiting for distribution. Guangzhou's New Express reported police were alerted to the operation by a disgruntled employee who had been fired by the printing house. [BELOW: Screenshot of New Express coverage of police raid on Guangzhou printing house at QQ.com].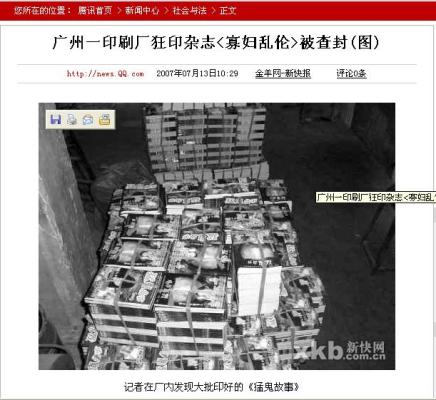 The newspaper quoted the source, Ah Bing, as saying: "I don't want to help them do those kinds of immoral things anymore. And I don't want to allow the printing house to continue harming others." He said the printing house had produced various pornographic publications on demand. "They would print anything," he said. "All it took was money."
The story highlights a persistent problem facing authorities in China, where the age of commercialized media has spawned an explosion in unlicensed "adult" publications despite strict laws and regulations on indecent content.
CMP reported back in December last year on the phenomenon of salacious so-called "law and order" tabloids, which were readily available — and plentiful — at newstands in Shanghai. Some of the publications were plainly unlicensed, while others used publishing licenses, or kanhao, for unrelated publications, suggesting the licenses had been "rented out" by the "managing units" (主管单位) that legally held them.
[Posted by David Bandurski, July 13, 2007, 12:05pm]