Chinese media, once again, have become the news. After a spate of recent news coverage highlighting poor food safety standards in China, an undercover story from Beijing TV showing steamed bun vendors in the country's capital using cardboard as a meat substitute came as little surprise — that story, which over the last several days became international news, was orchestrated, authorities now say, by an unscrupulous freelance television reporter [Coverage here from Reuters].[IMAGE: Screenshot of latest "cardboard bun" story featured at Beijing Daily website].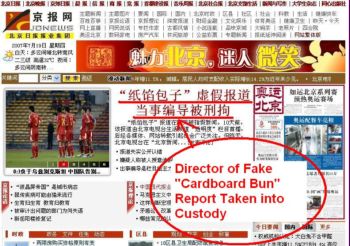 This latest news demonstrates, somewhat ironically, that recent concerns in and outside China about poor quality standards for Chinese products should be extended to include news products as well.
The bun story is the most recent example to date of the phenomenon of "fake news" in China, a recurring problem as commercialization rapidly takes hold in the media sector, and as far reaching media controls continue to place limits on professional reporting of a wide range of news topics.
A special investigative task force of Beijing police formed to look into the allegations contained in the television news report found that a reporter surnamed Zi for Beijing TV's "Transparency" (透明度) program hired four migrant workers to stage the cardboard bun story. Authorities said it was a lack of proper quality controls at Beijing TV that made it possible for the false report to air.
Beijing TV issued an apology yesterday for the spot, and the reporter/director allegedly responsible has been detained by police, according to Beijing media.
[Posted by David Bandurski, July 19, 5:12pm]