In what is must-see Internet news coverage for anyone who remains unsure about the potential power of the "citizen journalist" (公民记者) in China, QQ.com yesterday set up a professional feature page on the floods devastating the city of Jinan, and issued a call for eyewitness accounts, pictures and videos from Web users on the scene. Within hours, the site was inundated with submissions, including stunning video of city residents trying to cross frothing flood waters against the backdrop of a modern shopping mall. By the following day, postings to the page were closing in on 4,000. [IMAGE: Screenshot from QQ.com page on the floods in Jinan]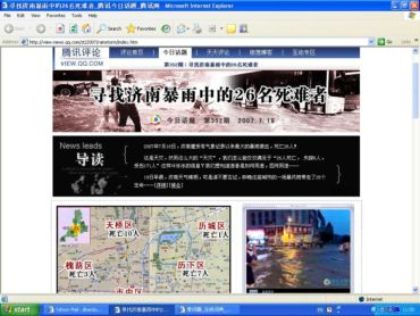 While stopping safely short of criticism of government information about the breaking news story (突发事件), the news section, called "Searching for the 26 Dead in the Jinan Rainstorm," took a glancing shot at official statistics on the floods, which put the number of dead at 26, with 171 injured.
The banner topping coverage at QQ.com was a mono-color photograph of a police officer helping a woman cross a flooded street in the city. The text beneath read:
On July 18, 2007, Jinan suffered its worst flood on record, with 26 dead!
This is a natural disaster, but with such a large-scale "natural disaster" (天灾), how is it we have only this frosty [unfeeling] information about "26 dead", 6 missing and 171 injured? We want to know how those deceased passed away, and why …
On the morning of the 19th, the weather in Jinan was clear, but let us not forget that the weather the day before took carried 26 lives away with it … [More] [Have Your Say]
Underneath a montage of photos submitted by Web users is a call for submissions (济南网友召集令):
At this time, we issue an urgent call to anyone who went through the July 18 floods in Jinan: If you experienced the floods yesterday, please write down you experiences and feelings here. If you have any information about the 26 people who passed away, please provide us with any sources you have.
Hotline: 010-62671817
E-Mail: daviszhang@tencent.com
As of this morning, the video featured on the page — playing immediately as the page was opened — was a submission from a QQ user showing clusters of Jinan residents trudging through a frothing current of waist-deep water in what was apparently a commercial district in the center of the city. By noon, the video had been replaced with a spot from official television showing less dramatic footage of the flood's aftermath.
Also by midday, a section directly below the video, previously "Unverified Reports from Web Users", had been replaced with highlights from mainstream media coverage.
However, eyewitness accounts from Web users in Jinan remained.
Some postings told harrowing stories of trying to cross raging floodwaters, "the space of ten-odd meters seeming like a thousand miles." Others added to their stories hints of dissatisfaction with the government:
Yesterday, the water flooded into our house. Our house is on the first floor. We were just sitting down to eat. Dad went off right away to find sand to fill up bags, but the water came too fast and washed the bags away. It looked like a dam had burst, and the water was putrid. Today Dad's busy building up the threshold. It's too thin and needs to be replaced. No one cares. Our government is just busy making money.
MORE LINKS:
"The Internet hasn't changed Chinese people's lives?", Maya Alexandri, Danwei.org, July 20, 2007
[Posted by David Bandurski, July 20, 2007, 1:15pm]