Signaling that top Party leaders intend to leverage the recent cardboard bun news controversy to tighten media controls ahead of the 17th National Congress and the Beijing Olympic Games next year, media censors demanded in an official notice yesterday that media report truthfully and accurately, "building a responsibility system for major lapses [in news coverage] and [setting up] an examination and approval system [for news products]." The notice was the first response from high-level Chinese officials on the cardboard bun controversy since the story began on July 8. [IMAGE: Screenshot of Xinhuanet coverage of yesterday's official notice, including photo of Beijing TV apology]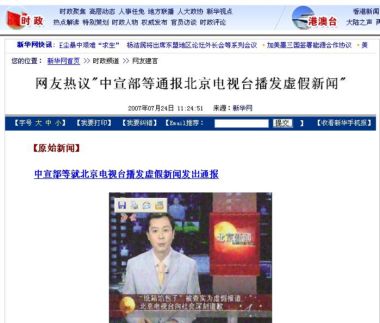 The notice's mention of a "responsibility system" most probably refers to a general tightening of media controls and greater pressure to "self-discipline" (自律) at news media, as opposed to any reworking of the mechanisms of censorship.
In language reminiscent of the debate over "real" and "fake" reporters that attended the beating death in January of China Trade News journalist Lan Chengzhang, yesterday's official notice – released by the Central Propaganda Department and the General Administration of Press and Publications (GAPP) — said official "press cards" (记者证) must be presented during the reporting process. It said news media must "act in strict accordance with laws and regulations concerning freelance submissions from society at large and information on the Internet."
In related news, CMP learned from sources within the Chinese media that China Central Television, responding to the cardboard bun story, recently issued an internal order that all non-contract journalists working with the network be dismissed by July 27. One CMP source referred to the move as the "massacre of the freelancers."
Authorities have now named the freelance Beijing TV employee alleged to have manufactured the July 8 report for the network's "Transparency" program, which showed footage of street vendors making steamed buns with a filling of waste cardboard and pork fat. The name, Zi Beigui (訾北桂), is sure to become one of the hot Chinese media buzzwords of 2007.
As CMP has noted repeatedly, there is no necessary relationship in China between the so-called "fake" reporter — one without a GAPP-issued press card — and press corruption. One of the best examples of corruption within the news media is the 2002 bribery and news extortion case exposed by China Youth Daily reporter and CMP fellow Liu Chang, in which four "journalists" from the official Xinhua News Agency were among those implicated.
Officials have demonstrated in the past that they are only too willing to use the news corruption label to attack legitimate reporters with real stories disadvantageous to local governments — this charge was, in fact, once leveled against Gao Qinrong, the reporter recently released after being jailed for eight years on trumped-up charges.
[Posted by David Bandurski, July 24, 2007, 12:19pm]