August 24 — In a rare show of tolerance in Internet policy, top party and government leaders in the prefecture-level city of Luoyang released a notice (通知) recently prohibiting subordinate offices from employing technical means to dig up information on individual Internet users with an eye for retaliation, Henan's Dahe Daily News reported. The policy comes as ordinary Internet users are increasingly being targeted by local authorities in China for posting content regarded as damaging to local government reputations [See CMP on use of new public security law]. [See ESWN on Pengshui SMS case].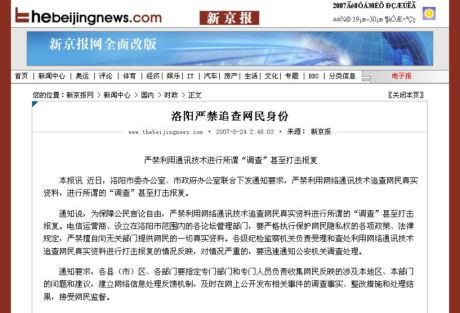 The Luoyang notice said, according to Dahe Daily News, that "in order to safeguard citizen's freedom of expression" (公民言论自由), there will be a "strict prohibition" on the use of information technology tools to obtain actual data on Web users in "so-called 'investigations'" aimed at making vindictive attacks (打击报复). The notice said telecoms operators and various online forums and government offices under Luoyang jurisdiction would have to "strictly" carry out various policies, laws and regulations concerning protection of the privacy of Web users. Violations would be reported immediately to law enforcement, the notice said.
Many Internet users responding to the news on major Chinese web portal Sina.com Friday expressed their support for the Luoyang policy.
"Freedom of expression! Luoyang's actions aren't bad!" wrote one Web user.
"I'm really in support," read the next comment down the roster. "This thing is really good. The impact on democracy and Chinese society is no less than that of the [Beijing 2008] Olympics."
"Revenge, that's exactly the reason they go after [personal information]," vented a third user.
IP:222.70.87.*, writing from Shanghai's Pudong New Area, said: "That's the way to face the facts straight on and fix the problem!"
[Posted by David Bandurski, August 24, 2007, 12:53pm]