In my last article on the 17th congress, I urged readers to keep their eyes on the "Four Basic Principles" as a key phrase whose continued prominence – or alternatively, fading away – might offer clues about political reform in China.
On the political reform front, another key question is whether Hu Jintao will continue to use "political civilization" (政治文明), a Jiang Zemin buzzword that (though weak and noncommittal) encompasses political reform, or zhengzhi tizhi gaige (政治体制改革). The fate of this Jiang phrase could clue us in to Hu Jintao's reform plans. Will Hu – can Hu – step out from the shadow of Jiang Zemin on the issue of political reform?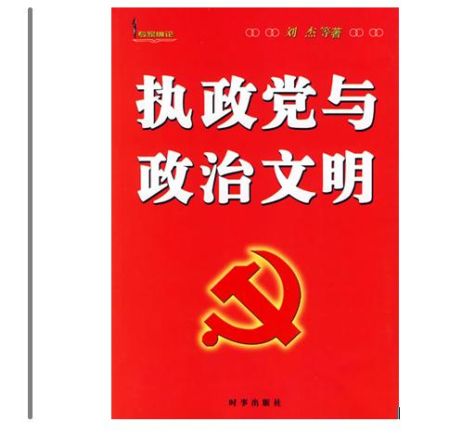 ["Political Civilization for the Governing Party", a 2004 volume of theoretical essays explaining Jiang Zemin's notion of "political civilization."]
Jiang introduced the phrase "political civilization" during his last term in office, and it was written, along with "Three Represents" (三个代表), into China's constitution in 2004.
So far, Hu Jintao has proceeded with extreme caution and has not signaled any change to the status quo represented by Jiang's "political civilization." This is a marked contrast with his policy-making on the social and economic fronts, where he has loudly touted "scientific development" and the "harmonious society".
Hu's silence on political reform has inevitably prompted two schools of thought. The first supposes the president will uphold established principles, not seeking any departure from Jiang Zemin. The second surmises Hu is quietly preparing for a number of breakthroughs on the political reform front.
CMP's database analysis based on the official People's Daily and the WiseNews database of Chinese language newspapers shows clearly that use of Jiang Zemin's "political civilization" has been on the decline: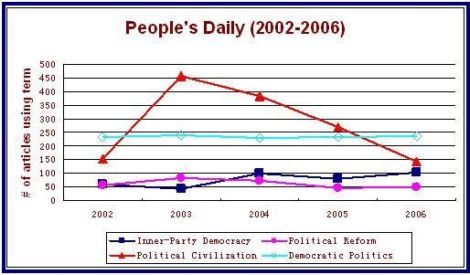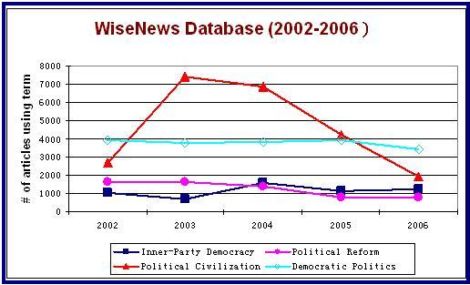 Speaking at a graduation ceremony at China's Central Party School on May 31, 2002, Jiang Zemin said: "Developing socialist democratic politics and building socialist political civilization are important goals for the modernization of socialism" (发展社会主义民主政治,建设社会主义政治文明,是社会主义现代化建设的重要目标). A few months later, this new phrase appeared in Jiang's political report to the 16th National Congress.
In China's official party media, Jiang Zemin's "political civilization" was at the time dubbed "a new way of thinking and formulating on the question of socialism and political development". Hu Jintao once praised the concept, and even made "political civilization" the topic of a Political Bureau study session.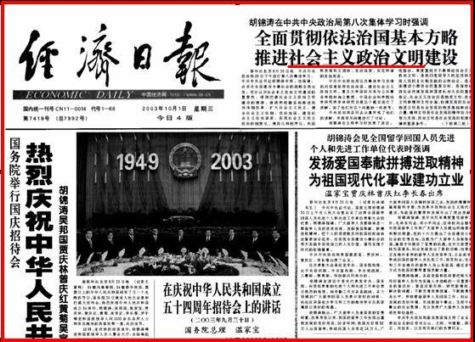 [Jiang Zemin's new term, "political civilization", is touted on the front page of Economic Daily on October 1, 2003]
On March 14, 2004, the People's Congress amended China's constitution, adding "three represents" and "political civilization." Chinese media, particularly the party newspapers, followed with a major propaganda campaign for these new terms.
Jiang Zemin made sure "political civilization" kept its distance from the 1980s reforms of Zhao Ziyang. Jiang wanted to make it clear this was not the kind of political reform Westerners were hoping to see. By most meaningful standards, Jiang Zemin's notion of reform was empty.
Despite its enshrinement in China's constitution, "political civilization" has faded noticeably from public view. Use of the term in the Chinese media began sliding in 2004 and fell sharply throughout 2005.
It appears that if Hu Jintao does intend to push a new round of political reforms (of some sort or another), he will not continue to use "political civilization." If Hu does use the term, he will de-emphasize it. He will certainly not hold it high as a term of importance.
If Hu Jintao hopes to step out of Jiang Zemin's shadow on the question of political reform he must break through the established orthodoxy of "political civilization."
In this orthodoxy, "political civilization" is closely tied to the so-called "correct path of building political civilization" (政治文明建设的正确方向): "unity of [1] persisting in the Party's leadership, [2] people's mastering of the country and [3] managing state affairs according to law" (坚持党的领导、人民当家作主和依法治国的有机统一).
Available portions of Hu Jintao's June 25 speech and related People's Daily editorials make no mention of "political civilization." There is, however, a reference to the "unity of persisting in the Party's leadership", etc., the phrase that implies Jiang Zemin's so-called "correct path."
This suggests we are likely to see Hu Jintao using new political reform terminology in order to tackle his reform goals. We will probably not see major breakthroughs from Jiang Zemin's stance on political reform. But we might see modest steps. And these are likely to happen first in the area of "inner-party democracy" (党内民主).
(Qian Gang, September 25, 2007)
[Translated by David Bandurski]
Previous 17th Congress article: "Will Hu Jintao continue to use the 'Four Basic Principles'?"