CMP guest contributor Xie Mingyuan (谢铭元) — Comparing Hu Jintao's report to this year's party congress to Jiang Zemin's third and last political report back in 2002, a number of points stand out. First of all, while Hu's report this year makes more frequent mention of "intraparty democracy" (党内民主) and "election" (选举), and the term "vote-deciding" (票决) appears for the first time in a political report, we should note that these are mentioned only in the context of past projects. They do not anticipate future progress.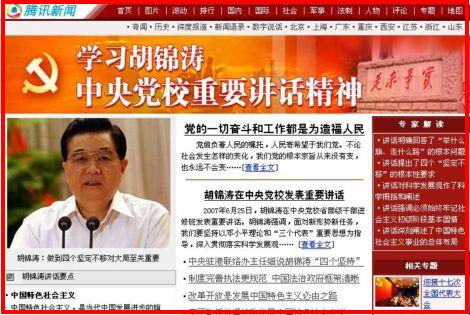 [ABOVE: Screenshot of QQ.com special page on this year's 17th National Congress]
On the question of a more active role for the National People's Congress, as mandated in China's constitution, the report shows no progress. Mentions of reform dwell largely on non-essential reforms, most of the goals involving improvements to the legal system. And the report suggests no breakthroughs on the question of electoral system reforms.
Third, the report offers nothing new in the area of intraparty democracy, although it clearly marks out the general principles. There is no mention whatsoever of "public nominations and public elections" (公推公选), or of "direct election" (直选), which suggests no change from the status quo of internal party appointments.
Fourth, while the report suggests no substantive progress on political reform, it does mention the need for "exploration" (探索) on expanding grassroots-level party democracy, an indication there will be no trending backward on reforms. Hu's phrase in Chinese is as follows:
改革党内选举制度﹐改进候选人提名制度和选举方式。推广基层党组织领导班子成员由党员和群众公开推荐与上级党组织推荐相结合的办法﹐逐步扩大基层党组织领导班子直接选举范围﹐探索扩大党内基层民主多种实现形式。
Generally speaking, the report indicates that experiments in political reform (at the local level) will continue much as they have over the last five years, but nothing suggests new breakthroughs.
(Xie is a masters student at the Center for Contemporary China, National Tsing Hua University, Taiwan)