By David Bandurski — Last week CMP reported on the troubles facing veteran journalist Zhai Minglei and the ill-fated Minjian magazine. Yesterday, Zhai posted an urgent message on his blogpaper, Yi Bao (壹报) saying police had raided his home, confiscating his last remaining copies of Minjian and taking away Zhai's hard drive [coverage by John Kennedy at Global Voices here].
According to Zhai Minglei's post, police should be proceeding with their investigation against him today.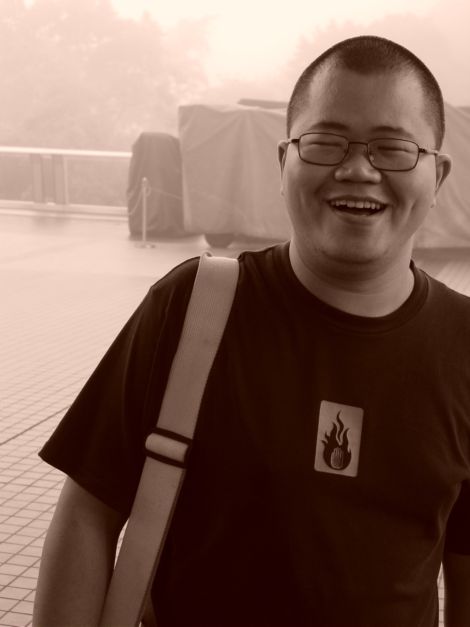 [ABOVE: Zhai Minglei on a visit to Hong Kong as a China Media Project fellow in 2004.]
As we wait for further news from Zhai, one of our earliest research fellows, CMP would like to share more information with readers about the important work of this dedicated investigative reporter and civil society advocate.
One of Zhai Minglei's earliest successes as a professional journalist was his investigation into Project Hope, the Chinese government-run charity, as a reporter for Southern Weekend. What follows is a case study on that investigation prepared by Zhai Minglei, David Bandurski and Martin Hala.
———————
"Unmasking the Demons of Charity"

Through the 1990s, Project Hope, an education assistance program set up through the China Youth Development Foundation (CYDF), was the sentimental darling of the Chinese public. Chinese prize education above nearly all other pursuits, and this program offered a ray of hope to many impoverished rural children for whom school remained an impossible dream.

The basic model of the program, founded in October 1989, was sponsorship. Chinese individuals, companies, and officials of every stripe – including Deng Xiaoping and Jiang Zemin – could sponsor as many children as they wished. Account numbers were established for each child, and donations were transferred directly from the foundation to the child's local school, specifically earmarked to cover the tuition and other institutional costs. In exchange, sponsors received heart-warming photographs of the children and letters thanking them for their priceless gift. They could even chart a child's progress through reports on their grades and schoolwork.

The system was transparent, transforming, and heart-warmingly personal. And the joy of watching as a child prospered! Who could put a price tag on that?

By the late 1990s, however, there were whispers pointing to serious problems at Project Hope. No one could substantiate the claims. But eventually Hong Kong's Next weekly made bold to print the accusations, saying there were problems in the foundation's accounts. The decision brought the magazine to its knees, as CYDF launched a libel action against it in the Hong Kong courts. On June 21, 2000, judge Andrew Chung ordered the magazine to pay 3.5 million Hong Kong dollars, or 500,000 U.S. dollars, in damages to the foundation.

"THIS IS ALL A MISUNDERSTANDING"

During National Day celebrations in early October 2001, a letter arrived at the headquarters of Southern Weekend, a newspaper that for years had earned a reputation as China's foremost muckraking publication. At the time, the paper was struggling to preserve its reputation for hard reporting and outspokenness in the face of intense pressure from the highest levels of Chinese leadership. The paper's envelope-pushing former top editors, Jiang Yiping and Qian Gang, had been forced by authorities to leave their posts in January 2000 and June 2001 respectively.

The letter's return address was for a private enterprise in Shanghai called Keyon. As Wu Xiaofang, the editor of the news desk, poured over the contents of the letter, his eyes lit up. The company alleged Project Hope had deceived it about the allocation of funds it had given for sponsorship of 24 children in Sichuan's Xuanhan County.

Keyon said in the letter it had sponsored 24 schoolchildren through Project Hope as part of a corporate community initiative. In return for its contribution the company had received 17 letters, ostensibly from the students, thanking the company for its generosity.

Keyon's chief executive had decided to pay a surprise visit to Xuanhan over the National Day holiday. He wanted to see for himself the fruits of their initiative. To his extreme consternation, he that found only three of the children under his company's sponsorship had received Project Hope money. The chief executive then looked more closely at the letters they had received. He found the handwriting on many of the letters was identical. Most of the children under the company's sponsorship denied ever writing thank-you letters.

Wu Xiaofeng, editor of Southern Weekend's news desk, assigned two reporters to the story. The first was Xu Liuwen, a veteran Southern Weekend reporter and a native of Sichuan province. Xu set straight off for Sichuan to pick up the trail where the Keyon chief executive had left off. The second was Zhai Minglei, a young reporter who had worked for less than one year at Southern Weekend but had previously done a three-year stint at the Chinese language edition of German-invested Cash magazine. Zhai was given the comparatively mundane task of meeting up with Keyon officials in Shanghai and getting their side of the story.

After little more than a week in Sichuan, Xu Liuwen returned to the office empty-handed. He had spoken at length with the county secretary for the Chinese Communist Youth League (CCYL) and visited several local schools. Nothing at all seemed out of place, he said. Unfortunately, heavy rains had prevented his traveling into the mountains to visit more remote schools.

The county CCYL secretary, Li Xiaodong, presented Xu with bank receipts for the 24 students under Keyon's sponsorship. All of these receipts bore signatures from parents as well as by teachers and local education officials. Project Hope's account books were rock solid, said Li. Under Project Hope policy, all donations were transferred directly from the foundation to county and district committees of the CCYL. From there they were disbursed to local education offices, where officials responsible for administering Project Hope could draw funds only with invoices from the local CCYL committee. No one along this chain could draw cash, so the misdirecting of funds was not possible, he said.

More surprising and convincing was the fact Xu Liuwen had managed to track down the mastermind behind the fake thank-you letters, who insisted there was nothing amiss. The man was Tang Chunxu, who was in charge of political and ideological education in Fengcheng District, and was also responsible for disbursement of Project Hope funds to local schools.
"I engineered the writing of the fake letters," Tang said matter-of-factly. "During the first half of the year one of the donors came from Shanghai to see how the money was being applied. There were, of course, no problems whatsoever with the money. No cash passes through anyone's hands, and we delivered the funds one time in three separate payments. In most cases, it was the teacher in charge of the class who directly withdrew the Project Hope funds, so the students and parents don't have a very clear sense about where the money comes from. When you ask the kids to write letters, they're not too keen. The eight cent postage is also a big expense for them."

"So I had the head teacher write letters and pass them on to me. I bought the envelopes, addressed them, sealed and stamped them and sent them out myself. Of course, some of the children had no idea we were writing letters on their behalf, but we meant well. It's not what you think. Just deception with the best of intentions," he said.

When Xu Liuwen asked Tang why the office claimed some students were in school when in fact they weren't, the official said this was done so as not to discourage donors. While Project Hope donations helped pay a portion of school fees, they didn't cover everything. Inevitably, some hard-luck cases couldn't keep up with their schooling. When this happened, the office continued to report that the child was in school, and sometimes even provided records of their grades, so as not to make donors feel they had contributed in vain.
Did he regret his actions, Xu had asked. "Not at all!" said Tang. "I only regret not doing a more delicate job of things. Not sending letters wasn't an option, of course. That would have been inconsiderate."

The ruddy-faced Tang had a perfectly reasonable explanation for everything. He faced the facts straight on, and Xu Liuwen admired his way of handling things. Was there any reason to doubt an official so candid? "I'm telling you, this is all a misunderstanding," Xu told his editors. "The real reason [for the Project Hope kids not going to school] is regional poverty."
The story might have stopped right there. But Zhai Minglei was not convinced. He told editor Wu Xiaofeng there were still things that couldn't be explained. Why, for example, were some of these children totally unaware they had been sponsored? Even more to the point, where had the money earmarked for these children gone?

If the Shanghai company was giving a truthful account, there had to be some merit to the rumors about mismanagement at Project Hope. Zhai Minglei made a careful list of each point that didn't tally. "We should go out there and take another look," he said to Wu.

Unfortunately, the story was still in Xu Liuwen's hands, and Xu needed to take care of some family matters first. The trip was postponed again and again. After nearly two weeks had passed, Zhai Minglei grew anxious. "Why don't I just go out to Sichuan myself?" he suggested again to Wu.

This time the editor relented. He wasn't ready to drop a story about possible corruption at one of China's most sacred institutions.

The next day Zhai Minglei was on the road.

When he arrived in Sichuan, Zhai made no attempt to speak with Xuanhan County officials. Instead, he met up with Zhou Haolan, a local Sichuan reporter who had expressed interest in working for Southern Weekend, the assignment with Zhai being a kind of informal job interview. The two of them hired motorcycle drivers and traveled straight into the mountains. They blended in with the locals by wearing drab trousers and shirts, and donning faded blue revolutionary-era caps.

It wasn't long, however, before Zhai Minglei began to feel he had set an impossible task for himself. They were on the road sometimes more than 12 hours at a time, and this went on day after day. The journey was often four or five hours between schools, the monotony of the landscape unyielding. Peaks rose constantly ahead of them, and at the top of each agonizing climb another row of peaks emerged. The rain fell everyday. The roads became mires. There seemed to be landslides waiting around every turn.

By the end of the first day, Zhao Haolan's ass was so badly bruised he couldn't lie on his back or sit up in bed. Zhai had lost some of the feeling in his legs. They slept in roadside shops or whatever else they could find. In one place they paid five yuan for their beds and the proprietor tugged a sleeping villager from his mattress saying, "There's your bed."

It was obvious that in the two weeks since Xu Liuwen's return, local education officials had launched a campaign of damage control. In village after muddy village, schoolmasters and teachers yielded nothing. Four full days into their trip they were still empty-handed.

As trying as the physical hardships were, they were nothing against the hopelessness the reporters felt in their hearts. "There's not a shred of real evidence, and suddenly it dawns on you that perhaps you are wrong," Zhai Minglei later reflected. "You think to yourself, 'You doubted a veteran journalist who came up with nothing. But maybe he was right and you're wrong. These people greet you with calm eyes and innocent smiles. Where are the lies you've come looking for? It's you who are wrong.'"

Zhai Minglei started to obsess over the thought that perhaps his own bearings, his own judgments, were horribly askew. His mood reached its apogee in a mountain village so remote the local people called it Outer Mongolia. It was pitch black there, so black the stars were pinpoints right above their heads. That day they had traveled eight agonizing hours.

For the first time in his career, Zhai Minglei resigned himself to defeat. He phoned his editor, Wu Xiaofeng. "Damnit, Wu Xiaofeng! You're going to put me through the grinder for this. But we're at the ends of our ropes and we haven't come up with anything."

"You have to find something, no matter how long it takes," was Wu's unsatisfying answer. "Every Weekend reporter has an impossible assignment at least once a year. It comes with the territory."

Zhai Minglei's journal entry that night was a picture of despair hardening into resolve: "When someone has arrived at the absolute threshold of psychic and physical endurance, can they go on? When all hope is gone, can they still go forward? A friend once shared a passage of T.S. Eliot with me. It went:

I said to my soul, be still, and wait without hope
For hope would be hope for the wrong thing; wait without love,
For love would be love of the wrong thing; there is yet faith
But the faith and the love and the hope are all in the waiting.
Wait without thought, for you are not ready for thought:
So the darkness shall be the light, and the stillness the dancing.

"These words perfectly express the feelings I now have in taking on this assignment. I won't throw up my hands, even though I have passed my own limits. I'll come out of this a new person, a reporter always expanding his boundaries.

"Your heart settles. You accept that the hopeless is real, and suddenly your heart grows calm. You burst through your own bounds. Perhaps in such situations, when everything is hopeless, we have no choice but to press on. Your heart settles, and the truth emerges spontaneously, like water flowing from a spring."

Zhai Minglei had found an existential and journalistic second wind.

A BAD PASTING JOB

At dusk several days later, Zhai Minglei and Zhao Haolan came to the home of Project Hope recipient Zhang Qiang. They had crossed four mountain passes that day to reach the small village of Nanping.

As the reporters spoke with his mother, Xiong Shengbi, Zhang Qiang looked on quietly. His big toes poked out where the soles of his shoes were completely worn down. Xiong insisted they had not received money from Project Hope until just days before, on October 31, when the schoolmaster gave them 150 yuan.

The schoolmaster in Nanping, Yuan Shuhong, insisted that what he had told the executive from Keyon the month before – that he had never received 50 yuan from Project Hope – was a misunderstanding. In fact, he said, the money had been disbursed on time.

"Well then, where did this 150 yuan payment in October come from?" Zhai Minglei asked.

The schoolmaster changed tack. "At the time, I knew Zhang Qiang's money had gone through. So we advanced the family 150 yuan, 50 yuan for each of three school terms. According to regulations, the Project Hope money and the school waivers are lumped together in one payment," he said. This was in fact untrue.

"If that's the case, why did you give the 150 yuan to Zhang Qiang's mother and not to the school?" Zhai Minglei asked.

"We realized Zhang's family needed help, and we didn't need the money right then. So we offered the money to give them a leg up," said the schoolmaster.

"You're a school, not a charity organization. Why would you offer assistance to families?"

The schoolmaster paused for a moment and then said, "The 150 yuan payment came from above," by which he seemed to be referring to the education office.

There was a long silence. The reporters waited.

"It was given to the school," the schoolmaster elaborated.

The reporters glanced across to one another. This was the first bite on the line. The schoolmaster's story didn't add up. They asked to see the school's account ledgers.

It was perhaps 40 minutes before the schoolmaster emerged from the schoolhouse across the way with the bookkeeper, carrying a stack of account books. Sure enough, there was an entry for a Project Hope disbursement back in January, close to a year earlier. "Zhang Qiang, 100 yuan," it said in tiny print. On another entry, dated June 10, Zhang Qiang's mother had signed for 50 yuan. This was curious indeed. Had she lied to the reporters, and to the Keyon executive, about not receiving Project Hope money?

A short time later, Xiong Shengbi herself came by, apparently suspecting something was wrong. She had come over to tell the reporters, right in front of the schoolmaster, that she hadn't received any money until October 31. She and the schoolmaster stepped outside to talk things through.

It was then Zhai Minglei noticed the June 10 entry in the account ledger had just been pasted onto the page. The glue had not yet dried, in fact. A bolt of clarity shot through his mind. He turned to the bookkeeper: "This entry has just now been pasted in! Why would you do a thing like that?" he asked. Flustered, the bookkeeper could only blurt out, "The schoolmaster told me to do it!"

The game was up. They confronted the schoolmaster and he finally relented: "When the executive came from Shanghai we were totally mystified," he said. "We had no idea the company had made a contribution to the district office [of the Communist Youth League] the September before. We had paid Zhang Qiang's reductions out of our own pockets for three school terms. Soon after the executive's visit, Tang Chunxu, (the ruddy-faced district official who seemed so convincing to Xu Liuwen on the first Southern Weekend mission), came from the education office with 150 yuan for me to give to Zhang Qiang's mother. He also knew she couldn't read or write, so he wanted me to make up fake account slips for all three school terms and have her sign these when she collected the 150. This way, we could paste the entries in and they would bear her signature."

As for the rest of the accounts, the schoolmaster said, Tang had asked them to lump Project Hope funds together with the school's own tuition and fee subsidies. This way, if anyone grew suspicious, they could just say the funds were all rolled into one, and it would be virtually impossible to conduct an audit.

By these means, the district official responsible for disbursing Project Hope funds had been able to obfuscate the money's track and eventually to divert it indefinitely. Many schools were left with no means of assisting children sponsored under Project Hope, but parents and schoolmasters were led to assume that the funds had simply not yet been disbursed to the county.

After the year 2000, the district education office, at Tang's bidding, had ended the practice of listing the names of Project Hope recipients when settling accounts. Instead, they simply entered the total number of children. This way, they could shift funds around as they pleased and schoolmasters had no way of knowing which of their students were slotted for aid. In order to further impede efforts at auditing and oversight, Tang abolished the practice of disbursing funds for each of the three school terms. Instead, he disbursed them in one lump sum, drawing off a portion to pay funds owed the district education office. If, for example, a school owed the education office money for the purchase of new desks that year, Tang would slash the school's Project Hope disbursement, ostensibly to settle these debts.

Given the extraordinary debt owed by many of these poor country schools, this practice effectively cancelled out Project Hope altogether. "Typically, schools owe thousands or tens of thousands of yuan each year. When accounts are handled in this way, some schools have no hope of seeing money from the foundation," said Yuan, the schoolmaster. The payment of cash to Zhang Qiang's mother in October was also strange, he said. According to his understanding, Tang should not have been able to draw cash. How had he managed to do this? And where had the money been going all along?

That night the sweetness of their breakthrough was mixed at first with fear. The education official, Tang Chunxu, had succeeded in drawing schoolmasters and teachers throughout the county into this deception. How could they be sure they would sleep safely that night? They considered traveling straight through, but eventually settled into their beds and slept more soundly than they had for days.

The confession of Nanping's schoolmaster proved the key they needed to throw the case wide open. They worked solidly for the next 11 days, traveling a total of more than 2,000 kilometers, mostly by motorbike, and interviewing more than 60 people. They rested for just one of those days.

Confronting the children, Zhai Minglei recalled, was a painful process. They had been coached and coerced into lying about letters they had written to Project Hope donors. Zhai watched as one child struggled to recall the lies she had committed to memory. Moments like this hardened his resolve to overthrow what he called, "The Kingdom of Lies".

The teachers always began with the same story, about how the funds had come on time and as promised. When the journalists refuted these claims with contrary testimony, the teachers fished about desperately for other explanations. In every case, the parents told a different version from that of the teachers. The versions offered by school bookkeepers were at odds with those of the schoolmasters. It was a nest of lies and contradictions.

In some ways, this confusion was both an asset and a liability. The fact that it had taken Southern Weekend two full weeks to organize another trip after Xiu Liuwen had come up empty-handed gave local education officials time to orchestrate a broad cover up. But while Tang Chunxu had gotten many schools to doctor their account ledgers and carefully coached them, the cover up was incomplete. One reason, perhaps, was that Tang suspected Southern Weekend would not return. In any case, there was still much evidence to be found, and the cover up was powerful story in its own right.

Zhai Minglei was baffled by the determination of the teachers and schoolmasters to hold this fabric of lies together, but he knew the reasons for their determination. First of all, Tang Chunxu was familiar, however questionable his motives. The reporters were outsiders, nosing into their lives, so choosing sides was simple. The more important reason, though, was the concept of face, the need to preserve the local reputation. As ugly as it was, this business was their own. No good could come from airing it out before the world.

Once the reporters had broken through the lies, these fragile loyalties crumbled. Schoolmasters and teachers brought truer feelings to the surface and shared their real views on Project Hope's operations in the area.

Having succeeded in building their story, Zhai Minglei and Zhao Haolan turned more attention to examining the conditions in which the local people lived. Although most of this material never made the Southern Weekend report, the reporters nevertheless felt it was important. Poverty in the area was simply astounding. People slept on blankets black with filth, on beds soiled with crumbs of earth. When it grew dark, there were no oil lamps, much less electricity. The schools were the nearest symbols of hope. But they were black and cavernous, full of crooked, unbalanced desks. In place of blackboards, there were rough-hewn planks.

DIGGING FOR THE DEEPER STORY

In his report about Project Hope, Zhai Minglei's was careful not to scapegoat the local education official, Tang Chunxu, but rather show how gaping loopholes had resulted in systematic abuses at the foundation. The newspaper's editorial committee took the story in another direction, however, by centering on Tang's actions in Xuanhan County. Their decision was based on a calculation of political risk. It was dangerous to attack a prized national institution like Project Hope.

The portions removed from Zhai Minglei's original version concerned the systemic failure to keep the Project accountable and transparent:

In interviews with Southern Weekend at least four schoolmasters and assistant schoolmasters pointed out that Project Hope had substantial loopholes.

Before 1996 every Project Hope child were assigned an account number. Only when approval came from the local Chinese Communist Youth League (CCYL) could teachers access the funds. After 1996 this system changed. Funds were transferred directly from the Communist Youth Development Foundation (CYDF) to district education offices, which then distributed money to the schools. This created endless opportunities for abuse. Xuanhan County is Sichuan Province's model county for Project Hope, and has repeatedly been given a stamp of approval by the central government and by the provincial committee of the Communist Youth League. Over the last 10 years, the county has assisted 9,800 children with their school fees, more than any other county in Sichuan. Now problems like these came to light. But if it hadn't been for the extraordinary efforts of Keyon and this newspaper in getting to the bottom of the issue, these problems would have been kept in the dark.

One assistant schoolmaster said poor management of the Project Hope funds potentially enabled schoolmasters to have head teachers withdraw the funds. When a child graduated, he said, the school could continue drawing money in the child's name, applying it for the school's general use, giving it to others, or pocketing it. The failure to separate Project Hope funds and general funds from the district education office put the basis for corruption firmly in place. The disbursing of Project Hope funds to schools from the education office in no way guaranteed they would be used for children. Schoolmasters could apply these in whatever way they wished.

Given the extreme remoteness of this region, misuse of funds by the education office, schoolmasters or head teachers was nearly impossible to detect. Parents have no way of knowing when they can expect Project Hope funds for their children. At least five parents in Xuanhan County had no idea their children were even on the list of Project Hope aid recipients until an executive from the donor company, Keyon, visited Sichuan to see the results of the program.

Three schoolmasters said the Communist Youth Development Foundation should establish accounts for Project Hope children and disburse the aid money directly, allowing access to the money only when the head teacher and the parent are present. After withdrawing the funds, parents could apply these directly to the child's tuition and fees. This, they said, would remove the potential for misapplication of funds and ensure parents did not use the school fees for household expenses.

Despite the surgical hand of Southern Weekend's editorial committee, Zhai Minglei received hundreds of letters praising the paper's coverage of the issue. Soon after, CCTV's "Eastern Horizon", a news talk show, ran an interview with Xu Yongguang, the top official at Project Hope. Xu acknowledged there had been a few hiccups at the Project, but said the Communist Youth Development Foundation was looking at nationwide changes to the program. The news program had also interviewed Zhai Minglei, who spoke about endemic institutional problems at Project Hope. This part of the interview was removed before the segment aired, meeting the same fate as similar comments in Zhai's article. China's media minders were not interested in casting the story as anything more than an isolated case of corruption. The local official Tang Chunxu would remain the scapegoat.

When news came of Tang's public admission of guilt shortly after the CCTV segment aired, no one was the least bit surprised. The Party committee in Xuanhan County pledged to deal harshly with Tang, and this seemed to quench the media's thirst for blood. Eventually, Tang was condemned to a punishment befitting his crime, if otherwise a bit worrisome – he was packed off to a village school, where he was to teach classes in moral education.
The story, fortunately, did not end there. Two whistleblowers, former employees of the Project, came forward with accusations that challenged not only the charity's system of administration in general, but implicated Xu Yongguang personally. They were Liu Yang, former deputy head of the accounting department at Project Hope, and another former Project Hope employee named Yi Xiao. Liu presented Southern Weekend in early 2002 with evidence of financial machinations that had defrauded the charity of some 12 million yuan. Based on this new information the paper's deputy editor in chief, Fang Jinyu, wrote a report implicating Xu Yongguang.

In light of the report's sensitivity, the editors agreed it would be difficult, potentially disastrous, to print an unexpurgated version in the paper. Instead they explored the option of running it in an "internal reference", or neican, where it might draw the attention, and perhaps the action, of China's political elite. According to his own account, Fang tried to offer the story to several internal references, including those of his former employer, Xinhua News Agency. The expose was too hot to handle, apparently, and Fang had no takers.
Fang's sources, having risked their own hides, became anxious about the delays and resolved on leaking the materials to Hong Kong media. Fang helped arrange a meeting between Liu Yang and a mainland correspondent for Ming Pao newspaper.

According to some sources, the leading Hong Kong English-language daily South China Morning Post was also offered Liu Yang's documentation on Project Hope, but declined to print the story because of fears of possible fallout on the Post's Malaysian-Chinese owner Robert Kwok's extensive business interests in China. If true, this would demonstrate even further the potential dangers of the story for Southern Weekend, which had so much more to lose than the Hong Kong-based Post.

Once Ming Pao had broken the story outside China, the South China Morning Post joined in. Encouraged by the overseas publicity, Liu Yang called a news conference in Guangzhou for domestic Chinese media. On March 20, 2002, the day of the news conference, Southern Weekend put Fang's four-page expose on the front page and sent the issue off to the printers. But Xu Yongguang was charging into action too. He called the allegations circulating in the Hong Kong press "a terrorist attack on Project Hope" and pressed the Propaganda Department to issue a ban on the story. The ban was enforced through the local propaganda office in Guangdong and Southern Weekend's entire print-run of some 300,000 copies was destroyed.

What Fang did next was a huge gamble – he decided to post the article on the Web in its entirety, under his own name rather than that of the newspaper. Within hours the story had made it around the globe and everyone knew the truth about years of mismanagement at Project Hope. One of the most damning revelations of Fang's report was that the Communist Youth Development Foundation had changed disbursement procedures in 1996 to simplify the diversion of funds by high officials into other speculative ventures. Chinese readers were saddened and angered to learn that a sizeable portion of donations to Project Hope had never been used to assist poor rural children in their dream of going to school.

The Southern Weekend reports forced Project Hope down from its prized position as a model of Chinese social conscience. In the year after the report appeared, contributions to the fund dropped by more than 60 percent. Domestic Chinese media turned more earnestly to the question of how to ensure proper oversight of charity organizations. It had been a process of disillusionment for the entire country, which had glimpsed behind the faces of children in need the cynical manipulation and unbridled greed made possible by the general lack of transparency and accountability.

Postscript

Zhai Minglei called the hostile environment he faced in remote Sichuan Province a "kingdom of lies", and the Project Hope case makes clear the immediate practical difficulties involved in doing investigative feature stories under such conditions in China, where infrastructure is underdeveloped and local leaders work to forestall the efforts of journalists. As difficult as these obstacles were, though, they paled against the political problems facing the story. Having uncovered the facts in Sichuan, Zhai Minglei and others at Southern Weekend faced a more daunting kingdom of lies, subject to the machinations of Xu Yongguang, the powerful and well-connected official a the top of Project Hope.

In the end, the unraveling of this more formidable network of lies required two acts of desperation on the part of Fang Jinyu, the Southern Weekend editor who undertook the second Project Hope report. The first was to hand the story, in lieu of domestic publication, over to media outside China, an agonizing choice for any professionally minded journalist. The second was the leaking of the full second Project Hope report on the Internet subsequent to international coverage. These "leaks" highlight two important forms of last resort for Chinese journalists.

How and whether the development of the Internet over the last decade is changing the practice of journalism in China is a terribly complicated question. It is already clear, though, that e-mail, blogs and personal Websites have helped Chinese reporters establish and maintain contacts with the outside that can prove an important means of getting stories out when the reins are tightened on the home front.

For an example, one need look no further than the explosive international controversy in February 2006 over the Propaganda Bureau's closure of "Freezing Point", a weekly section of China Youth Daily and for more than ten years one of China's leading sources of investigative reporting and commentary. When Li Datong, the section's editor, received notice from China Youth Daily's editor in chief on January 24, 2006, that "Freezing Point" would be "suspended and put in order" he wrote an open letter protesting the decision and sent it by e-mail to friends and colleagues outside China. The letter bounced through cyberspace and quickly made the section's closure international news. The "leak" upped the ante for Chinese leaders, who had hushed domestic media by banning coverage of the incident even before Li Datong had learned himself what happened, and brought international pressure to bear.

The Internet played a similar role in getting out the full Project Hope story. Zhai Minglei's first report, with its unfortunate editorial changes, was in fact well received in official circles. The head of Project Hope, Xu Yongguang even sent a letter thanking the paper for exposing the corrupt education official in Sichuan and helping the Project correct this (minor) kink. He encouraged the newspaper's work and even invited reporters in for a personal interview. His enthusiasm cooled as Southern Weekend's Fang Jinyu unearthed even more damning information in the wake of the first story.

Of course, the best possible scenario for Fan Jinyu would have been printing his full report in Southern Weekend. As we have seen, the political obstacles made this impossible. Not just any charity, Project Hope was hailed as a model and yardstick of social progress in the official yearly "white books" on human rights through most of the 1990s. Government employees and party members were encouraged to contribute as part of their "ideological education". In 1994, then Premier Li Peng made a point of emphasizing the Project's achievements in his "Government Work Report" to the National People's Congress.

Established just a few months after the crackdown on student demonstrators on Tiananmen Square in 1989, Project Hope boasted direct political support from China's highest leadership. The project, created under the auspices of the Communist Youth League, typified the "GONGO", or government-organized non-governmental organization. Deng Xiaoping, Jiang Zemin and Li Peng, at the time China's three most powerful men, all wrote ceremonial inscriptions for the Project in their personal calligraphy styles. The organization's supervisory organs were staffed with retired high-ranking cadres from institutions like secretariat of the State Council, the Ministry of Education and the People's Political Consultative Conference. It was, in short, politically armed to the teeth.

It's not surprising then that editors at Southern Weekend were at first reluctant to directly confront this institution. Fang first tried finding a home for the story in an internal reference, where it stood a chance of catching the eye of influential Party officials. With no takers and his inside sources growing nervous, he made the agonizing choice of taking a back seat and relinquishing his scoop to media outside the mainland. It was a frustrating compromise: "Here I am, a Party news worker, meeting with a mainland correspondent [for a foreign publication] and sifting through the evidence against a corrupt mainland official; why must things turn out this way?" he wrote.

Immediately after the ban on the story on March 21, 2002, he put the article online under his own name. This was a risky step, but also the only way Fang could reach a wider audience. The story traveled fast on the Internet, both domestically and internationally. By March 24, an article on the exposé's suppression at Southern Weekend appeared in The New York Times.

Once again, the Internet proved instrumental in breaking official censorship. The victory was a dubious one, though. Never officially published in mainland China, the allegations were easily dismissed by Xu Yongguang as "rumors", and even an attempt at "news distortion" by disgruntled former employees. Xu eventually stepped down as the head of Project Hope; he remained, however, on its governing council, and proceeded towards another leading position in the non-profit sector, that of vice-secretary general of the China Charity Foundation.
Several official audits and investigations were launched at Project Hope, but their results were never made public. The fully story remains off limits to public scrutiny, and to this day it is hard to establish the facts in the forest of allegations and counter-allegations. According to one well-informed and non-partial observer, Liu Yang's original assertions in Ming Pao and Southern Weekend were "substantially true", but they may have resulted from "institutional mismanagement", rather than personal corruption of the Project's leadership.

Suppression of the second expose on the mainland made it impossible to refute or confirm the allegations convincingly. A cloud of doubt remains. But one thing at least is certain – Project Hope has not yet recovered its former standing in the eyes of the public.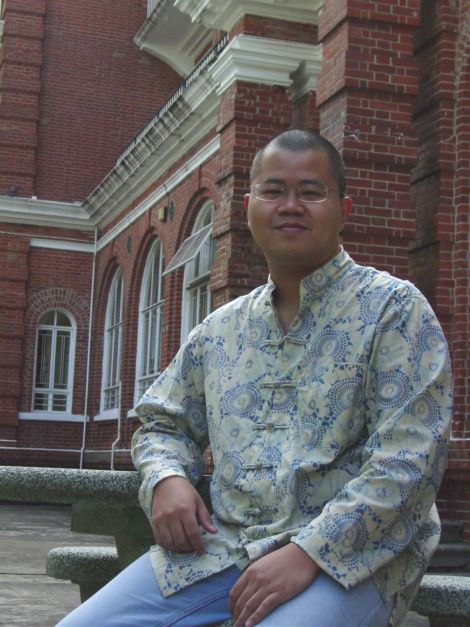 [ABOVE: Zhai Minglei sits in front of Eliot Hall, The University of Hong Kong.]