By David Bandurski – "Five minutes of darkness," in the words of columnist Xiong Peiyun (熊培云). That was all it took for the "urban management officers" (城管) of Hubei's Tianmen City (天门市) to tragically end the life of Wei Wenhua (魏文华), the general manager of a local architectural engineering firm who dared to step out of his car and document a violent attempt to bring local villagers to heel.
According to Chinese media reports, Wei Wenhua was beaten to death by a mob of more than 30 "urban management officers", or cheng guan, in Hubei's Wanba Village (湾坝村) on January 7 as he attempted to take photos with his mobile phone of a dispute involving villagers and local authorities.
Wei might be considered China's first "citizen reporter" to be killed while attempting to document a breaking news event.
We don't know at this point, however, how Wei might have intended to use the photographs. [BELOW: Screenshot of 2006 Legal Evening News coverage of a crackdown on tricycle cabbies carried out by urban management officers.]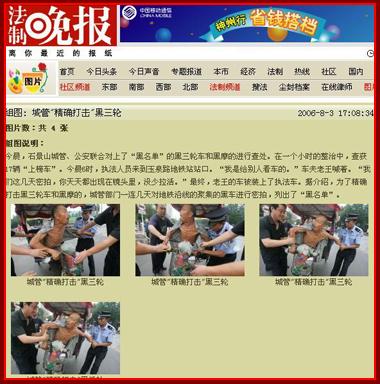 According to Chinese media reports, the conflict between villagers and officers centered on a dispute over a garbage dump site. The village committee of Wanba had agreed to allow city authorities to dump garbage at a location in or next to the village for a period of two years. When the agreement expired in November last year, the village decided not to renew it because the stink from the dump had become too imposing on the lives of villagers.
Urban management officers — deputized security forces generally charged with dealing with such issues as unauthorized street vendors and carrying out demolition and removal orders — continued to dump garbage at the site after the expiration of the agreement. On January 4, villagers blocked the main street leading to the dump site.
When city authorities attempted to unblock access the next day, villagers gathered to stop their vehicles. An altercation ensued in which several villagers were badly beaten.
Just as this was happening, Wei Wenhua (魏文华), general manager of Shuli Architectural Engineering (水利建筑工程公司) was driving by the scene with Wang Shutang (王述堂), head of the company's party branch.
According to Wang, as quoted in Southern Metropolis Daily yesterday, "Wei saw the violent enforcement activities of the city inspectors at the Wanba garbage collection site and stopped the car. He said, 'There they go beating up people again', and got out of the car, pulling out his mobile phone to take photos."
When the city inspectors realized someone was taking photographs, Wang told Chinese media, about 20 or 30 of them rushed over and started beating Wei Wenhua. Wei shouted that he would hand over his phone and delete the pictures, but the city inspectors didn't stop. One eyewitness said Wei was shouting: "I surrender!"
After the beating the urban management vehicles pulled away, but Wang Shutang convinced one group of officers to take Wei to the hospital, where he was pronounced dead.
The Wei Wenhua Affair, vaguely reminiscent of the Sun Zhigang story back in 2003, could become one of the most important China stories of 2008. Some media and Web users are already calling for the disbanding of the urban management system.
"Five minutes of darkness, and who will be next?" Beijing scholar Xiong Peiyun wrote in today's Southern Metropolis Daily and The Beijing News. "Perhaps no one wishes to face this question. Wei Wenhua's death stands as clear proof of the violent ways of local urban management officers. It's 2008 and another citizen goes down. When will we stand up and restrain the law enforcement violence of this urban management system?"
Prompted by local protests, police in Tianmen City have reportedly questioned 24 people about the attack on Wei Wenhua, and four remain in custody [report from BBC.com here].
Further Reading:
"Chinese man killed after filming protest", Guardian Unlimited, January 10, 2008
"Public anger over 'parapolice' reveals city administration dilemma", CCTV.com, January 9, 2008
"Beijing to standardize conducts of city inspectors", China.org.cn, December 5, 2007