By David Bandurski — Zheng Jichao (郑继超) has a brand new roof over his head. Zheng Jichao has a cozy cotton jacket. Zheng Jichao has a shiny new methane stove. And he has — hallelujah! — the Communist Party to thank for it all.
It is a narrative universally recognizable in China, where propaganda conventions urge media to emphasize proactive leadership and minimize the grisly facts of catastrophe and human error. A typhoon strikes, a flood devastates, and party cadres descend like gods in a Greek tragedy, showing the masses just how human they really are.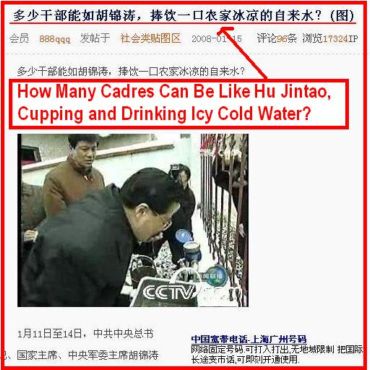 [ABOVE: Screenshot of online BBS coverage of President Hu Jintao's visit with peasant Zheng Jichao.]
According to CMP sources, propaganda officials have lately sprinkled their directives to media rather liberally with cautions about maintaining the party's "image," or xingxiang (形象). But the power of the Web is presenting leaders with unforeseen challenges as they resort to old norms in managing the party's image.
The cadre ex machina story was replayed last week on China Central Television as President Hu Jintao appeared on the nightly national newscast, Xinwen Lianbo (新闻联播), visiting a region of Anhui Province plagued by floods last year [VIDEO available here].
Official television coverage showed President Hu visiting the home of peasant Zheng Jichao (郑继超) in Anhui's Wangjiaba Town to make sure the government was rendering all possible assistance. Here is the scene recounted in an English news report from Xinhua News Agency:
President Hu, showing concern for the disaster-hit people, visited a local village to see whether people got their flood compensation.

Hu said the life of villagers was always on his mind. Villager Zheng Jichao told Hu that his family had built a new house and his life was guaranteed.

"Have you received the flood compensation fund yet?" Hu asked.

Zheng then showed him a red bankbook. Reading the entries marking the amount of money allocated each time for disaster victims, Hu smiled, "I feel great relieved after seeing this."
What followed was a sublimely human moment. President Hu leaned over, cupped his hands, and drank from Zheng Jichao's faucet. It was this dramatic scene that captured the particular attention of Chinese blogger "Zuo You Yi Guo Hui" (左右一锅烩).
"I saw the news today of President Hu Jintao's visit to the home of that peasant, where he takes a drink of cold tap water, and naturally I was moved," the blogger wrote on January 18. "So I made note of the peasant's name."
Putting "Zheng Jichao" through a search engine, Zuo You Yi Guo Hui found that the villager had had at least seven visits from party leaders within a period of just two months. The blogger's post included the key graphs of official news stories going back to November 2007, with working links to official news sites on which the stories appeared.
There was a constant progression of courtly cadres. Local township and county leaders, Anhui provincial party congress delegates, Anhui's vice-governor and his entourage, Anhui's deputy secretary and his entourage, local city leaders, and finally Hu Jintao himself.
Through all of this, of course, Zheng Jichao was reportedly euphoric. He was described as "very happy," "extremely excited," "moved to tears."
There was scarcely any need for the blogger to editorialize. Clearly, Zheng Jichao had become the latest poster boy in the party's ongoing charm offensive: "The people love us! You all love us! . . . Just look at Zheng Jichao!"
Zuo You Yi Guo Hui's revealing news smash-up is the latest example of how the Internet is changing the nature of news consumption in China even as the party does its utmost to control public opinion and monopolize the message.
A simple act of connecting the dots on China's censored Web and Hu Jintao's genuine moment becomes what we all quietly supposed it was — a naked act of self-interested party publicity.
And this is probably not the last we will hear of Zheng Jichao. Those online spoofs should be coming out any day now.
A translated portion of the original blog entry follows:
First Time
November 15, 2007

On November 15, the vice-secretary of the work committee, Zhao Kai (赵凯), went in a spirit of profound friendship to Fuyang City (阜阳) to carry out inspections and ask after [residents]. He was accompanied by Hu Liansong (胡连松), deputy director of the standing committee of the provincial party congress and Fuyang party secretary, Zhang Shaochun (张韶春) and Li Hongta (李宏塔) of relevant departments, and vice-mayor Liu Shaotai (刘绍太).

—–
"The house has been roofed, the road widened, we cook with gas now. Our lives have improved, and for all of this we must thank the party and government for their care and support," . . . 50 year-old Zheng Jichao said happily as he shook the hand of Zhao Kai.
—–

Second Time
November 23, 2007

Like Liu Wenge (刘文阁), Zheng Jichao of Wangjiaba Town . . . has been very excited these last two days. On November 23, county, township and village cadres came together to his home with cotton-padded coats, cotton quilts and flour and asked how he was getting on with the cold and if there were any difficulties he needed help with. Only when county vice-secretary Li Guoqing (李国庆) learned that Zheng's house had already been rebuilt and they were well fed and clothed was he satisfied enough to take his leave. Wearing his new cotton-padded coat, Zheng Jichao said excitedly: "This wadded jacket is new and thick. When I put it on I feel warm in my heart. All those things we didn't think about, the government thought about for us!"
[January 22, 2008, 1:37pm HK]