By David Bandurski and Joseph Cheng — The scale of China's biggest breaking news story so far this year is positively epic. Regional snowstorms have stranded millions of travelers, left scores dead and chilled the national economy. Here in blustery Hong Kong, though, newspapers seem far more preoccupied this week with a "storm" of sex and celebrity that has whirled out of the icy thin air of local Internet chat rooms.
Mainland news coverage has been far from ideal, and Hong Kong news choices haven't been entirely profane. Nevertheless, coverage this week is a disappointing study in contrasts.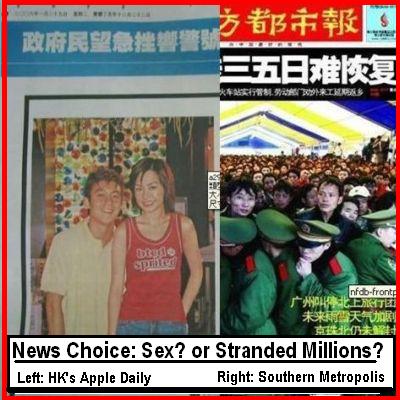 [ABOVE: Combined image of front page coverage on January 29 in Hong Kong's Apple Daily (left) and Guangzhou's Southern Metropolis Daily (right).]
Let's look first at mainland media coverage this week.
Chinese media, as ever under the watchful eye of party propaganda discipline, have met the snowstorm story head on with non-stop coverage (and so far no hints of information suppression at the national and provincial levels).
Predictably, we've seen familiar strains of government mobilization and official image crafting [Reuters coverage of here]. And there is certainly not enough reporting and criticism on the issue of government preparedness. Since national leaders mobilized action earlier this week, the critical tones have more or less submerged. One notable exception is an editorial in yesterday's issue of Caijing magazine (more below). [CMP coverage of earlier criticism].
Some mainland commentators, including journalists, have said that now is the time for action and not for criticism. They have a point, of course, in being concerned first and foremost with the welfare of the millions stranded across the country.
Still, emergency response efforts should not quiet media criticism. After all, when you see images of tens of thousands of PLA soldiers clearing away snow with only hand shovels, you might be stirred by this show of solidarity and self-sacrifice. But let's face it, this has to raise serious questions about institutional readiness too.
That said, there has been a noticeable flood of news coverage of the snowstorms in the mainland media, and not all of it is slavishly in service of the government's public image.
The front page of Guangdong's Southern Metropolis Daily on Monday ran with a full-page photo of a sea of passengers at Guangzhou West Railway Station jostling with green-clad soldiers. The main headline read: "Beijing-Guangzhou train line will be tough to clear in the next 3-5 days." Controls have been imposed at the city's rail stations, the subhead tells us, and stranded passengers have already surpassed 500,000. A separate headline at the bottom of the page points us to an inside article dealing with the impact on the stock market.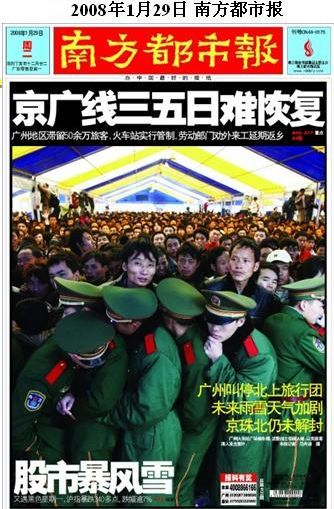 [ABOVE: Frontpage of Southern Metropolis Daily, January 29, 2008]
The next day, front page coverage at Southern Metropolis Daily dealt with Premier Wen Jiabao's apology on January 29 to passengers stranded at a rail station in Hunan, one of the provinces hardest hit.
Additional reports included information on the province-wide refunding of more than 500,000 train tickets, more than 14,000 passengers stranded at Guangzhou' Baiyun International Airport, and the imminent clearing of the Beijing-Zhuhai Expressway.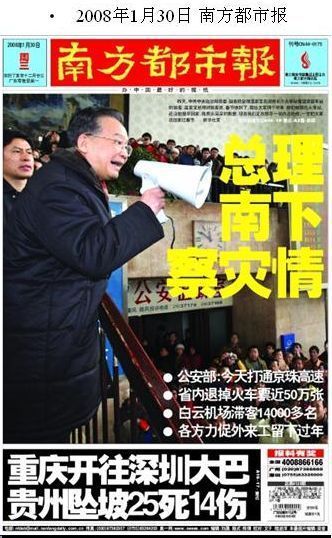 [ABOVE: Frontpage of Southern Metropolis Daily, January 30, 2008]
Reports of the disaster on the newspaper's inside pages covered a wide range of areas, from traffic and weather news to official announcements to personal stories.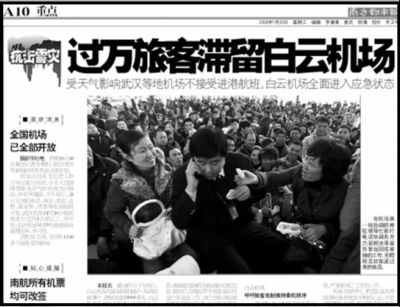 [ABOVE: Page A10 of Southern Metropolis Daily, January 30, 2008, reporting on more than 10,000 passengers stranded at Guangzhou's Baiyun International Airport.]
Beginning as early as January 26, newspapers across China set up special sections on the snowstorms.
As the disaster worsened the news focus turned to the relief effort. Shenzhen-based QQ.com announced a pact with seven other media to mobilize citizens for the local relief effort in Guangdong. Guangzhou Daily printed up special editions on the disaster providing up-to-date information on where people could go for food, shelter and other needs.
In an editorial run on its Website today, Caijing magazine essentially called the present winter crisis the first failed test of China's law on emergency management (突发事件应对法律), which took effect two months ago.
Quoting one of the emergency law's principal drafters, Tsinghua University professor Yu An (于安), the magazine said that the law mandated that "relevant departments should declare a state of emergency in affected regions or areas at the earliest opportunity" and that "local governments should put response and relief structures in place and institute warning systems".
This did not happen in recent weeks. Rather, emergency efforts did not roll into play until national leaders at the State Council held an emergency session on January 27, more than two weeks after unusual snowstorms caused havoc in local areas. The model of response, in other words, was still far too centralized.
The dissection of Hong Kong's role in snowstorm coverage is unfortunately a simple procedure.
As snowstorms crippled China this week, Hong Kong media were obsessed with photographs of questionable authenticity depicting alleged sexual acts involving Hong Kong pop idols Edison Chen, Gillian Chung and Bobo Chan.
With the exception of South China Morning Post coverage, Ming Pao and some television coverage in Chinese (by the likes of ATV), attention has lingered on the photo scandal.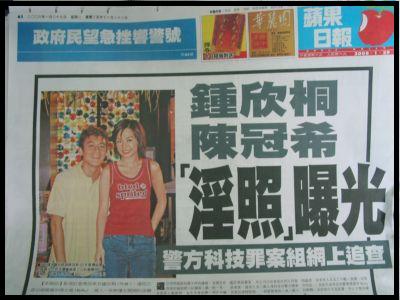 [ABOVE: Frontpage of Hong Kong's Apple Daily, January 29, 2008.]
Wasn't this a simple question of relevance? Did storms to the north actually have any measurable impact on the lives of Hong Kong residents?
Yes.
There is the affect on the stock exchange. There are thousands of Hong Kong residents stranded in China. Air traffic in and out of the city has been directly affected. Hong Kong manufacturers will also no doubt feel the bite.
Was the story interesting enough to make the front page?
Yes.
The images emerging from China this week were arresting. The numbers were staggering. The human, institutional and political dimensions of the story were engaging and important.
Nevertheless, as millions of travelers were stranded across China on Tuesday, including more than 800,000 rail passengers in nearby Guangzhou alone, the headline splashed across the front page of Hong Kong's Apple Daily read: "'Explicit photos' of Edison Chen and Gillian Chung exposed."
"The storm broke at around 8pm on the evening before yesterday," the Apple Daily reported (translation from ESWN). "A netizen posted a photograph of a man and a woman in bed at the Hong Kong Discussion Forum. These two bore some resemblance to Edison Chen and Gillian Chung."
"Naughty photos make it onto the Web," declared the front page of Hong Kong's Oriental Daily, which gleefully included cropped versions of the photos under a banner advertisement for dried scallops.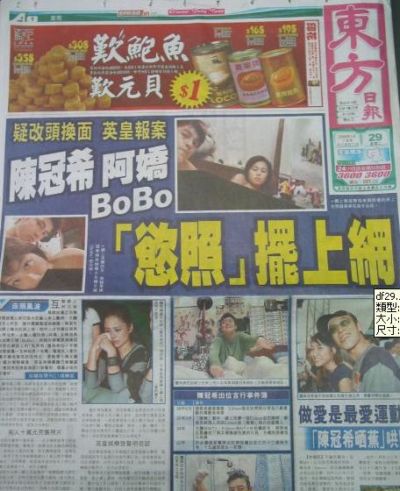 [ABOVE: Frontpage coverage in Oriental Daily , January 29, 2008, of the photo scandal.]
The case is now a bit newsier. The focus has turned to the efforts of Hong Kong police to find those responsible for posting the photos to the Web. The images themselves have been played down a bit too (a natural process of fading reader interest?).
But one week into what will undoubtedly be one of the biggest breaking China news stories of 2008, Hong Kong's major newspapers are still yammering on about Edison Chen, Gillian Chung & Co. The story dominated the space above the fold on yesterday's Apple Daily, with the headline, "Police begin mass round-up of photo posters":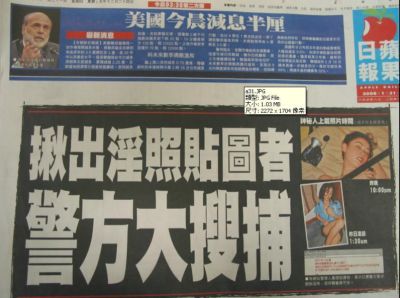 [ABOVE: Frontpage of yesterday's Apply Daily.]
At other major papers yesterday treatment was much the same [See Roland Soong's round-up at ESWN]. The only notable exception was Ming Pao, which placed the photo scandal on page two and avoided sensational images (the paper's leading story was about the Macau corruption trial of former planning minister Ao Man-long).
One of the key tests of mainland news coverage will come in the next few days and weeks, as the immediate priorities of disaster relief diminish. How will Chinese media look back on the snowstorms of 2008? To what extent will they address such issues as institutional readiness?
It's not too soon to say, however, that Hong Kong media have fallen short.
As journalists in China struggle for greater rights, neighboring Hong Kong should serve as example of the possibilities offered by free expression. This week's pathetic showing must leave mainland journalists wondering, "Is that the kind of press a free market pays for?"
Does Hong Kong deserve a better press? Should Hong Kong residents be concerned about this issue? . . . These are certainly questions the SAR should talk a great deal more about once the madness of these storms has been cleared away.
[Posted February 1, 2008, 2:31am HK]
MORE SOURCES:
QQ.com Special Page on the Snowstorms, soliciting comments from eyewitnesses
Hunan's RedNet Feature Page on Snowstorms
"China makes martyrs of three killed in storm," AP, January 31, 2008
Snow and chaos," Danwei.org, January 29, 2008
"Newspaper editorial calls for greater information openness to combat snowstorm woes," CMP, January 29, 2008