By David Bandurski — Liu Weiqiang (刘为强), the journalist implicated in the latest fake photo scandal to rock China, was fired from his newspaper in northern China, which also issued a public apology for the incident, according to the official Xinhua News Agency.
In a public statement deflecting responsibility for the incident from China Central Television and Xinhua, the editorial committee (编委会) of the Daqing Evening News (大庆晚报) said in a public statement issued via the Web Monday that the paper "apologized to China Central Television, Xinhua Online, other media that had run the photo, and to readers" for the photo's "negative influence."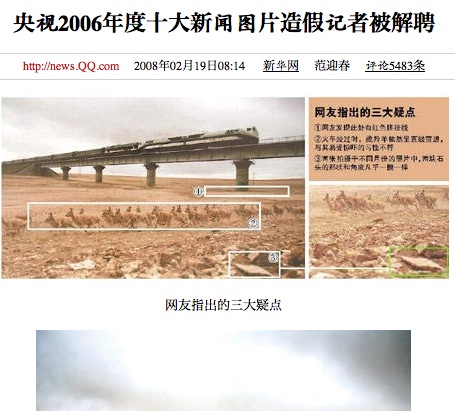 [ABOVE: Screenshot of QQ.com coverage of the firing of journalist Liu Weiqiang and the apology from his employer.]
The newspaper, a commercial spin-off of the official Daqing Daily newspaper in northern China's Heilongjiang Province, said a thorough review had confirmed that the photograph was a composite created with Photoshop software.
Daqing Evening News said in its apology that although Liu Weiqiang had spent 300 days of hard work in the field and "achieved notable results in protecting the Tibetan antelope", his news photo was a violation of journalistic ethics and integrity.
The use of technology to modify the photo, the paper said, had had a "very bad influence."
While the paper had not encouraged Liu's participation in the CCTV awards, a spokesperson for Daqing Evening News said, the editorial committee nevertheless recognized its responsibility.
The decision to fire Liu Weiqiang was reportedly made in an editorial committee meeting on February 17.
Liu was formerly vice-head of the photography department at Daqing Evening News.
[Posted February 19, 2008, 11:53pm HK]