By David Bandurski — Since national legislation on government information release took effect in China on May 1 this year, Chinese media have taken to the topic of information openness in a big way. And while the lasting effects of the National Ordinance on Openness of Government Information (政府信息公开条例) remain to be seen, there can little doubt that media have used the very fact of the law's existence to advance discussion of its spirit — the value of timely information sharing.
Here is what the term "information openness", or xinxi gongkai (信息公开), has looked like in China's media over the past year. There is clear upward trend in coverage, cresting in May as the legislation took effect and the Sichuan earthquake further underscored the importance of information access.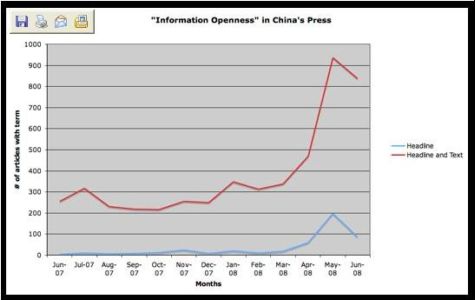 [ABOVE: Data plots number of article occurrences for the term "information openness" (信息公开) in more than 300 mainland newspapers from June 1, 2007 to June 30, 2008, based on the WiseNews database.]
On May 21 China Newsweekly reported a "tide" of formal information release requests (信息公开申请) filed by Chinese citizens under the new national legislation.
On May 4, Beijing resident Chen Yuhua (陈育华) made a request to the Beijing Public Security Bureau demanding to know how management fees levied by the city since 2003 on dog owners had been used. Beijing resident Zhan Jiang (湛江) applied to the Environmental Protection Bureau of Beijing's Haiding District to find out why rights defense cases brought by homeowners against property developers had not been handled.
Shanghai lawyer Yan Yiming (严义明) filed requests with both the Anhui Provincial Health Department and the Fuyang (阜阳) city government wanting them to make public the reasons why they had not issued information on the outbreak of hand, foot and mouth disease in a timely manner.
According to Chinese media reports, local hospital officials in Fuyang made a prompt report to health officials when the first child died of hand, foot and mouth disease in the city on March 28, 2008. But it was four weeks before health officials finally released information on the disease.
No sooner had the legislation taken effect than media began questioning its inadequacies too, particularly how to ensure compliance by local governments, and how to standardize the information release process.
On May 1, Hang Fuzheng (韩甫政), a lawyer from Cangzhou (沧州) in Hebei province, issued a proposal to the State Council asking that it standardize the "release" process for State Council departments by establishing more rigorous national standards for information release covering a range of areas, including education, sanitation, housing and city planning.
China Newsweekly quoted Peking University law professor Jiang Ming'an (姜明安), a participant in the drafting process, as saying implementation was uneven across the country, and that the legislation was going up against entrenched party habits. "Many government officials do not wish to make information public because they're used to thinking that 'not making [information] public is the rule, and making it public is the exception,'" he said.
Information access continues to be an issue accompanying breaking news stories, most recently the Weng'an riots in Guizhou, and the Shaanxi Provincial Government's coming clean over the South China Tiger scandal.
This morning, Chongqing Morning Post ran a piece from the Procuratorial Daily (检察日报) called "Guizhou's Weng'an Incident Brings Out the Importance of Information Openness." The article said:
The mass incident involving the mobbing of the Weng'an County Government by certain people has lately died down. But the so-called 'Weng'an Incident' thoroughly demonstrates that mass incidents and gossip are twin brothers, and that if we wish to prevent the occurrence of mass incidents we must be timely and quick in clearing away rumors.
Today's main editorial in Southern Metropolis Daily turns to the question of information openness in light of the South China Tiger scandal, arguing that the national ordinance should be seen not only as a force pitting the people against the government but as an act of self-strengthening on the part of the government:
In this way, openness of government information is not just as we tend to think of it, as beneficial only to the monitoring of the government by ordinary people, and not in the particular interest of the government itself. As we can see from the South China Tiger controversy, releasing government information in a timely and efficient manner can also work against the various government offices or officials looking to profit personally and hold ransom the credibility of the system.

Therefore, with the enactment of the National Ordinance on Openness of Government Information as an impetus, and with the South China Tiger controversy as a real example, we can no longer see the movement for seeking information and the truth purely as the monitoring of the government by the people, as a kind of coercion. It is, at the same time, an internal act of self-purification by the government, one method of effective supervision. By means of effective release of information, strong and healthy elements within the government can grow and develop, while those irregular and unhealthy elements can be checked and eliminated.
As readers can see from the graph above, there were more than 800 articles addressing "information openness" appearing in China's press in June alone. We don't have time, unfortunately, to go over these in detail. But this is certainly a trend worth watching.
Will China's media continue to push the issue of information openness along with news coverage of important stories?
It is also worth noting that a number of local governments are now using the newspapers and Internet to publish the "information release catalogs" (信息公开目录) they are required to make available under the ordinance. Here, for example, is a list of contacts and information published recently in Kunming Daily:
昆明市国土资源局西山分局信息公开目录

一、机构职能
(一)部门基本信息

单位名称:昆明市国土资源局西山分局;职责:昆明市国土资源局西山分局是昆明市国土资源局的派出机构,负责西山区行政辖区内土地资源的开发、保护和合理利用;矿产资源的开发、利用、保护工作进行指导、监督、检查,以及地质勘察、测绘的行政管理工作;地址:云南省昆明市二环西路193号;邮箱:bangongshi991@126.com;电话:0871-8185991
  
(二)领导班子成员分工及联系电话
李应海:党组书记,负责全局党的建设、干部队伍建设、纪检监察工作,分管工青妇、地政服务中心,联系马街国土所、棕树营国土所。联系电话:8181818

马燕:党组成员、局长,主持分局全面工作,分管局办公室、土地保护利用科,联系福海国土所、前卫国土所。联系电话:8185989

方勇华:党组成员、副局长,协助局长工作,分管地矿与环境科、信访科、土地收购办公室,联系海口国土所、碧鸡国土所、西苑街道办事处。联系电话:8223770

高云华:党组成员、副局长,协助局长工作,分管测绘地籍科、业务办理窗口、国土资源管理行政执法西山大队、西山分局信息分中心,联系团结国土所。联系电话:8228946

段昌:党组成员、办公室主任,协助书记、局长工作,联系永昌国土所、金碧街道办事处。联系电话:8232059

(三)业务部门工作职责及联系电话
办公室工作职责:
⑴协调分局机关日常工作;
⑵负责公文审核、重要文件起草、重要会议组织、文电处理、政务信息、督查、财务、档案、机要、保密工作;
⑶负责分局机关文印及服务工作。
联系电话:8185991

土地保护利用科工作职责:
⑴土地利用总体规划、矿产资源、基本农田规划的编制;
⑵耕地保护工作;
⑶建设项目的用地初审;
⑷农用地转用,土地征收征用审查、汇总、报批工作,农村宅基地年度用地指标管理和审批工作;
⑸土地开发、整理、复垦、耕地占补平衡;
⑹土地使用权划拨、出让、转让、租赁、作价入股的办理。
联系电话:8185987

测绘地籍科工作职责:
⑴国有土地使用权调查、登记、颁证;
⑵集体土地所有权、使用权调查、登记、颁证;
⑶个人已购住房国有土地使用权登记、颁证;
⑷土地使用权抵押登记;
⑸测绘、土地登记中介代理单位资格审查、备案,测绘资料(含勘测定界)审查(验收);
⑹土地权属纠纷调处;
⑺申请土地登记资料公开查询的单位或个人资格审查。
联系电话:8191556

地矿与环境科工作职责:
⑴对辖区内地质勘查、地质环境、矿产资源开发利用、保护工作指导检查和监督管理;
⑵小型采砂、采矿的登记发证和采砂权转让变更工作;
⑶地热水、矿泉水及矿产资源补偿费的征收管理工作;
⑷矿产资源储量的评审认定、报批、登记、统计及资料的汇总;
⑸矿山地质环境监督及地质灾害调查、评价和防治管理工作,按规定负责工程建设项目地质灾害危险性评估管理工作;
⑹地热水、矿泉水供水井凿井立项审查报批和采矿许可证发证初审工作;
⑺矿业权纠纷调处工作;
联系电话:8229292

土地收购办公室工作职责:
⑴承担拟收购土地的前期调查工作;
⑵按市土地储备中心的委托,实施土地征用、收购和储备土地的管理、前期开发整理;
⑶协助市土地储备中心完成土地移交工作;
⑷国有土地使用权出租土地收益金的收缴工作;
联系电话:8227911

便民服务中心窗口工作职责:
负责国内外及本市投资者和用地、采矿者申请办理审批事项的收件及相关业务咨询的工作;
联系电话:818593

信访科工作职责:
⑴受理电话、信函、来人来访提出的土地、矿产举报、咨询、请求事项;
⑵承办市国土局和西山区人民政府交办的信访处理事项。及时、准确地向职能科室转送专项信访资讯;
⑶参与群体性上访事件的疏导、协调、引导、平息工作;
联系电话:8224668

昆明市国土资源管理行政执法支队西山大队工作职责:
⑴负责辖区内国土资源的巡查工作,宣传《土地管理法》、《矿产资源法》及相关法律法规;
⑵查处辖区内土地、矿产违法和涉嫌犯罪案件;
⑶受理相对人对国土资源违法(犯罪)行为的检举和控告;
⑷立案查处土地、矿产违法案件生效后,申请人民法院强制执行;
⑸将土地、矿产违法涉嫌犯罪的案件移送公安机关;
联系电话:8185373

各国土资源管理所主要职责:
⑴负责辖区内国土资源的巡查工作,宣传《土地管理法》、《矿产资源法》及相关法律法规;
⑵负责辖区内土地及矿产资源调查统计,协助管理测绘工作,核实和上报农房建设用地,协助进行矿产资源探矿权、采矿权的审批,协助完成征地管理工作;
⑶协助编制和修编辖区内的土地利用总体规划,督促并按计划用地;
⑷对辖区内土地、矿产资源、地质灾害、测绘市场等进行监督检查和跟踪管理,协助依法查处辖区内的土地、矿产违法案件,协助调处土地及矿业权纠纷。

二、法律依据
《中华人民共和国土地管理法》、《中华人民共和国城市房产管理法》、《中华人民共和国担保法》、《中华人民共和国土地管理法实施条例》、《中华人民共和国城镇国有土地使用权出让和转让暂行条例》、《云南省土地登记条例》、《划拨土地使用权管理暂行办法》、《中华人民共和国矿产资源法》、国务院《矿产资源开采登记管理办法》(国务院令241号)、《云南省矿产资源开采登记管理办法》、《中华人民共和国测绘法》。

三、业务工作及审批时限
行政许可事项:《采矿许可证》报批及核发(限《矿山建设规模分类表》和《矿产资源储量规模化分标准表》中的小型)。

非行政许可项目:国有土地使用权及他项权利登记(限面积为0.4公顷以下土地登记)、集体土地所有权、使用权登记。

管理服务项目:建设项目用地预审(限于初审)、测绘项目施测资质验证(备案)、国有土地使用权估价报告(备案)。

审批时限:个人已购住房初始登记办理时限由原来的60个工作日减为30个工作日,变更登记为10个工作日,个购补办出让手续办理时限为20个工作日。国有土地使用权初始登记办理时限为45天、变更及抵押登记办理时限为15天(不含权属资料审核、地籍调查、办理出让转让手续时间)。国有土地使用权出让审查时限为5个工作日(不含上报市国土资源局、市政府审批时间、公示时间、缴纳土地出让金及税费占用时间、土地登记发证时间);《采矿许可证》审(报)批及核发承诺办理时限为15个工作日。建设项目用地预审办理时限为2个工作日(不含上报审批时间);测绘项目施测资质验证备案办理时限为1个工作日;国有土地使用权估价报告备案办理时限为1个工作日。
MORE SOURCES:
QQ.com special page on information openness and the Weng'an mass incident, July 3, 2008
"Government Openness of Information: In Treating Water Upstream, Sunshine is the Greatest Preservative," China Newsweekly, May 4, 2008.
"A Tide of Information Release Requests Concern Old Issues," China Newsweekly via NPC website, May 21, 2008.
[Posted by David Bandurski, July 3, 2008, 2:31pm]