By David Bandurski — China's female Olympic gymnastics team is now coming under intense pressure as evidence mounts that champion gymnast He Kexin (何可欣) is below the age of eligibility for Olympic competition in the event. The evidence against He's eligibility includes online news coverage by China Daily and the official Xinhua News Agency, which Chinese officials are now saying is inaccurate.
But as Berkeley's China Digital Times has noted, a number of Chinese newspaper articles last year and early this year reported He's age as 13. In trying to build a credible case for the gymnast's eligibility, Chinese officials will find themselves denying a series of independent Chinese news reports.
We'll begin with the official Communist Party mouthpiece, People's Daily, which reported on November 3, 2007 (possibly the same source as the online Xinhua News Agency article) that "13 year-old He Kexin" successfully completed an uneven bar routine of high difficulty.
The article appeared at the top of page 7 of that day's edition of People's Daily, under the headline, "Cooly Awaiting the Achievements of our Newcomers."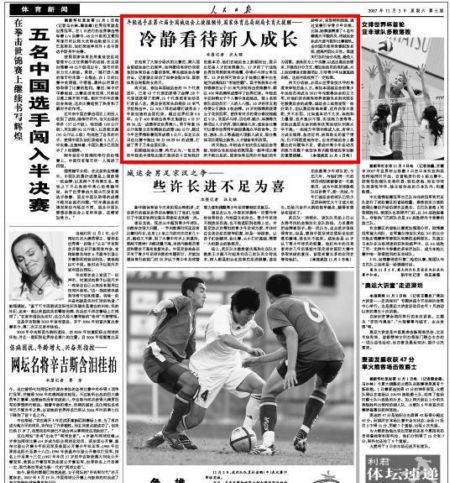 [Page 7 of the November 3, 2007, edition of the official People's Daily, with article reporting He Kexin's age as 13.]
The first two-thirds of the People's Daily article in Chinese follow, the last paragraph including the sentence about He's age (highlighted in bold):
年轻选手在第六届全国城运会上捷报频传,国家体育总局副局长肖天提醒—本报记者汪大昭在结束了大部分场次的比赛后,第六届全国城运会已近尾声。如何看待和评价我国竞技体育后备力量的表现,事关城运会办赛宗旨。记者就此采访了组委会副主任、国家体育总局副局长肖天。

肖天说,参加本届城运会的74个代表团中,已有43个代表团获得了金牌,58个代表团获得了奖牌,70个代表团有运动员打进前八名。奥运会冠军朱启南在10米气步枪射击中,以703.7环的成绩打破李杰7年前创造的全国纪录,超过世界纪录0.6环。女子400米混合泳李玄旭游出4分37秒56,这一成绩排在世界第六。男子举重56公斤级黎立志和陶劲总成绩286公斤,超过今年世界锦标赛冠军成绩3公斤。任龙云在田径比赛中跑出28分08秒64的成绩,打破了男子万米全国纪录。

回顾城运会比赛,肖天认为,一批优秀的年轻选手表现出敢打敢拼的斗志和较好的基本功,他们在城运会上脱颖而出,显示出后备人才的发展潜力。17岁的丁宁战胜世界冠军郭跃和李晓霞,夺得乒乓球女单冠军。13岁的何可欣在女子体操比赛中出色地完成高低杠"李姮空翻"。国手张轶和小将仲春婵在女子10米气步枪射击资格赛中,都以400环的满环成绩平了世界纪录。年轻选手在射箭女子个人赛中发起挑战,使5名国家队运动员无一人进入八强。13岁的李玄旭夺得女子游泳3枚金牌。19岁的陈锦燕获得女子花剑冠军,使所有对手的得分都没能超过9分。我国乒乓球、羽毛球、跳水、体操等优势项目人才济济,梯队建设扎实,城运会比赛可以看作世界同年龄段最高水平的竞争。田径、游泳、水上等基础大项新人成长,部分集体项目涌现出新秀,人才储备有所改观。

(本报武汉11月1日电)
Just five days after the People's Daily report, a separate news feature appeared on page 19 of Tianjin's Jin Wan Bao introducing up and coming Olympic stars.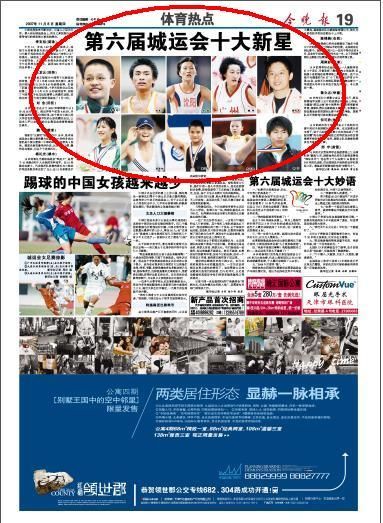 [Page 19 of the November 8, 2007, edition of Jin Wan Bao.]
He Kexin was included among the list of 10 athletes to watch, the first line identifying her clearly as "13 year-old competitor He Kexin." The following is a close up of the right-hand section of that article: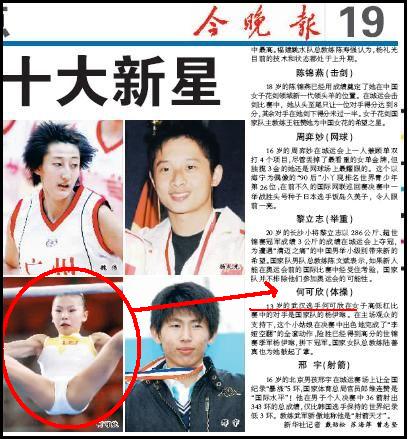 Less than a month later, on December 2, 2007, the commercial Beijing Evening News reported independently that He Kexin's age was 13. The report, which bears the byline of journalist Liu Xiaoxing (刘晓星) and does not come from Xinhua, begins:
As the Olympic Games draw closer, China's gymnastics team has begun active preparations for competition, and coach Zhang Peiwen (张佩文) says the men's team's old leader Li Xiaopeng (李小鹏) has returned to form, and that the female team has reconsolidated its strength on the uneven bars, with 13 year-old junior team member He Kexin possibly to become the secret weapon at the Olympics.
The article repeats further down: "The 'secret weapon' Zhang Peiwen refers to is recently emerged star He Kexin. This 13 year-old junior team member can not only complete a [difficult manouever/"李娅空翻"], but displays a steadiness in performance inconsistent with her age."
On January 22, 2008, the Legal Evening Post, a spin-off of Beijing Youth Daily, a newspaper published by the Beijing chapter of the Chinese Communist Youth League, ran an interview with one of China's gymnastics coaches. The run-up to the Q&A read:
"Don't rush yourself. Wait 'till your cough is settled and then do [your routine]!" This reporter observed practice on the balance beam at the training facility as 13 year-old junior team member He Kexin prepared for her routine and was suddenly interrupted by a fit of coughing . . .
By March, everything seem to change. All at once, Chinese-language news reports on China's Olympic gymnastics team, including one from Beijing Daily on March 8, 2008, were no longer talking about "13 -year-old junior member He Kexin" but about "15 year-old junior member He Kexin."
FURTHER READING:
"How Old Are the Chinese Female Gymnasts?" ESWN, August 15, 2008
"The Chinese Gymnasts: Age Questions Remain," TIME, August 13, 2008
"Scandal of the Ages," David Flumenbaum, Huffington Post, August 14, 2008
"One More Olympic Secret: How Old is He Kexin?" China Digital Times, August 14, 2008
"The Olympic's Age-Old Problem," Dan Wetzel, Yahoo! Sports, August 15, 2008
[Posted by David Bandurski, August 15, 2008, 3:15pm HK]