By David Bandurski — In news splashed across the major Chinese Web portals today, the official Xinhua News Agency reports that 20 officials have been taken into custody over the July cover-up of a mine explosion in Hebei in which at least 30 workers were killed. According to the Xinhua release, officials and local mine bosses in Hebei's Yu County worked together to suppress news of the explosion, and secretly buried the bodies of the dead in a neighboring county.
The news is the second national embarrassment for officials in Hebei this fall, after reports last month revealed that local officials in the province covered up problems in July with milk powder manufactured by Shijiazhuang-based Sanlu Group, the company at the center of China's ongoing dairy scandal.
The explosion was at least the second major accident to occur in Yu County in the last nine months. In December 2007, eight miners were killed in a mine collapse that received only scant coverage by Xinhua. The 2007 accident was not mentioned in today's Xinhua release.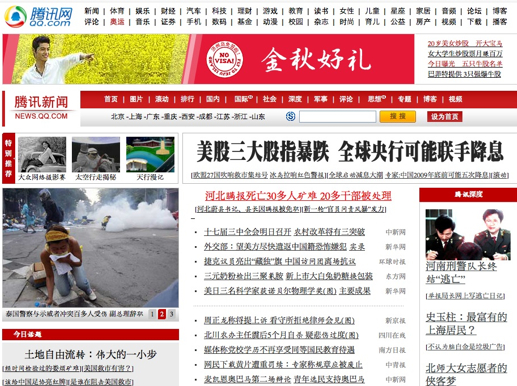 [ABOVE: Screenshot of today's news page at QQ.com, headline on mine accident cover up indicated in red.]
Workers from the Lijiawa (李家洼) Mine where the accident occurred came from Sichuan, Chongqing, northeast China and other areas, the Xinhua report said.
This accident and cover-up bears striking resemblance to the "Gold Nugget Case" reported by China Youth Daily journalist and CMP fellow Liu Chang in June 2002, in which eleven reporters, including four from Xinhua, were found to have accepted bribes from mine owners and local officials in exchange for keeping quiet about an explosion in which 37 workers died.
There is no indication yet from the Hebei case whether journalists have been implicated in the cover-up, and details about how the case came to light after more than two months have not yet been released.
Like the more recent Hebei case, the explosion in the "Gold Nugget Case" was caused by the unlawful storage of explosive materials, and the bodies of dead miners were eventually located at makeshift burial sites and in abandoned mine shafts.
FURTHER READING:
July 2008 Chongqing Evening Post coverage of the cover-up of a mining accident in Chongqing
July 2008 Legal Daily coverage of the cover-up of a mining accident in Shanxi province.
March 2008 Xinhua coverage of the cover-up of a mining accident in Heilongjiang province
[Posted by David Bandurski on September 7, 2008, 11:12am HK]