By David Bandurski — When I saw a story reported at Berkeley's China Digital Times today (thanks to ESWN for the link) about a Beijing internet censorship official who has become the latest target of a "flesh search" by angry Chinese netizens, this took me right back to September 2007, when I was prying into the role of the Beijing Association of Online Media (BAOM).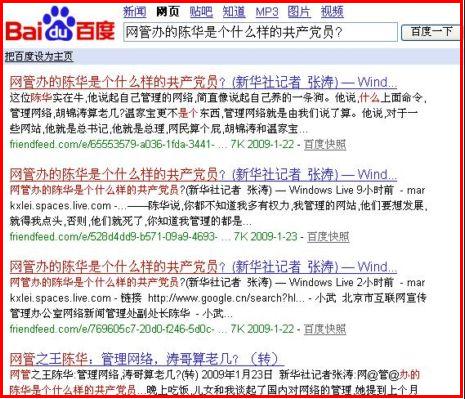 [ABOVE: Postings on "What kind of party member is Chen Hua?" fill up a Baidu search page today.]
By that time, I had spent weeks poring through a series of reports that had quietly emerged on the association's official website. While BAOM was an ostensible industry association, boasting membership by the likes of Intel, Nokia and MySpace China, the reports confirmed what others were telling me — that it was taking on an active and direct internet censorship role.
The reports outlined violations at Beijing-based internet sites that had been reported by the association's own team of "volunteers." In addition to "indecent content" or content "violating social mores," the reports listed so-called threats to social stability and violations of the Four Basic Principles. Clearly, this industry association was taking on a traditional censorship role and enforcing the party's propaganda discipline.
When I approached a well-known Chinese professor of communications, listed as one of BAOM's board members, about who ran things at the association and might be able to answer questions about their "anti-pornography" work, he suggested I get in touch with Chen Hua, the Beijing propaganda official now facing scrutiny by Chinese internet users.
Calls to Chen Hua went unanswered for days, and I left several messages with singularly unhelpful personnel at the office number listed on the BAOM website. But Chen finally answered my request for an interview via e-mail. I sensed that he was putting me on an indefinite back burner, but the e-mail itself was sufficiently illuminating, revealing Chen's dubious dual roles:
I am happy to receive your letter, and I thank you for your interest in this topic. I'm really very busy lately, but I'll consider how I can provide information and get back to you.

Regards,
Chen Hua
Beijing Municipal Internet
Information Administrative Bureau
Beijing Association of Online Media
"Pulling the Strings of China's Internet," the final result of my probings into BAOM, can be read at the Far Eastern Economic Review site.
[Posted by David Bandurski, January 23, 2009, 12:17pm HK]