By David Bandurski — Zhejiang's provincial people's congress approved legislation last March that would make Hangzhou the first city in China to require Web users to register with valid identification before participating in local chatrooms and forums. This so-called "real-name Web registration system," which was to take effect on May 1, seems for the moment, however, to be on hold.
A story from the official Xinhua News Agency, posted at many Web portals and run in a number of newspapers today, reports that the Hangzhou regulations have for the moment been "shelved" (束之高阁). [See the full Chinese text of the Hangzhou legislation HERE.]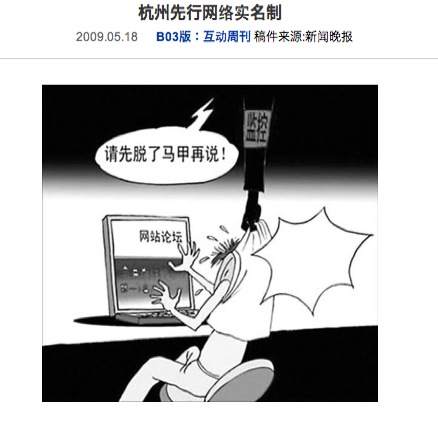 [ABOVE: Screenshot of May 18 coverage in the Liberation Daily of Hangzhou's "real-name Web registration system."]
We can confirm what Xinhua is reporting — that users can, at present, get into major forums at Hangzhou portals, including Hangzhou Online, without providing any additional information.
After reading a statement in the registration section of Hangzhou Online stating that we would not "use this Website to harm national security, to twist or manufacture facts," etc., we clicked "Accept" and went directly to the registration form.
Registering was as simple as typing in a username, setting a password and providing an e-mail address. There was no need whatsoever to provide valid proof of identity.
Below is a screenshot of an account we registered successfully from Hong Kong today: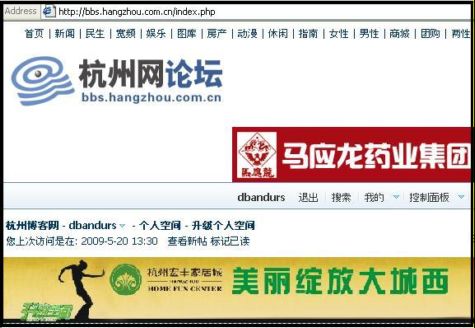 Internet service providers in Hangzhou told the Xinhua reporter that they were waiting for specific instructions on the new legislation from "relevant government departments."
"Accurately confirming information about Web users is very difficult to do," said the head of one local Website in Hangzhou. "How should we confirm [their information]? Should we have them come in person to us and offer proof, or should we demand that Web users be truthful when they fill in their information? We haven't yet seen a specific regulation about this."
[Posted by David Bandurski, May 20, 2009, 3:09pm HK]