By David Bandurski — Two research collections recently published by the China Media Project were among 44 books selected to the celebrity recommendation list at this month's 2009 Hong Kong Book Fair. Local books on this prestigious list are compiled on the basis of recommendations by 34 Hong Kong celebrities, who also offer reviews of one or more books on the list.
Chinese Media and Political Reform (中國傳媒與政治改革), written by CMP director Qian Gang, was published in August 2008, while A Record of Change in China's Media (中國傳媒風云錄), co-edited by Qian Gang and Ying Chan, director of the Journalism and Media Studies Centre, was released last fall.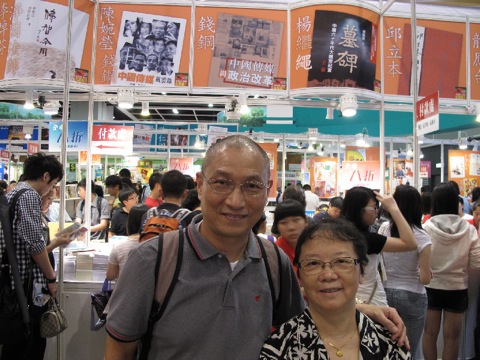 [ABOVE: CMP co-directors Qian Gang and Ying Chan make an appearance with China Media Project book selections at this year's Hong Kong Book Fair.]
Also on the celebrity recommendation list was Gravestone (墓碑), a book on mass starvation in China in the 1950s and 1960s written by CMP visiting fellow Yang Jisheng.
Yang visited Hong Kong several times on CMP fellowships while conducting research for his book. Yang was also one of the speakers for the China Media Forum, hosted by the China Media Project in October 2007.
[Posted by David Bandurski, July 31, 2009, 9:50am U.S. Eastern Standard Time]