By David Bandurski — Today, just over one week after Guangdong's Southern Weekend published the results of an independent report by activist lawyer Zhou Ze (周泽) on rising violence against journalists in China, news comes of the vicious beating of a senior editor in the northern province of Hebei.
Le Qian (乐倩), deputy editor-in-chief of Hebei Youth Daily and a former editor at Beijing Youth Daily, was reportedly waiting for the elevator at her apartment complex in Shijiazhuang Saturday night when an unknown male assailed her from behind with a brick.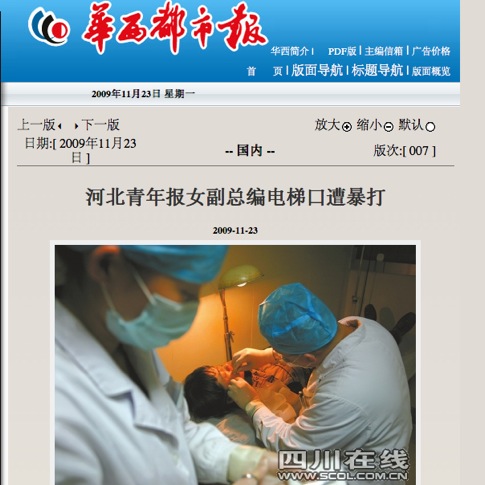 [ABOVE: Screenshot of coverage at Sichuan's Huaxi Metropolis Daily of an attack on Hebei Youth Daily deputy editor-in-chief Le Qian. Photo is of Le receiving treatment in a Shijiazhuang hospital.]
Le, who is now in the hospital recovering, told reporters from her own newspaper that her assailant said, "This is for your report!" again and again as he struck her head and face. She believes the attack was in response to watchdog journalism (舆论监督) carried out by the paper.
Hebei Youth Daily also reported today that it received a threatening phone call on November 7, in which a woman said higher-ups at the paper would be held to account for an investigative report it had done.
[Posted by David Bandurski, November 23, 2009, 1:39pm HK]