Discussions of "political system reform," or zhengzhi tizhi gaige, blow hot and cold in China.
Back in October 2007, many observers of Chinese politics looked eagerly to the 17th National Party Congress for signs that China might push ahead more rapidly with substantive political reforms. They were largely disappointed, as CMP Director Qian Gang (钱刚) noted in his essay, "Wait a minute, what happened to political reform?" — which parsed the language of President Hu Jintao's political report.
It wasn't that President Hu Jintao hadn't given a rhetorical nod to political reform. The language was there. But it was noticeably played down as a priority, even compared to past political reports from Jiang Zemin. For more on this, readers can turn to Xie Mingyuan's guest CMP piece about how Hu Jintao stuck to the status quo on political reform at the 17th National Party Congress.
Despite Hu's lukewarm treatment of the political reform issue, we did note at the time that "political reform" as a term experienced an understandable bump in use among Chinese newspapers running up to October 2007. The term (and perhaps the issue) received more coverage because the meeting itself brought it back onstage — but the issue had very soft play relative to other priorities.
After October 2007, the political reform rhetoric went cold again. There were other priorities, like the 2008 Olympic Games, and a series of sensitive historical anniversaries that needed finessing.
The issue is now back in the spotlight. Why? Because Premier Wen Jiabao (温家宝) said on a recent visit to Shenzhen to commemorate the city's 30th anniversary that: "We need not only to promote economic reform, but must also promote political system reforms. Without the guarantee provided by political system reforms, the results of economic reform will be lost, and the goal of modernization cannot be achieved."
Was this a bold and forward-thinking statement from the Premier? Did Grandpa Wen go off script?
No, not really.
Any statement on political reform is significant. And at the very least, Wen's statement offers an opportunity for Chinese media to push more searchingly on this issue. But let's not forget, either, that Wen Jiabao said the exact same thing during this year's National People's Congress back in June, when he delivered his government work report.
One section in Wen's government work report dealt with political reform, and commercial media in particular pounced on his statements. Here is Guangming Daily, published by the propaganda department, reporting on the NPC. Basically, it is a play-by-play of who was at the NPC and what issues were covered. Not exactly exciting reading.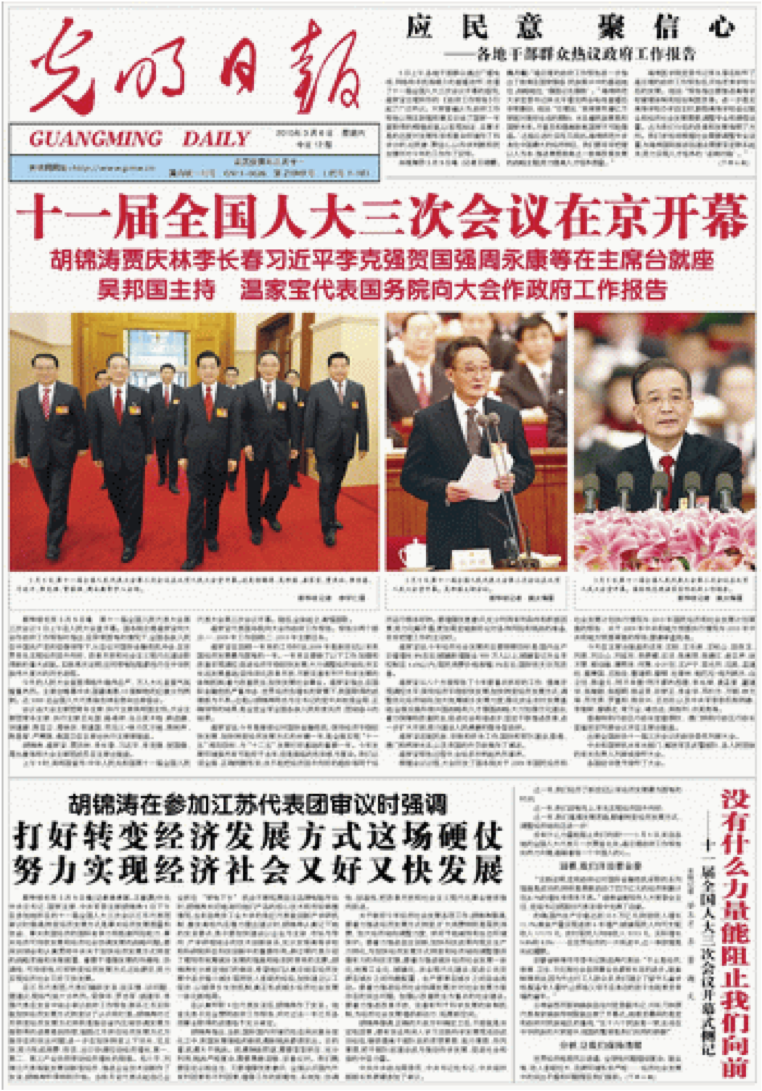 And here is the Xiaoxiang Morning News, a commercial newspaper in Changsha, Hunan province. The huge banner headline: "If we don't reform the political system, modernization will not succeed." Now that's exciting stuff.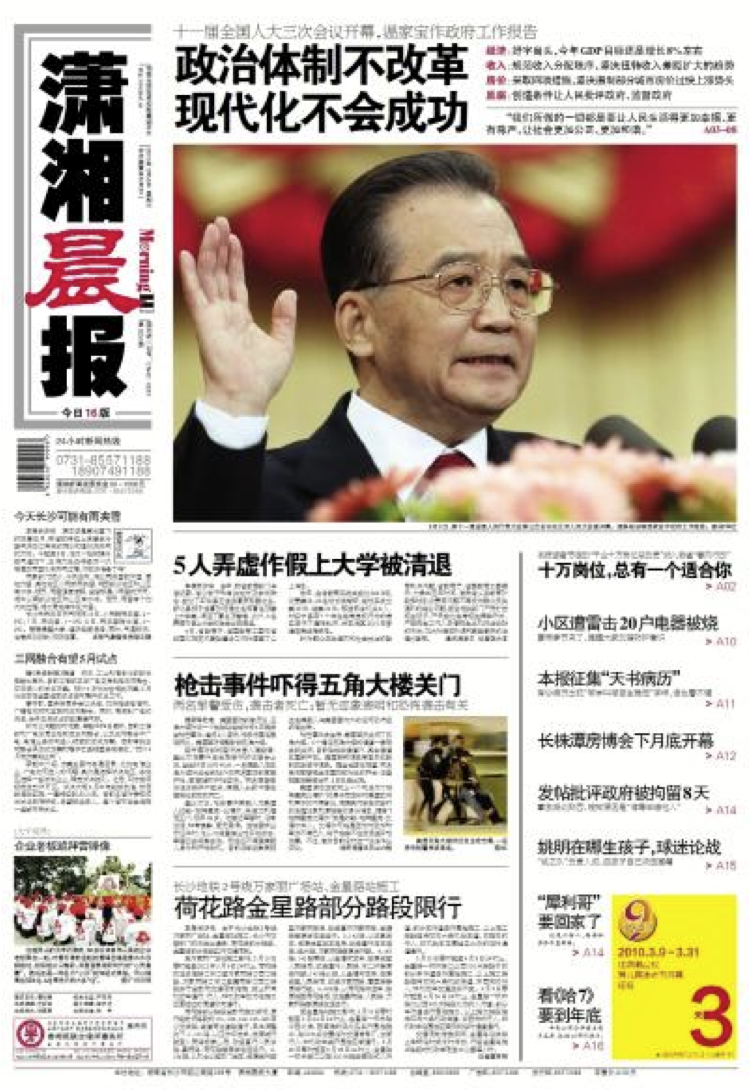 But Wen's pronouncements on political reform did not represent a breakthrough then, and they do not now. In fact, the numbers suggest political reform — or "political system reform" — is not the hot topic now that it was during the NPC back in March.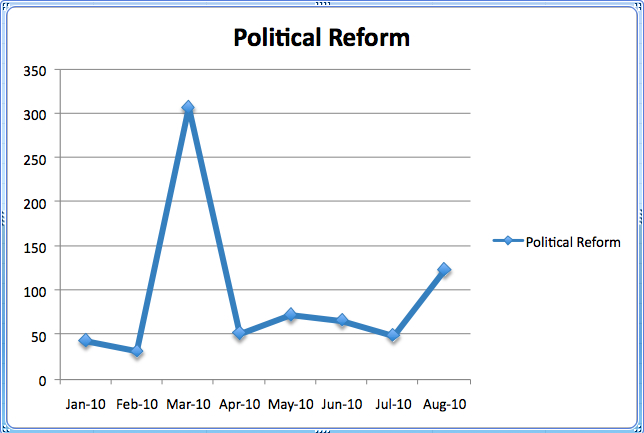 [ABOVE: Number of articles with the term "political system reform" (政治体制改革) in the headline and/or the body appearing by month in 300+ mainland Chinese newspapers, January-August 2010. Source: WiseNews.]
[Frontpage photo by Jonathan available at Flickr.com under Creative Commons license.]