The world's big story of the day, the killing of al-Qaeda leader Osama bin Laden, the mastermind behind the September 11 attacks, once again provides an interesting illustration of widely divergent story and layout choices made by China's traditional Party newspapers — still regarded as "mouthpieces" of top CCP leaders — and their commercial counterparts.
A number of front pages from major commercial newspapers have been aggregated at Sina.com. Below are some front pages we have selected from official Party newspapers at various levels and their corresponding commercial papers.
The Chinese Communist Party's official People's Daily did place the bin Laden story on the front page today, but gave the story less salient treatment, placing it in the bottom-right corner.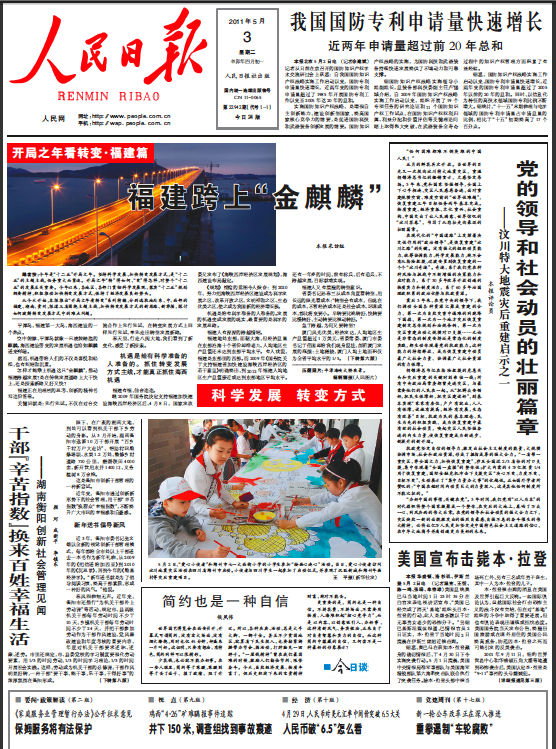 [ABOVE: The front page of today's official People's Daily, with a small story at the bottom-left corner reading: "America Announces Assassination of Bin Laden."]
By contrast, the bin Laden story dominates the front page of the Beijing Times, a commercial spin-off of People's Daily. "Bin Laden Already Dead," reads the large white headline. Below the headline, readers are led to several relevant inside stories. An image of bin Laden is superimposed on a black background, with a graphic re-enactment below of a raid on bin Laden's Pakistan compound, two helicopters sweeping down and firing missiles as a presumable Navy SEAL in the foreground at the bottom of the page closes in.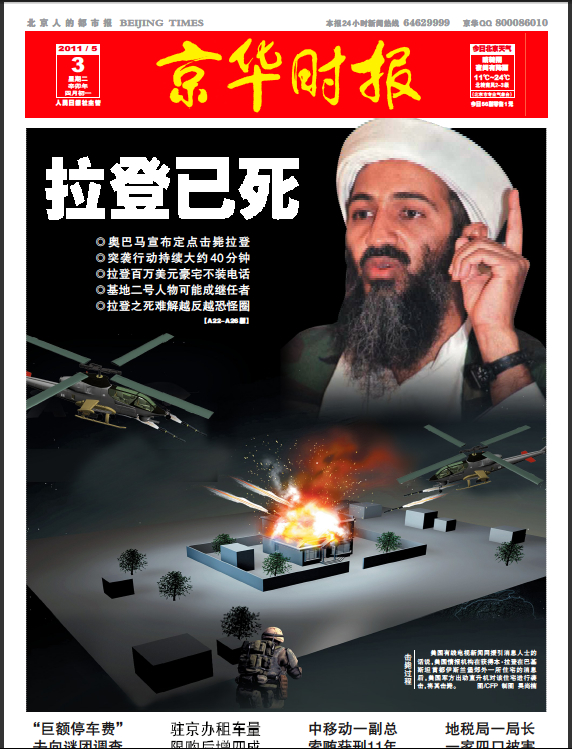 [ABOVE: The front page of today's Beijing Times.]
Nanfang Daily, the official Party newspaper of Guangdong province, but one of the most commercialized of provincial-level Party papers, puts the bin Laden story on the front page, with photos of both bin Laden and U.S. President Barack Obama, with a large still at right from ABC News purported to have been taken inside bin Laden's compound after the raid.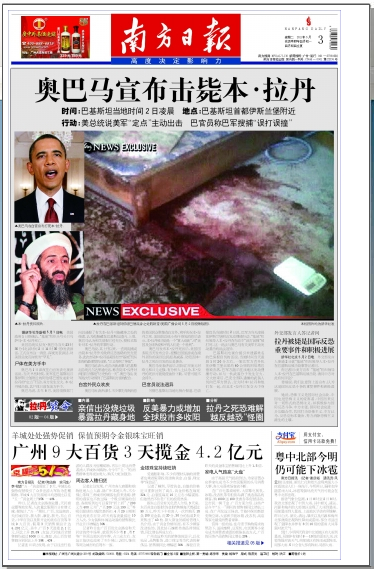 [ABOVE: The front page of today's Nanfang Daily.]
Southern Metropolis Daily, the commercial spin-off of Nanfang Daily, also puts the bin Laden story on the front page, but does not overplay the story and avoids the sensationalism of the Beijing Times treatment. A large image of bin Laden dominates the page with a simple headline: "Bin Laden is Dead."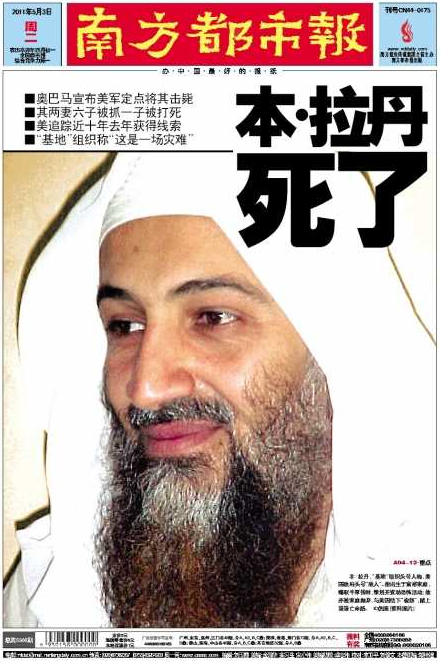 [ABOVE: The front page of today's Southern Metropolis Daily.]
At the city level, here is Chengdu's official Chengdu Daily, which has coverage of the bin Laden story at the very bottom of the front page, with a photo pointing readers to the story on Page 9. All content deals with official city news, including an estimate of 4.28 million domestic tourists expected to visit the city during the May 1 holiday.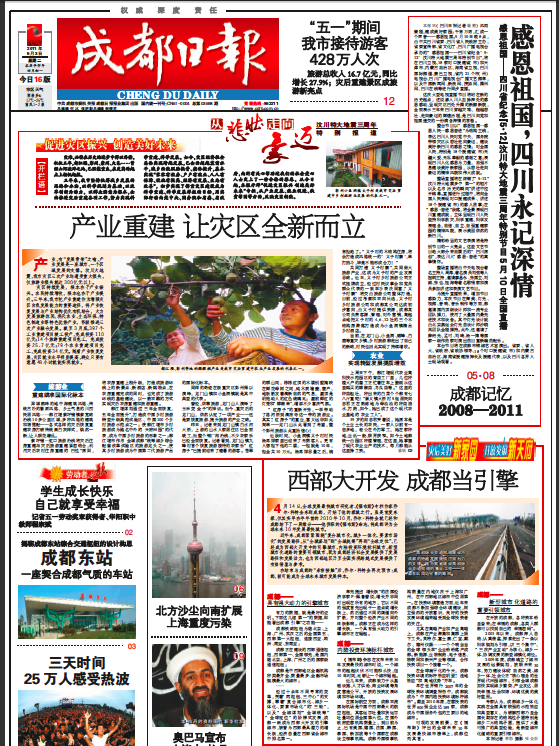 [ABOVE: The front page of today's official Chengdu Daily, with no coverage of the bin Laden story.]
And here is Chengdu Daily spin-off Chengdu Evening News, with an front page image of bin Laden, a bullet hole ripping through each corner of the photograph and blood splatters surrounding the cracked and rough-edged word "dead" in the headline: "Laden is Dead."