China's official Xinhua News Agency reported late last night, in both Chinese and English releases, that the G151 train on the country's brand-new Beijing-Shanghai high-speed railway suffered a malfunction yesterday that resulted in a delay of "more than an hour." On the basis of reports in social media, however, news websites (including Shanghai's Xinmin Online), reported that the delay was two hours. Xinhua reported that "this malfunction was principally caused by thunderstorms." Principally?
News of the malfunction on the high-speed rail spread quickly on social media, where Chinese were reading a different account of what happened on the line. Xinmin Online, the official news website of Shanghai's Xinmin Evening News, quoted user "shirley_wang1018" writing on a microblog account that the train stopped for more than an hour, slowly started up again and had a second malfunction just 20 minutes later. Another web user wrote that there was no air circulation in the train cars, that the cars were leaning slightly, and that passengers were very nervous. Rail employees apparently explained to passengers that thunderstorms had caused an interruption of power to the overhead line system.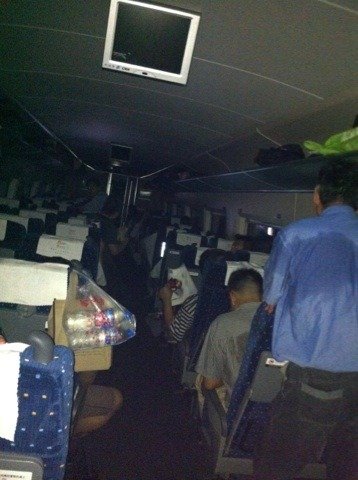 [ABOVE: A photo posted to Sina Weibo by a user aboard the Beijing-Shanghai high-speed rail shows passengers waiting in a dark car.]
A single Sina Weibo post by "Female Finance Reporter Bu Luo" (财经女记者部落) with a photo and short news brief on the rail malfunction had been shared more than 19,000 times by 2:30am on July 11. The post had more than 3,700 user comments.
The vast majority of users responded by voicing their anger and frustration, many voicing again concerns and criticisms that have followed the high-speed rail project through its history, particularly cost, corruption and safety. The rail, which officially opened to great fanfare on June 30, was an important sign of prestige and legitimacy for the Chinese Communist Party on the eve of its 90th anniversary on July 1. But many have bristled at the line's price tag of 32.5 billion U.S. dollars. Rumors of corruption involving the project became news in February this year, when Liu Zhijun (刘志军), the head of the railway ministry, was arrested on charges of corruption.
"Sure the reason was 'weather'," Sina Weibo user "tata_Beijing" (塔塔_北京) said sarcastically.
"And they call it the safest rail in the world," said user "turan kongjian" (突然空闲).
"The facts clearly show that the talk of being the safest is just hot air," said user "yinbao xiaoxiong" (尹抱小熊), responding to another user who wrote: "Strange! This should be investigated! We should hold those responsible to account according to the law!"
"I'm sure this is just the beginning," said user "jackie51".
"How tragic is fast-food-style China!" bemoaned "yiguogudu_ye."
"Taking an airplane is a lot safer. I'd rather wait in the airport, at least it's safe," said user "cha'ersicao" (查尔斯曹).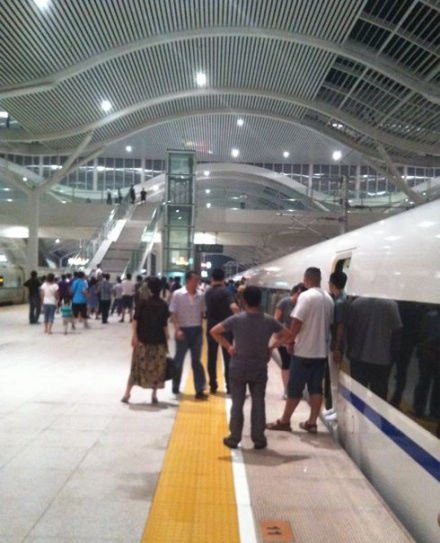 [ABOVE: A photo of passengers waiting outside train G151 as "emergency repairs" are made.]