Blind self-taught lawyer and rights activist Chen Guangcheng (陈光诚) has in recent years been one of the most enduring symbols outside China of the country's human rights abuses. Inside China, meanwhile, Chen's case has remained mostly unspoken and unknown — until recently.
A broad cross-section of Chinese — online and offline — have continued to push for justice in the Chen Guangcheng case since the beginning of this month, thanks in large part to social media.
Chen has remained under house arrest ever since his release from prison in September 2010 after serving a four-year sentence imposed by a local court in Shandong's Linyi City. Chen was convicted in August 2006 of "malicious destruction of property and gathering a crowd to obstruct traffic" after campaigning on behalf of local villagers against forced sterilizations and other abuses of China's family planning policies by Linyi authorities.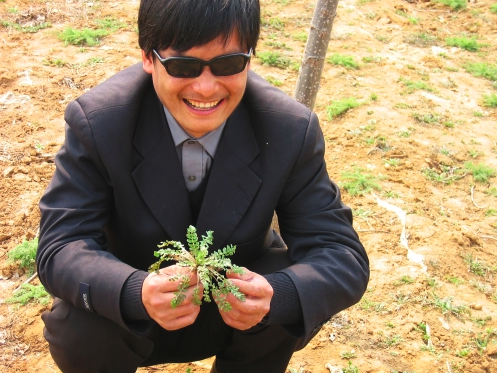 [ABOVE: Rights campaigner Chen Guangcheng wearing his trademark sunglasses.]
China's homegrown "Free Guangcheng" campaign and related online activities and actions have been reasonably well documented by international media and English-language blogs, with notable stories by the Associated Press, at the Wall Street Journal's China Real Time site, and an interesting comparison by William Farris of English and Chinese editorials on Chen's case at the Global Times.
Searches on Chinese social media for "Free Guangcheng" (自由光诚) are now prohibited, but searches for "Chen Guangcheng" (陈光诚) are still allowed, and call up a wide array of chatter and coverage on the case.
It has been interesting to watch the ways online attention to the Chen Guangcheng case have also continued to spill over into real action. Here, for example, is a Sina Weibo post from last Sunday, which shows Chinese on Shanghai's People's Square carrying character placards that spell out: "Free Guangcheng: [We Want] Light and Honesty."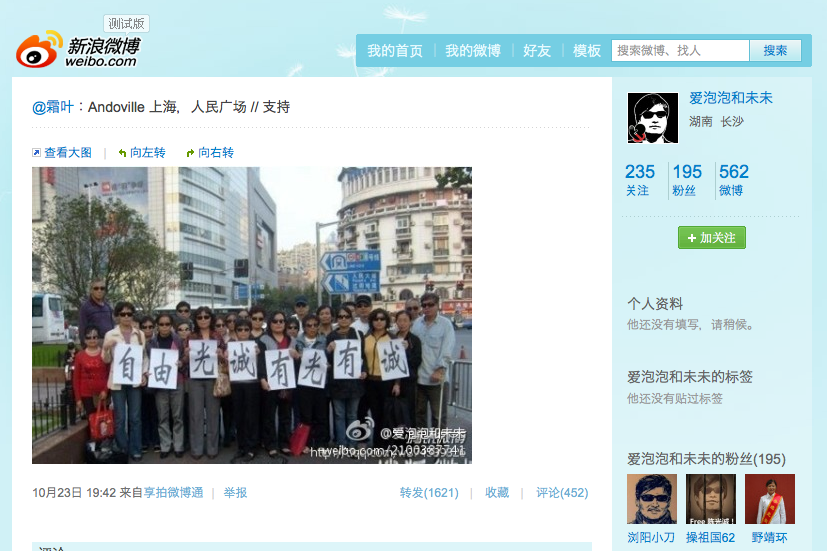 "Light" and "honesty" are a play on Chen Guangcheng's name, in which guang (光) means "light" and cheng (诚) means "honesty" or "sincerity."
Perhaps taking the cake is a pair of videos originally posted to the domestic video sharing site Youku (but now on YouTube) in which supporters of Chen Guangcheng unable to gain access to his village put up a fireworks display on the village's outskirts. "Lighting up the sky for you, Guangcheng," says the voice on the video.
Getting back to the issue of newspaper coverage, however, it is important to note that the OCtober 12 Global Times editorial on Chen Guangcheng's case ("The Chen Guangcheng Incident Should not be Turned Ideological") was not just, as Farris said, "the first time the Global Times has ever mentioned Chen in a Chinese language piece" — it was the first time any Chinese newspaper mentioned Chen Guangcheng in any way, shape or form since 2004.
There were a handful of independent blog reports on Chen Guangcheng's case, most notably by CMP fellows Wang Keqin (王克勤) and Zhai Minglei (翟明磊), but there was never any mention in mainstream news media.
And with that note, we turn to a much-overlooked piece appearing in response to the Global Times editorial in the October 13 edition of Shanghai's Oriental Morning Post.
We would share a visual image of the Page 16 editorial, but as you can see from the screenshot of the paper's electronic version below, Page 16 has been removed.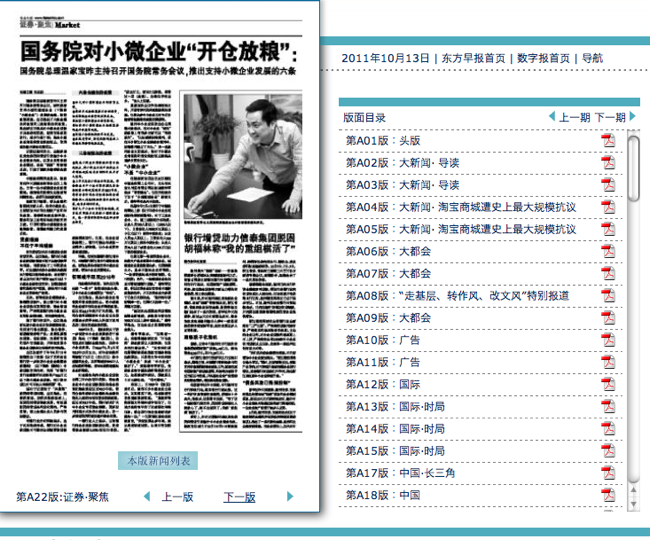 Our translation of the Oriental Morning Post editorial follows:
"Who is Chen Guangcheng?"
October 13, 2011
By Niu Ke (牛克)

On October 12, the Global Times ran an editorial called, "The Chen Guangcheng Incident Should not be Turned Ideological." Concerning the case of a blind man named Chen Guangcheng (陈光诚) in Shandong's Linyi City, it not yet having been made clear whether he has or has not been placed under "house arrest," the Global Times made two points in this editorial. First, it demanded that relevant local authorities provide adequate information [on the case]. Second, it said in a roundabout fashion that the One Child Policy was part of a "complex overall environment," and that Chen had, by "throwing caution to the winds to pursue that 'ideal situation' created a disturbance to local social order that laws and regulations could not withstand." It was this, [the editorial said], that had resulted in Chen's "twists of fate." And the article's conclusion was that in the Chen Guangcheng case, we must "dispense of ideologization" (去意识形态化).

The article was written in a most nebulous way. But who is this Chen Guangcheng? And what sort of fate has he suffered?

Previously, domestic media have not reported on the situation facing Chen, and this article from the Global Times was the first voice to appear on this incident. This isn't the first time we've seen such "Global Times advocacy." On a number of stories in recent years, we've seen no reporting at all from any other media but only mention of the story in editorial form at the Global Times. These pieces are always heavier on criticism and lighter on details, more about formula than reason, looking down from the commanding heights rather than having a common touch.

And yet, right before our eyes, journalism in our country is [supposed to be] undergoing a movement of "touching on the grass roots, transforming style of work and changing writing styles" (走基层、转作风、改文风). Central party leaders long ago sent out a notice calling on media to "avoid looking down from the heights, or speaking at though to oneself" (防止居高临下、自说自话). [NOTE: This comes from a notice based on a speech by propaganda minister Liu Yunshan (刘云山) back in August this year. The idea, essentially, is that media coverage should be more relevant and approachable, avoiding boilerplate Party journalism styles.]

So who is Chen Guangcheng? Back in 2003 and 2004 many media reported how in 2003 Chen Guangcheng publicly accused the Beijing Metro after being denied a fare exemption despite the fact he was carrying identification to show he was blind (盲人证) — and how he "spoke out for all people with disabilities in China."

From that point on, there was no sign of Chen Guangcheng in the [Chinese] media. One investigative reporter close to him says: In August 2006, the People's Court in Shandong's Linnan County (which belongs to Linyi City) sentenced Chen Guangcheng to four years and three months in prison for malicious destruction of property and gathering a crowd to obstruct traffic. In 2009, this journalist tried to visit with [Chen Guangcheng's] family members, but as soon as he exited from the highway he was confronted by men guarding the intersection: "What have you come to do?" From that point on they were tailed by a motorbike. When they reached the door of the Chen home, this journalist was surrounding by four to five men, and soon this turned into a group beating [of the journalist].

On October 5 this year, a journalist for a publication affiliated with Xinhua News Agency sought out Chen Guangcheng, who had already been released from prison. On the road they were detained and beaten by relevant departments in Linyi. Only after being deprived of his personal liberty for three to four hours was he finally allowed to return home.

The above account is not necessarily the whole truth. And demanding that the local government in Linyi release all relevant information is certainly the attitude media should have [toward this story]. But before the full truth is known, this commentary stringing abstract notions together with abstract notions comes out to the puzzlement of all.

For example, do the "twists of fate" alluded to in the article refer to the punishments he faced under the law, or do they refer to "extralegal punishments" that trampled on his legal rights? If there is really such a thing as "house arrest," where is the legal basis? Article 37 of the Constitution of the People's Republic of China reads: "The freedom of person of citizens of the People's Republic of China is inviolable. . . Unlawful deprivation or restriction of citizens' freedom of person by detention or other means is prohibited."

The word "house arrest" has never appeared in Chinese law, and so-called "home observation" (监视居住) is something to be carried out by police, and not by other public officers, in strict compliance with China's code of criminal procedure (刑事诉讼法).

Indirectly, the Global Times editorial admits that local authorities have not handled Chen Guangcheng according to "strict legal or human rights standards." On the other hand, it finds that Chen has "created a disturbance that laws and regulations cannot withstand." So are we to believe that one set of laws has two different rules of application? Wherein lies the seriousness of our nation's laws?

This article emphasizes again and again what it calls the "small environment" at the grass-roots level. Do they not realize that our national laws are not to be bent to accommodate the "small environments" of local governments?

Comrade Mao Zedong once said that without investigating something you have no right to comment (没有调查,就没有发言权). Media need only objectively and comprehensively explain to the public, "Who is Chen Guangcheng?" That is enough, for the masses have sharp eyes.

(The writer is a media professional)