The ongoing standoff between villagers and local authorities in Wukan, Guangdong province, has received big play today in Chinese-language newspapers outside the mainland. The bulk of the reporting is from Hong Kong media, and most of that is from two newspapers, Ming Pao and Apple Daily. The story continues to receive strong coverage by foreign media, including the Financial Times, Reuters, The New York Times, the Wall Street Journal and others.
There seems to be no coverage at all today in mainland Chinese media, which must lead us to ask: What next? How do China's leaders plan to respond to this developing crisis?
A news search for "Wukan" on Baidu.com (4pm, Hong Kong, December 19, 2011) turns up only one result for December 19, which is from the Chinese-language edition of the Wall Street Journal Online.
A search for "Wukan" in the WiseNews Chinese-language newspapers database for today, December 19, 2011, returns 0 articles for mainland newspapers. That means no coverage among the 200+ mainland newspapers archived by the service. A search for all regions, including the mainland (0), Hong Kong and Taiwan, returns 58 articles in total — 37 from Hong Kong, 6 from Taiwan, 0 from Macau, 14 from Malaysia and 1 from Singapore.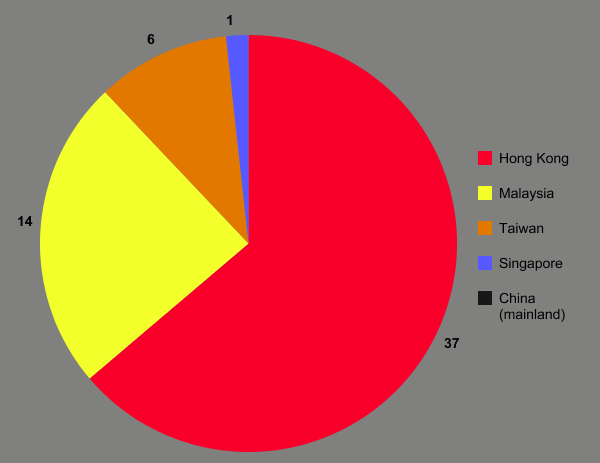 [GRAPH: Share of Chinese-language coverage of the Wukan story by number of articles, December 19, 2011.]
While there seems to be no mainstream media coverage inside China today of the Wukan story, news is flittering across domestic microblogs. Searches for "Wukan" remain blocked on Sina Weibo, bringing up a notice that results cannot be shown "according to Chinese laws and regulations":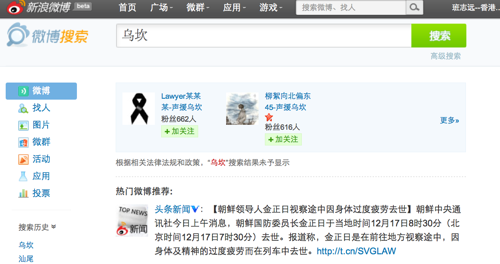 [ABOVE: Screenshot of search for "Wukan", December 19, 2011, 5:15pm Hong Kong.]
However, searches for "Shanwei," which were blocked late last week, are now freed up and reveal plenty of chatter about the situation in Wukan Village, for which a number of new keywords have cropped up, including "W-kan" (W坎), which uses the English letter "W" with the second character in the village's name, and "Wu-K" (乌K), which combines the character for "wu" with the English letter "K." Another term being used is the simple "WK."
Plenty of microblog posts have shared Chinese-language coverage today from Hong Kong. Here, for example, is a post in which the original poster writes: "The whole world is watching Wukan Village, except for us fools!" The re-poster seen here responds: "Please spread this. A harmonious society. This has been going on so long and we just find out. Reports overseas have been all over the place." The image accompanying the post is the frontpage of today's Ming Pao.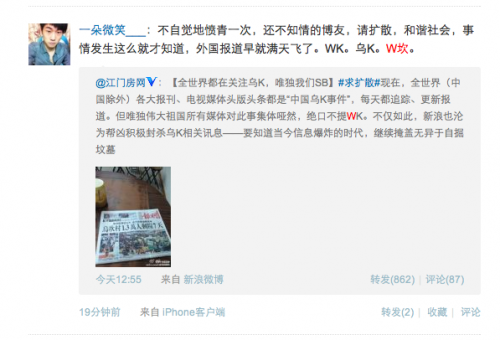 In this post, the user again shares an image of the frontpage of today's Ming Pao. The original post is titled: "Concerning Hong Kong media reports of the latest information on grain shortages in W-Village." A news brief style summary follows, and the re-poster remarks: "Pay attention to W-kan!" (关注W坎!).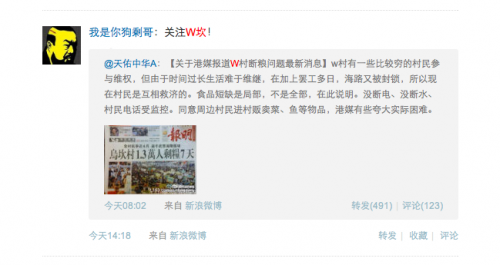 Several images of Hong Kong newspapers reporting the Wukan story today follow, including the Ming Pao frontpage being shared on Sina Weibo and other microblog platforms.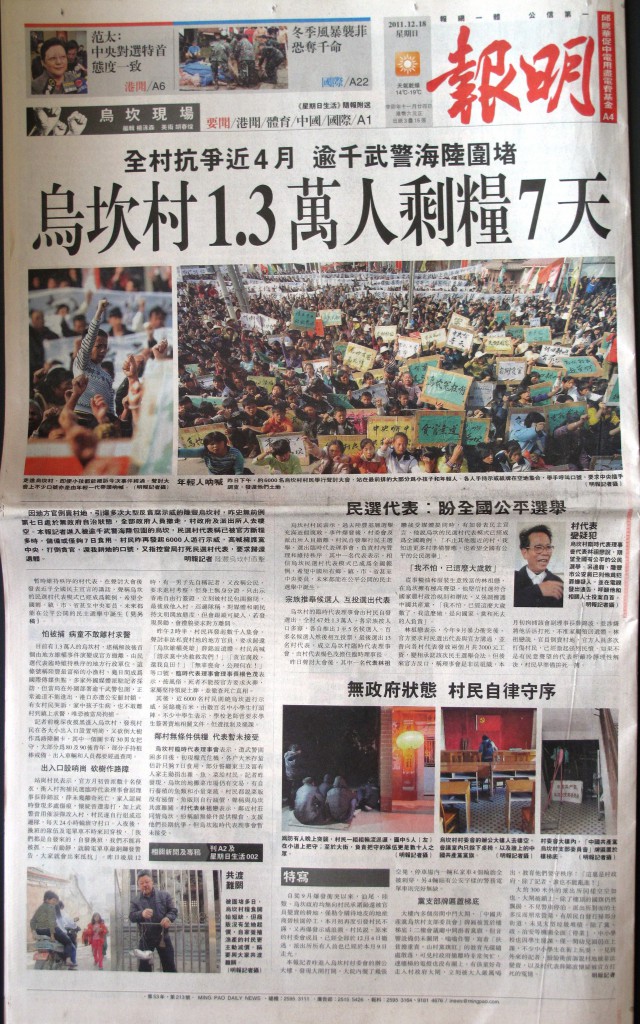 [ABOVE: The frontpage of Hong Kong's Ming Pao on December 19, 2011.]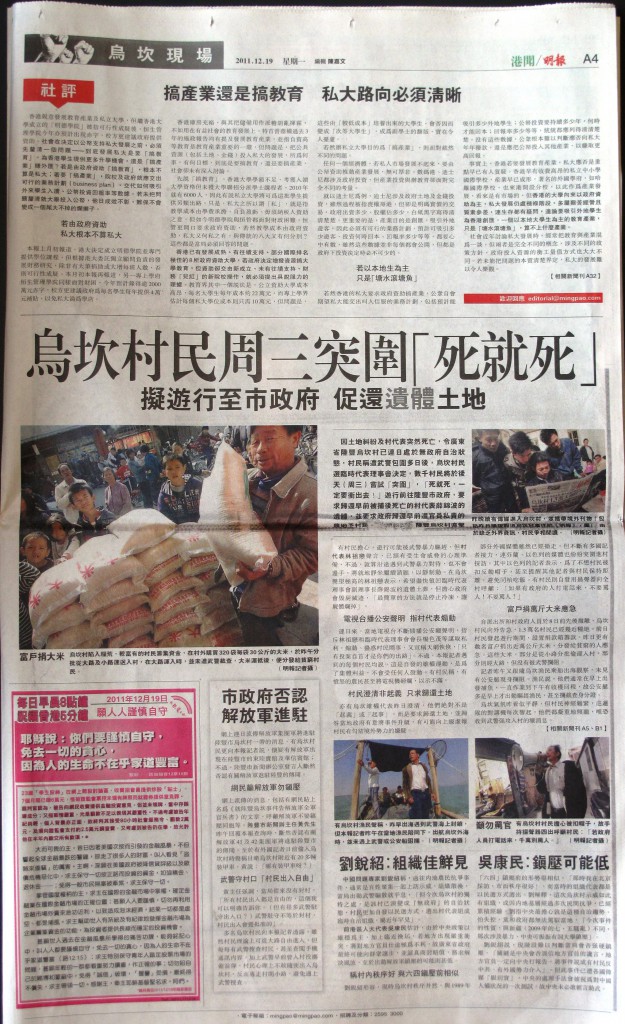 [ABOVE: Page four of Hong Kong's Ming Pao on December 19, 2011.]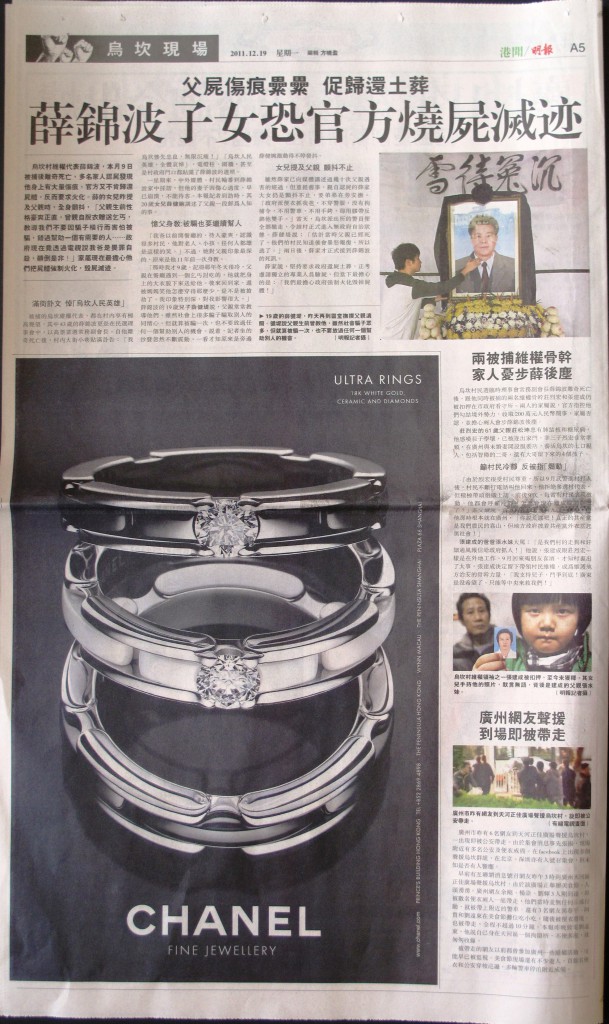 [ABOVE: Page five of Hong Kong's Ming Pao on December 19, 2011.]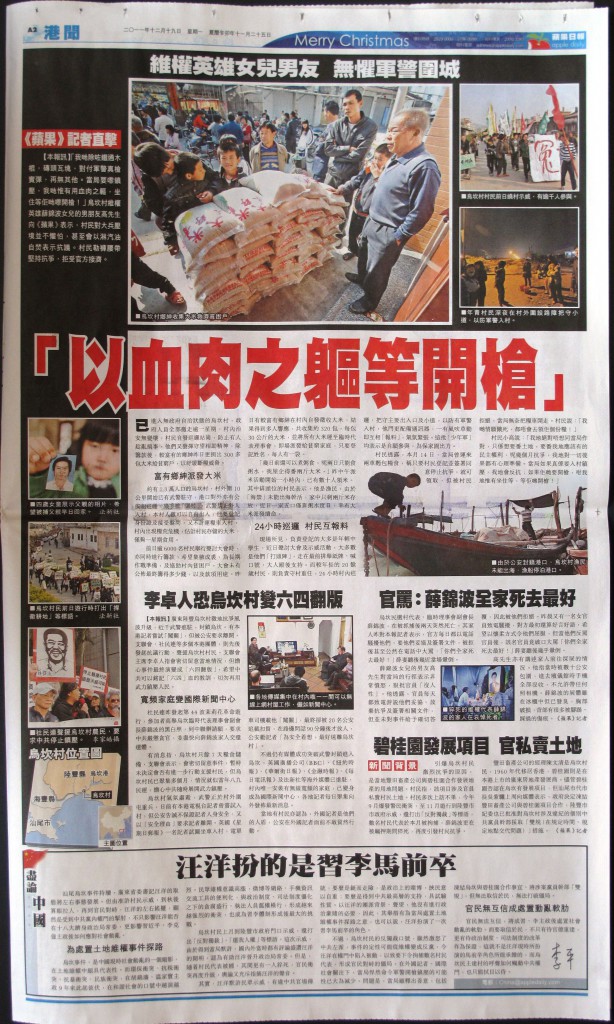 [ABOVE: Page two of Hong Kong's Apple Daily on December 19, 2011.]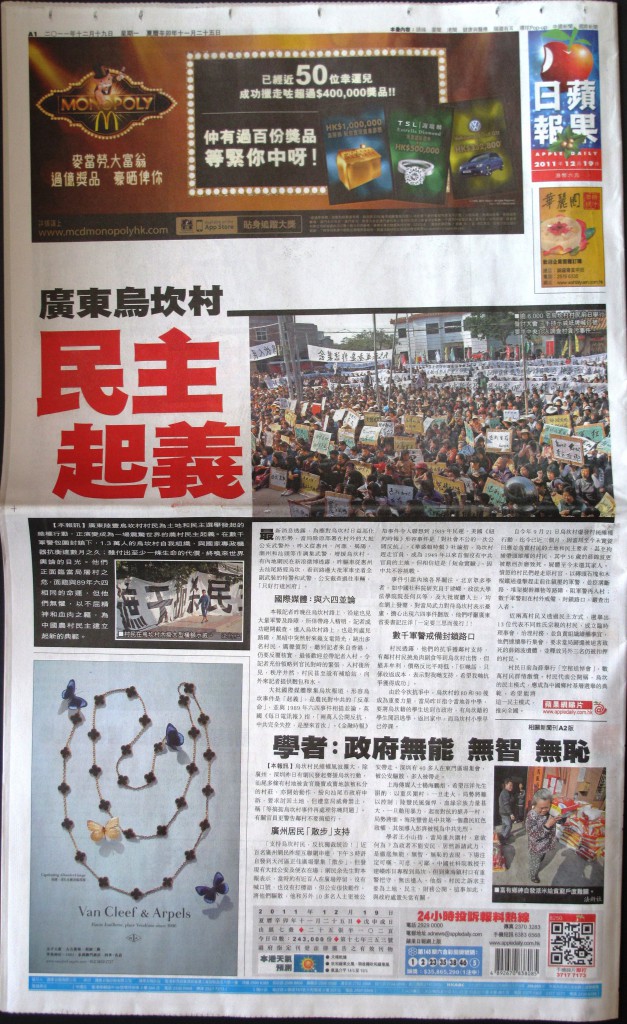 [ABOVE: Page two of Hong Kong's Apple Daily on December 19, 2011.]