In the midst of a state-pushed craze surrounding the propaganda icon Lei Feng (雷锋) back in early March, the English-language Global Times asked for my views on Lei Feng "as a foreigner." Did I think, the reporter asked, that the "Lei Feng spirit . . . actually doesn't only belong to China, but also applies to the world as well?"
When I explained to the reporter that I didn't see Lei Feng as a symbol of altruism at all, they made a point of writing back and begging to differ. But I was pleased to see several days later that the English-language paper did publish my remarks:
"Seen in his proper political context, Lei Feng is a symbol not of altruism but of submission to political power. In my view, the image of Lei Feng is completely out of step with a modern China," wrote David Bandurski, a researcher at the University of Hong Kong's China Media Project, in an e-mail to the Global Times. "What China needs today is a new model of active and critical citizenship, not of subservience," he wrote.
The rest of my response, which for whatever reason did not run in the Global Times was:
Premier Wen Jiabao spoke not long ago about 'creating the conditions for the people to criticize the government.' An article in the Central Party's School's Study Times this week deals with the exact same issue. But would Lei Feng have dared criticize, or demanded more from those in positions of power?"
I thought of this exchange today when I read a story making the rounds on the internet — it was on the front page of QQ until this afternoon — about Lei Chuang (雷闯), who may be exactly the kind of new "model of active and critical citizenship" I suggested to the Global Times.
According to a report by The Beijing News, Lei Chuang, a 25-year-old graduate student in the School of Chemistry and Chemical Engineering at Shanghai Jiaotong University, submitted open government information requests to 53 central government departments on April 13, requesting that they release information about the 2011 annual salaries of ministers or directors [at their agencies].
As the basis of his request, Lei Chuang cited Chapter II, Article 9 of the Regulation of the People's Republic of China on Open Government Information, which took effect on May 1, 2008.
Administrative agencies should disclose on their own initiative government information that satisfies any one of the following basic criteria: 1) Information that involves the vital interests of citizens, legal persons or other organizations; 2) Information that needs to be extensively known or participated in by the general public; 3) Information that shows the structure, function and working procedures of and other matters relating to the administrative agency; 4) Other information that should be disclosed on the administrative agency's own initiative according to laws, regulations and relevant state provisions.
Apparently, Lei Chuang has already received a response from one government office. But that response offers a hint of how the government generally regards requests for making information available in a political culture that still thrives on secrecy.
Here is the relevant section from the report in The Beijing News:
Lei Chuang said that as of yesterday, he had already received a phone call from the State Food and Drug Administration, which said it had received his request and wanted to know his objective in seeking the information and how he would use it.

According to Lei Chuang, this employee [from the State Food and Drug Administration] said that as the head of its department was a deputy minister for the Ministry of Health, their wages were paid by the Ministry of Health, and therefore the authority on releasing [the requested information] was with the Ministry of Health. [Lei Chuang said:] "I requested that they respond in writing [to my request], and they said they would look into this, so they didn't entirely avoid me. I'll wait for their response."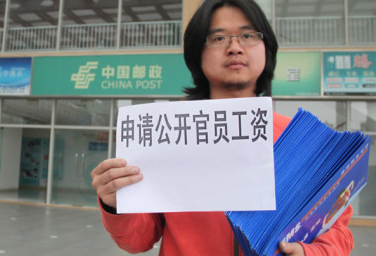 [ABOVE: Lei Chuang holds up a sign that reads: "Requesting officials' salary figures by made available."]
The Beijing News report on Lei Chuang's open government information (OGI) requests in fact mixed together the issue of making the salaries of government officials known — Lei Chuang's specific request — and making the assets of government officials known, a much bigger issue.
The newspaper noted that National People's Congress delegate Han Deyun (韩德云) has submitted a proposal during each of the past six years calling for the creation of a system for making the assets of government officials public.
Zeng Kanghua (曾康华), the head of the School of Public Finance at the Central University of Finance and Economics, told The Beijing News that the question of making the assets of government officials public was "rather complex," and that "under the current institutional arrangement in China there was not an institutional basis for this." But from a "technical standpoint," he added, "there should be no difficulty."
Lei Chuang is apparently finding himself something of a celebrity today. He wrote on his Sina Weibo account at 3:16 this afternoon: "The matter of my submitting requests for open government information has already impacted progress on my research, so for now I'm no longer accepting media interviews. As for the whole process of my applications, readers can go to http://t.cn/zO0nQuQ . . ."