The following post by legal scholar and poet Xu Xin (徐昕) sharing a recent report about Bo Xilai's son Bo Guagua in The New York Times was deleted from Sina Weibo sometime before 11:59am Hong Kong time today, April 20, 2012. Xu Xin currently has just under 88,000 followers, according to numbers from Sina Weibo. [More on deleted posts at the WeiboScope Search, by the Journalism and Media Studies Centre].
The post from Xu Xin draws from a passage in the report that reads: "One former government employee with party ties said the leadership tolderated a certain level of corruption among top officials or their relatives as long as it was kept out of public view."
A long report on the front page of The New York Times talks about the dissolute life of Prince B, and says the general rule is: "Corruption is ok, but you can't show corruption openly as this challenges the game rules."
The post was accompanied by the following image of the New York Times, which is headlined: "."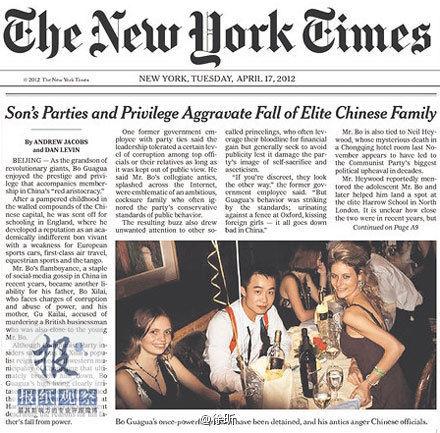 Despite the deletion of this post, CMP did note that other versions of the NYT article on Bo Guagua were readily available on Weibo on August 20, using the search term "Prince B", or "B gongzi" (B公子).
The original Chinese post by Xu Xin follows:
【一般规则】《纽约时报》头版长文,讲述B公子奢华浪荡生活,说一般的规则是:"腐败可以,但不能以公开腐败挑战游戏规则。"http://t.cn/zO0xdHJ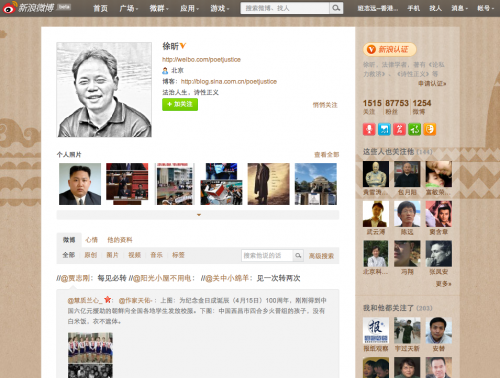 NOTE: All posts to The Anti-Social List are listed as "permission denied" in the Sina Weibo API, which means they were deleted by Weibo managers, not by users themselves.