On May 4, 2012, Chinese leaders fired a cannonade of editorials through Beijing Daily and three other Beijing-level newspapers criticizing U.S. Ambassador Gary Locke for his meddlesome "little tricks" — relatable, common-man conduct like carrying his own backpack, or buying coffee with discount vouchers.
The suggestion that Locke's simple gestures were "disgraceful" and showed insufficient respect for China might have found an audience somewhere, but the predominant response to the editorials on Chinese social media seemed to be ridicule. By afternoon of the day the editorials were published, even the search keyword "Beijing Daily" was blocked on Sina Weibo, a virtual admission of propaganda defeat.
Chinese users poked fun at what some clearly saw as the government's inexplicable objection to honest, genuine and fundamentally human gestures. How exactly should Ambassador Locke act? The following Weibo post, for example, jokingly depicted Locke being subjected to a struggle session of the kind that would have been seen during China's Cultural Revolution, a placard around his neck listing out his crimes, including "carrying his own backpack."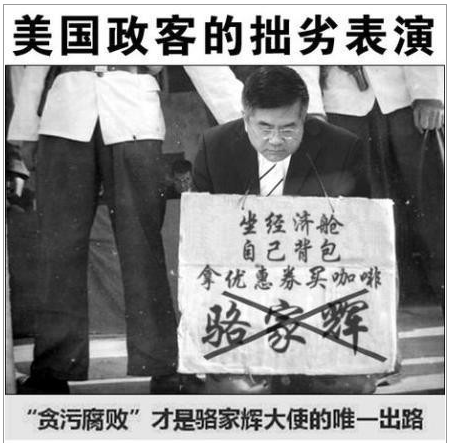 The photo's caption read: "The only way out for Ambassador Locke is to be whole-heartedly corrupt!"
What is perhaps most interesting about Gary Locke's "little tricks" in China — and perhaps what discomforts Chinese leaders most — is the way Chinese have seized on his actions to reflect back on China's own political culture. And China's government has arguably deepened the sense of reflective value by obsessing on Locke's actions, putting itself in the awkward position of fussing about minutia like backpacks and cups of coffee.
Today, Locke is again grabbing attention for his "little tricks", this time over a recent exchange with Shanghai third grader Yang Zhimei (杨芷湄), 9, who happens to be the daughter of one of China's finest investigative reporters, former CMP fellow Yang Haipeng (杨海鹏).
In October 2011, Ambassador Locke made a visit to Shanghai that included a stop at the Museum of Contemporary Art, where he spoke with a number of local primary school students. Yang Zhimei had a brief opportunity to speak with Locke, and her photo was later featured on the website of the U.S. Consulate in Shanghai and in various local media.
Yang Zhimei later made her exchange with Locke the subject of an essay submitted for consideration for China's Lu Xun Youth Literature Prize. The essay was posted to the competition's website on May 10, and shared by Zhimei's father, Yang Haipeng, through his Sina Weibo account yesterday.
The crux of the essay, and of the discussion surrounding it today, is the fact that Ambassador Locke knelt before Yang Zhimei and addressed her at eye level, something that can be seen from several photographs.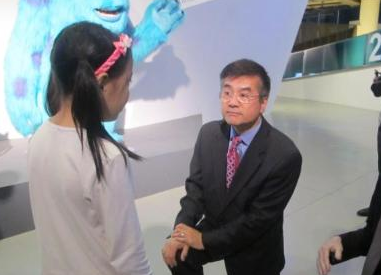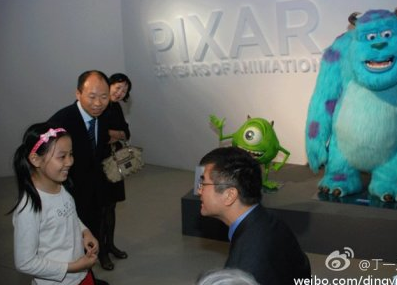 A translation of Yang Zhimei's essay follows:
Ever since I was small I've had this dream, that me Dad will "kneel" before me to speak.

My Dad is big and tall, built like a pagoda. Even having grown to this point, I'm a full meter below him, and when I talk to him I have to tilt my head back. While this happens, he'll answer his phone and start thinking about something else . . . When I can't say something clearly, he'll get impatient, and wave me off with his hand: "Go, go go. Go watch that animation flick you like. I'm busy."

I know he really loves me, but I don't know how to talk with him. What I like best is going traveling with him. At those times, he'll have a lot more time, and can patiently listen to what I have to say. He's more like a "big brother."

I've seen a lot of TV dramas where foreigners will kneel before kids and talk. When the adults kneel they're the same height as kids, and they can look eye to eye. It looks so amiable. So once I said to my Dad: "Dad, can you kneel when you speak to me?"

Dad would look very amused and smile, saying: "Your Dad is too fat. If he kneels, his pants will split." Then he'll laugh this big laugh, and tell me to go back.

It's really hard to say anything to Dad.

In October last year, I took part in an exhibition of Pixar animation [in Shanghai]. An older woman approached me and said: "Excuse me, little friend, is there something you'd like to ask Ambassador Locke?" This Ambassador Locke she was referring to is an uncle a head shorter than Dad. At the time he was talking to someone else. He's the U.S. Ambassador, and he was the most important figure in the room. Reporters were clustered around him taking photographs.

Timidly, I went over behind him and said: "Mr. Ambassador, sir, when you were in primary school what was homework like?" The Ambassador turned his head around in surprise and said in English: "Why do you ask this question?" I responded: "This time around, I tested 82 on English, and Mom was really unhappy with me." I didn't mention that I was quickly losing faith.

Ambassador Locke and the interpreter "kneeled" down in front of me. I was so surprised I froze. He spoke for more than 10 minutes, and I was terrified by this move of his and all of the camera flashes going off around me. The only thing I remember him saying was that when he was in sixth grade he was just a rookie (菜鸟). One time, he said, he did a really bad thing, and his teacher made him write a self-criticism and even made him read it before the whole class. He thought to himself at the time, I can't keep on like this, and from that time forward he did his best, becoming a really excellent student.

I don't remember that much of what he said. My head is just full of that image of him kneeling before me. I can see clearly those eyes of his full of care and love, and those wisps of white hair next to his ears.

At the time, I thought — when will my Dad kneel like this and talk to me?

Later, the photo [of me and Ambassador Locke] made the newspaper. Adults talked about it a lot. Some people admired [what Locke did] while other said "he was just making a show." A friend of Dad's who had studied abroad in the United States and come back said all Americans were like this, that they were brought up this way.

My Dad was really in favor of this way of doing things. He said it gave children, who were in a relative position of weakness, a shot at equality. But when I pressed him to "kneel" for me, he only did it twice before things went on just as they had before.

Really, I think it's much harder for grown ups to change themselves than it is for kids. One time, my Dad told his students that a hundred years ago in Shanghai, it took twenty years to change the habit city residents had of carrying live chickens and ducks through the streets.

I corner Dad and said: "Dad, you say we should speak on terms of equality, but why then can't you kneel before me to speak like Gary Locke?"

Dad said distractedly that he had hurt his knee hiking in Yunnan, so we could talk about it another time.

I don't know how long it will be before that "another time" comes.

I dream of the day that I'm just as tall as Dad is. That way he won't need to kneel before me for us to talk.

On May 8 it was Dad's birthday and I helped him clean the house. I even made a really pretty card for him. Dad was so happy. He held me and said, "Oh, Sweetheart! Oh, Sweetheart!" Then he asked me what wish I had.

I said to him: "What I want is really simple. If I really am your sweetheart, then please kneel when you talk to me."
The full Chinese text of Yang Zhimei's essay follows:
爸爸,请你"跪"下来跟我说话
作者:杨芷湄

上海市江苏路第五小学三(七)班 杨芷湄

从很小的时候,我就有一个梦想:我的爸爸能"跪"下来对我说话。

我的爸爸又胖又高,身体像坐宝塔,我长到现在,还跟他差半米,跟他说话,我要仰着头。中间,他还会接电话,想起什么别的事,拔好手机哇啦哇啦地说一通。我跟他说话,脖子会酸,不知怎么表达。说不清的时候,他会烦躁,扇子一般的大手一挥"去去去,看你的动画片去,我忙着呢"!

我知道他很爱我,但我就是不知道怎样和他说话。我最喜欢和他一起旅行。那时,他会有很多时间,耐心的听我说话,像一个"大哥哥"。

我看电视剧里,有许多外国大人蹲着甚至跪着对小朋友说话,大人蹲下与小朋友一样高,目光可以平视,样子很慈祥。我曾经对爸爸说:"爸爸,你能蹲下来对我说话吗?"

爸爸却嘻皮笑脸地说:"爸爸太胖,蹲下来,裤衩会裂开。"然后哈哈大笑,把我的要求挡回去了。

跟爸爸说句话很不容易。

去年十月,我参加"美国皮克斯动画展"。一个阿姨问我:"小朋友,你想问骆大使一个问题吗?"她所说的骆大使是一个比爸爸个头稍矮的伯伯,正在跟其他人说话。他是美国大使,是这里最大的人物,很多记者围着他拍照片。

我怯怯地走到他身后,说:"大使先生,你小学时候功课怎么样?"大使惊讶地回过头,用英语说:"为什么问这个问题?"我回答道:"我这次英语考了82分,妈妈骂了我。"我没有说自己快没信心了。

骆大使和翻译单膝"跪"在我面前。我惊呆了。他讲了十几分钟,我被他的动作和周围照相机的闪光吓坏了。只听到他说:他在小学六年级前,是只"菜鸟"。有一次,他做了件很坏的事,老师让他写检讨,还让他在全体同学面前读了。他觉得这样下去不行,于是他发奋努力,成为一个优秀的学生。

我没有记住多少他的话。我的脑海只有他们跪下来的画面。我清晰地看到他关爱的眼神,还有耳边的白头发。

那时候,我在想:什么时候我的爸爸,可以跪下来跟我说话?

后来照片上了报纸。大人们讨论很多。有些人赞赏,有些人说"他在作秀"。我爸爸一个美国留学回来的朋友说:美国大人都这样,这是教养。

我爸爸很赞赏这个方式,认为这是给弱者小孩平等的机会。但当我要求他,能不能"跪"下来跟我说话时,他只做了两次,又回到原来的样子。

真的,我觉得大人想改变自己,比小孩都难。有一次,爸爸跟我他的学生说:在一百多年前的上海,改变市民提着活鸡活鸭上公交车的习惯,大约用了二十年。

我插话说:"爸爸,你说应该跟我平等对话,为什么不能像骆家辉一样跪下来跟我说话呢?"

爸爸愣了一下,然后说自己在云南爬山,膝盖坏了,以后再说。

我不知道这个"以后"会多久?

我梦见自己长大,跟爸爸一样高,这样他用不着跪下来跟我说话了。

5月8日,爸爸过生日,我帮他收拾了房间,还制作了漂亮的贺卡。爸爸高兴死了,抱着我"宝贝宝贝"地叫,问我要什么?

我对他说:"我的要求很简单,如果我是你的宝贝,就请你跪下来跟我说话。"

(转自鲁迅青少年文学奖网)