On Monday tens of thousands of demonstrators faced off with riot police in the city of Shifang (什邡) in China's western Sichuan province, protesting a molybdenum copper refinery residents say poses a health threat. Videos taken with mobile phones and posted to Chinese social media sites showed tight lines of police in riot gear attempting to break up crowds with organized charges and volleys of tear gas [More from the FT].
Chatter about the unrest in Sichuan was shared rapidly across Chinese social networking sites on Monday and Tuesday, despite constant blocks and deletions.
The following are several posts made to Sina Weibo that were captured by the deleted posts archive at the Journalism & Media Studies Centre.
This post, made by writer and historian Cao Junshu (草军书) at 9:54am on July 3, 2012, was deleted the same day. It includes the following photograph of a member of the riot police flipping off the camera.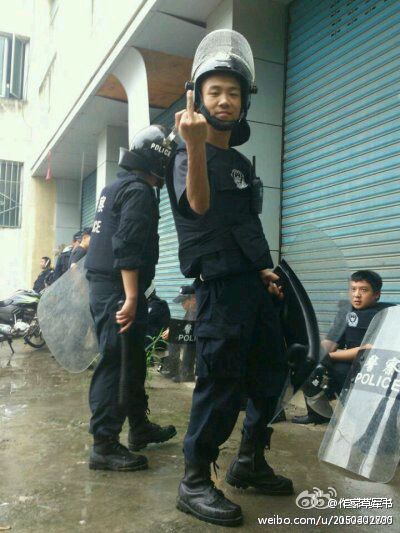 The caption suggests the photo was taken in Shifang, although that cannot be verified:
Things are busy in Shifang, and the gestures cocky. Brother Middle Finger, you've won this round.
什邡很忙,手势牛逼。中指哥,你赢了。
Actor He Zhengjun (何政军), who has just under 200,000 followers on Weibo, responded in another post that was also deleted:
I grew up in Sichuan. My impression of Shifang is of a very small, good and peaceful county. They make cigarettes there, and Gongzi Pai cigars are also manufactured there. What's been going on there lately, that police would give the people the middle finger?
我在四川長大,印象中什邡是个安宁祥和的小县。那里盛产烟叶,工字牌雪茄便出产于此。最近这里怎么了?警察也要对民众竖中指
This post, made to Sina Weibo by the manager of a media group, was also deleted by the authorities on July 3. It reads simply:
Resistance for environmental protection. Citizens are waking up.
环保抗争,公民觉醒。
The post includes a long photo strip, a composite of nine photos from Shifang widely shared across Chinese social media. The poster in the first photo reads: "To Save Shifang, the Whole City Must Unite!" The last photo in the series appears to be the sign for the offices of the Party Committee of Shifang (the top local Party leadership), which has been torn down and trampled on.

And here is a post, also deleted from Sina Weibo on July 3, showing residents of Shifang protesting on the streets and writing messages on a wall calling for the resignation of the city's top leader, Party secretary Li Chengjin (李成金). Among the many statements scribbled on the wall: "Li Chengjin, get the hell out of Shifang!"
[We hope the Party secretary of Shifang, Comrade Li Chengjin, faces this head on and listens!] 1. Why must you persist in something the people oppose? 2. Why when the people express their views must you use police batons and tear gas to suppress them? 3. Why is it that the opposition of the people to a seriously polluting molybdenum copper factory becomes an anti-government action? 4. Why is your ass always sitting on the sofas of the enterprises, and not on the stools of the ordinary people? 5. Why is it that people say that if you aren't a corrupt official then "pigs can climb trees"?
【 请什邡市委书记李成金同志正视听![围观]】1.为什么百姓反对的,你一定坚持?2.为什么百姓表达意见,你一定要用警棍和催泪弹强压?3.为什么百姓反对钼铜厂污染严重的民愿竟成了反政府?4.为什么你屁股坐的总是企业的沙发而不是百姓的板凳?5.为什么百姓说你惹不是贪官"老母猪都上树了"?