There seem to be constant new developments what is now being referred to as the "New Year's Greeting incident" at Guangdong's Southern Weekly. Those new to the story can catch up here and here, and read the wrap-up at the Wall Street Journal.
Singapore's Lianhe Zaobao yesterday cited an unnamed "official source" as saying that Guangdong's propaganda chief, Tuo Zhen (庹震), singled out over the past three days as responsible for the interference at Southern Weekly, was not in Guangdong when the incident occurred. According to the newspaper, the source said the action "had nothing to do with Guangdong's provincial propaganda department."
If this is true it leaves behind a great bit question: Whose decision was it?
A January 4 open letter protesting interference at Southern Weekly, the second following a letter from a group of former Southern Weekly journalists, continues to gather signatures. A confirmed list of the first batch of signers, obtained by the China Media Project yesterday, included 98 signatures made before 10 p.m. on January 4. Signers included Ai Xiaoming (艾晓明), a popular professor at Guangzhou's Sun Yat-sen University, and Southern Metropolis Daily founder and former editor-in-chief Cheng Yizhong (程益中).
The second confirmed list of signers, those signing before 10 a.m. on January 5, included 458 names. Among them were well-known Chinese blogger Bei Feng (北风) and Cui Weiping (崔卫平), a professor at Beijing Film Academy and a frequent contributor to Southern Weekly.
Signers of the letter represented a wide range of fields and backgrounds — journalists, academics, writers, students, lawyers, migrant workers, and even one name identified as "a citizen seeking freedom."
Our deleted post archive shows that posts, like this one, about the Southern Weekly incident are being actively removed from social media in China.
Searches on Sina Weibo for Southern Weekly are now blocked, returning a message that reads: "According to relevant laws, regulations and policies the search results for 'Southern Weekly' cannot be shown."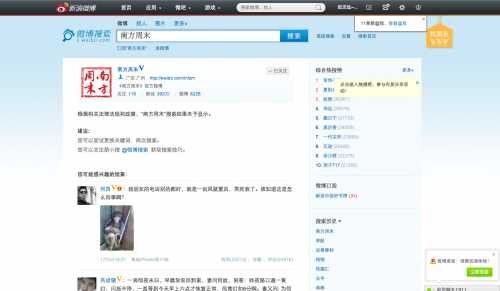 Apparently, searches in English for "Southern Weekend" and "Southern Weekly" are still fair game.
Below is the full Chinese-language version of the second open letter.
—————
就南方周末献词事件告天下书
末世未亡,现世再传劣迹。二零一三年初,《南方周末》刊发新年纪念特刊,全部付型版样已经审定,记者编辑休假。在编辑部不知情的情况下,广东省委宣传部部长庹震妄动私念,狠删既定版面,篡改新年献词,并指令私添错误百出之特刊按语,铸成南周献词事件。
南周苦审查久矣。然而特刊选题经庹震审核批准,成稿按指令或删减或抽掉,付印大样也历经内外查验。概言之,庹震篡改之前,南周特刊无一字不经审验,审查意志贯彻始终。究庹震所为,假借审查官之外衣做掩护,但僭越办报流程之实不能欺瞒。
南周新年献词本有传统,用词立意皆成新篇,每每为时人传诵与钦佩。而庹震侵犯审查与新闻边界,不惮涂抹献词,格式化中国梦想,染指南周珍宝而谄媚上意,令人憎恶。其大禹治水之按语,用典、历史皆错,更有错别字贻笑坊间,颟顸之态徒增笑料。
大陆办报,制度环境早已众所周知,而天网般之事前审查制,则为庹震独创。南周及至广东媒体,皆不能幸免。虽然新闻无法,唯望宣传官员与媒体恪守界限,互有敬畏,始成舆论机关之职责与气象。南周非为私产,庹震待之如私物玩偶,阴狠跋扈,媒体人郁积在此,痛恨尤甚,今日诉诸全国读者。
新闻审查,如鲠在喉,传媒以委屈之态百般腾挪。庹氏入粤不足一年,奉行文阀大棒政治,视管理如绞杀,广东新闻界万马齐喑与薄王治下之当年重庆新闻界毫无二致。庹震之所以屡屡得逞,乃玩弄部长权柄,自相私授独裁独断于粤省。其褫夺新闻编辑权,视新闻界如无物,岂非欺岭南及中国无人哉?
南周蒙尘,亦非南周一家之损失。南方报业与中国改革风潮亦步亦趋。南方进,则中国进,南方败,则中国败。庹震毁版销报,腐蚀改革魂魄,非仅为吞并文字也。此一风向标亦可用于南方政系,想必也为改革世代所认可。此吾辈竭力告读者诸君又一也。
爆发南周献词风波之后,庹震四处周旋,勒令删除记者及南周编辑部微博,更呵斥南方新闻界噤声。借助公权收拾其私欲营造之残局,庹氏未能吓倒新闻界。各界民众齐声驱庹,早已不限于南周读者圈。祈望读者南北、内外,同声呼应,亦可略告慰于天下。
庹震破坏之事,壅塞于途。此人之于新闻界,早已与强梁无异。其钳制舆论,野蛮无教养之作态,更无益于国家,亦以执政党名义献丑于世界,于情于势于理,再难当省宣高位。庹祸不除,新闻界无新闻,所谓刷新政治,徒托空言。望天下读者以真名实姓周知附议,勉力成就。