The following post by Jing Hai Xin Yu (静海心语), a repost on a much earlier post from another user about ousted Chongqing secretary and prominent princeling Bo Xilai, was deleted from Sina Weibo sometime before 7:19am today, January 18, 2013. Jing Hai Xin Yu currently has just over 3,800 followers, according to numbers from Sina Weibo. [More on deleted posts at the WeiboScope Search, by the Journalism and Media Studies Centre]
The original post from January 12, as yet undeleted, includes a picture of marchers apparently holding up a red sign that reads, "We will forever support the people's secretary, Bo Xilai." The photo is below. The text on the original post reads: "Even though Bo Xilai has been removed from his post, the ordinary people still believe he is a good [Party] secretary."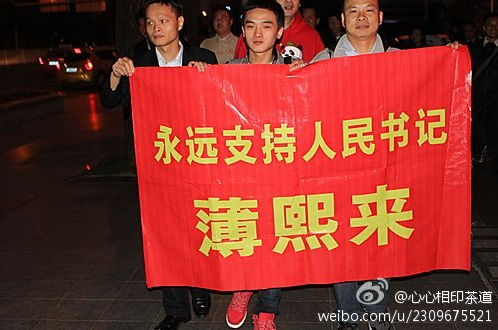 The original post also links to a blog on the Sina platform that kicks up a message saying the post has already been deleted.
It is interesting to note that this topically sensitive original post about Bo Xilai on Sina Weibo is still available, but that the blog post and the re-post from Jing Hai Xin Yu have been deleted. Why would that be? One possible explanation is the fact that Jing Hai Xin Yu has more than 3,000 followers, while the original poster of the Bo Xilai text has just four followers.
The original Chinese-language post follows:
【抗命中宣部 新京报社长获中国年度传媒大奖】有风骨者,才会真正有影响力!日前带领报社挺《南方周末》、对宣传干预新闻自主说不的《新京报》社长戴自更,荣获金长城传媒奖2012中国传媒年度影响力人物。@南方周末@新京报@记者刘向南 @徐昕 @左小祖咒 @袁腾飞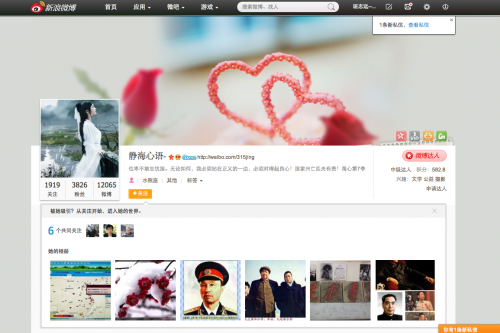 NOTE: All posts to The Anti-Social List are listed as "permission denied" in the Sina Weibo API, which means they were deleted by Weibo managers, not by users themselves.